August 7, 2009 at 3:45 pm
A number of reviews for Asus' 11.6-inch Eee PC 1101HA have appeared over the last few days. The 1101HA can be thought of a larger version of the Eee PC 1005HA that we reviewed recently. It shares a very similar design and has a removable 6-cell battery and no port flaps, unlike the thinner 1008HA Seashell.
One of the main differences, apart from that high-resolution 11.6-inch (1366 x 768) display is that it uses a 1.33GHz Z520 Atom processor (the 1005HA uses a 1.6GHz N270 Atom). To compensate for the lack of relative power, however, Asus allows you to overclock the processor by up to 30 percent. Read more
August 5, 2009 at 1:59 pm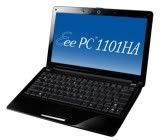 Asus' first 11.6-inch Eee PC is now available to purchase in both the UK and US. The Eee PC 1101HA is in stock at Laptops Direct for £339.97 and Ebuyer for £365.59 available in both black and white. For those in the US, you can purchase it from
Newegg
for $429.99 and BestBuy for $429.00. It's only available in black in the US for now.
The Eee PC 1101HA comes with an 11.6-inch (1366 x 768) LED backlit display and is powered by the 1.33GHz Z520 Atom processor. It also comes with 1GB RAM, 160GB HDD. Wi-Fi (Draft-N), Bluetooth 2.1, a 1.3MP webcam and a 6-cell battery.
Via Netbooked.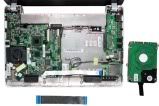 Teardown netbook experts, Netbook Italia, are at it again. This time round, they have turned their attention to Asus' first 11.6-inch Eee PC netbook, the 1101HA. They give a good guide on exactly what is under the ultrathin chassis and how Asus managed to pack it altogether.
They already stripped down the Eee PC 1008HA, but apart form the bigger display, the 1101HA differs by having access to the RAM memory module as well as having a removable battery.
To get to the motherboard, you need to remove eight batteries on the bottom and then lift out the keyboard. It looks like the motherboard is made up of three distinct PCBs. This technique is used to avoid having any conflict fitting the motherboard and 5400RPM hard disk drive. The insides don't look as jam-packed as they did with the 1008HA, which should allow you to upgrade components comfortably. Check out a few pictures after the jump, but for the full guide head over to Netbook Italia. Read more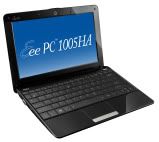 Whilst we already know lots about the Eee PC 1005HA and 1101HA Seashell netbooks, both models have officially been announced for the UK market today. The 10-inch 1005HA will come in two different SKUs and launch at the end of the month. We would suggest that consumers pay special attention to both model numbers as there are significant differences between both SKUs.
The cheaper 1.6GHz N270 Atom netbook will cost £329 and is available in black (1005HA-BLK083X) and white (1005HA-WHI064X). This model comes with a lower-rated 6-cell battery (4400 mAh) that should be good for 8.5 hours according to the company. You will not find Bluetooth on this model and it only has a 0.3MP webcam. The N270 SKU also has a matte (1024 x 600) display. Asus also does not include a netbook sleeve with this version. Read more
The Asus Eee PC 1101HA is the company's first foray into 11.6-inch netbook territory. We were quite fond of the form-factor when getting hands-on a couple of weeks back. It didn't feel significantly bigger than the 10-inch models and that space has been put to good use, including a full-sized keyboard and high resolution (1366 x 768) display. Our main concern was that the 1.33GHz Z520 Atom CPU would not do the screen justice, especially as a 1.6GHz Z530 Atom SKU is ruled out for now.
Cnet UK has posted the first review of the Eee PC 1101HA and it seems our fears were well founded. The Acer Aspire One 751 was criticised for not having enough grunt (it also used a Z520 Atom) and the same negative point has been levied at the 1101HA. Whilst Cnet liked the comfortable keyboard, high-res screen and excellent battery life, they felt it had been let down by "rubbish processing power". They scored it 7.0 overall.
However, it sounds like they didn't play around in the BIOS too much as we know that the 1101HA can be overclocked by as much as 32 percent. Even boosting this by 25 percent would put the performance on par with a 1.66GHz N280 Atom netbook. Obviously there will be an impact on battery life, but at least the option is there for those who want it. The key Cnet review points are after the jump. Read more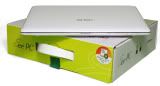 We have already seen some unboxing pictures of the Asus Eee PC 1101HA Seashell, but now a video unboxing has emerged of the 11.6-inch Eee PC netbook courtesy of Notebook Italia. The styling is very similar to other netbooks in the Seashell line-up and Asus could be onto a winner given its 11.6-inch high-resolution (1366 x 768) display and power efficient 1.33GHz Z520 Atom CPU and Poulsbo (US15W) chipset. The 1101HA is packaged like any other Asus Eee PC netbook. It also comes with the usual accessories including 6-cell 4400mAh battery. The video is attached below.
Notebook Italia also had a close look at the manual overclocking tool that we reported on recently. As a quick recap, Asus provides an automatic clocking tool in the form of its Super Hybrid Engine (SHE). Using this you can under/overclock depending on your usage but the clock speeds are predefined. The Eee PC 1101HA is the first netbook that Asus has allowed users to manually overclock the CPU themselves through the BIOS. Read more
June 26, 2009 at 12:25 pm
At yesterday's Asus press event, we also managed to spend some time with the company's first 11.6-inch Eee PC. The Eee PC 1101HA is certainly a very attractive device. I had always imagined that the move to a larger display size would mean a bulkier and compromised netbook. However, that wasn't the case, the 1101HA felt only marginally bigger than current 10-inch netbooks.
In fact playing around with the model left me convinced that this particular size could become a sweet-spot for netbook manufacturers. You get a full-sized keyboard and high resolution display in a package that is not that much bigger than current 10-inchers. The keyboard came with flat keys and felt very responsive with the right amount of feedback. I was disappointed that it only had a small right shift key, especially considering the amount of space available. Read more
June 26, 2009 at 10:54 am
The product page for Asus 11.6-inch Eee PC 1101HA is now live on the Asus Global site. The full specifications have also been listed and disappointingly, it looks like it will only come with a 1.33GHz Z520 Atom processor. When the 1101HA was originally spotted, it was believed that two SKUs were planned – one with the Z520 Atom and another with the more powerful 1.6GHz Z530 Atom processor.
This news was confirmed to us by Asus at a press launch in London yesterday. John Swatton, Marketing Specialist for Asus UK, told us that as things stand there is no plan for a 1.6GHz Z530 SKU. However, he did stress that roadmaps are changing continually and this may change in the future.
Some may view this as disappointing news as, despite having a high-resolution 11.6-inch (1366 x 768) display, the 1.3GHz Z520 may not be powerful enough to watch HD content. This is a problem that plagued the 11.6-inch Acer Aspire One 751, that many felt was underpowered. Despite this, the form-factor of the 1101HA is very good and could ultimately become the new netbook standard in our eyes. We'll be posting our hands-on impressions later, but until then you can see the full list of specifications after the break. Read more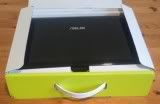 Asus' first entry into the 11.6-inch netbook segment is the Eee PC 1101HA Seashell. As it belongs to the Seashell family, its styling is very similar to the 1005HA, which doesn't have the port flaps that adorns the super-skinny 1008HA. Electric Pig has just gone hands-on with a unit and posted some unboxing pictures.
The version they unbox has a 1.33GHz Z520 Atom CPU, 1GB RAM and a 160GB HDD running Windows XP. I'm a bit concerned on the lack of detail regarding the 1101HA SKU that comes with the more powerful 1.6GHz Z530 processor. There is an Asus press event tomorrow, where I should be able to get hands-on with both the 1101HA and 1005HA and hopefully get some answers.
Crave has also gone hands-on with the device and you can see some of their pictures here. The Eee PC 1101HA is expected to launch in early July and will cost £379 as hinted at by Amazon UK, before they withdrew the product page. For more details on the 1101HA, the English manual is now available to download.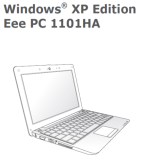 As we have started to see pre-orders for Asus' 11.6-inch Eee PC 1101HA Seashell netbook open here in the UK, it was a matter of time before the English manual went live. We've been pouring through the pages and some quite interesting titbits have come through. The most intriguing appears to be that Asus has opened up the BIOS to allow its users to manually overclock the 1101HA.
Asus already has a utility called the 'Super Hybrid Engine' which has several different modes (Power Saving, High Performance, Super Performance) that automatically under/overclock the CPU based on your needs. This new BIOS option allows you to configure what overclock value you want when you switch to Super Performance mode. Read more
June 22, 2009 at 11:50 am
We already knew that the Asus Eee PC 1101HA was due to hit Europe at the end of June for €399, although the UK price was still a mystery at the time. However, Amazon UK now has the Eee PC 1101HA up for pre-order and will cost you £379.00, which seems about right looking at the European price.
Amazon has the Eee PC 1101HA available to pre-order in black
and white
, there is no estimated release date. The only listings are for the versions with the 1.33GHz Z520 Atom CPU. At Computex, a 1.6GHz Z530 Atom SKU was also seen, although we've not heard any details since. I really do hope that this version is planned for retail too, especially for those who crave more power for HD video.
This is the case for the Eee PC 1005HA, where both the 1.6GHz N270 and 1.66GHz N280 Atom SKUs are available to pre-order from Amazon. The N270 Atom 1005HA models will set you back £329.00
, whilst the N280 Atom models will cost an extra £50 at £379.00
. Each of these is available in black and white.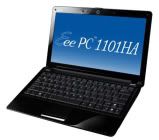 Since Asus announced the 11.6-inch Eee PC 1101HA Seashell at Computex Taipei we've not been privy to too many details, including price or availability. However, Netbook Italia has found out that the 1101HA should start to hit retail in Europe by the end of this month with a starting price of €399.
We know that two versions of the 1101HA are planned, one with the 1.33GHz Z520 Atom CPU and one with the 1.6GHz Z530 Atom. For now, there only seems to be confirmation that the Z520 model is planned, but I'm hoping that the Z530 SKU will also be making its way shortly thereafter.
The 11.6" (1366 x 768) Eee PC 1101HA comes with 1GB RAM, a 160GB HDD and Intel GMA 500 graphics. Other features include Wi-Fi (including draft-N, Bluetooth 2.1, a 6-cell battery and a 1.3 MP webcam. A black and white model is planned and we look forward to the first impressions in a matter of weeks. Click through for a list of specs. Read more
Whilst Asus formally announced its 11.6-inch Eee PC 1101HA Seashell at last week's Computex show, we didn't come across many hands-on impressions of this unit. However, it looks like Sascha from NetbookNews has just got round to uploading his thoughts on YouTube.
We don't learn too much that we didn't already know. The 11.6-inch (1366 x 768) Seashell comes with a styling that looks similar to the 1008HA. This includes a glossy lid and flush display and the unique pimpled touchpad. What we don't get are the flaps that cover the ports although I'm not sure that's too much of a big deal.
An interesting comparison is made with the Samsung NC10 and whilst the 1101HA is obviously wider and taller, it appears to be marginally thinner. There are two different 6-cell batteries for this model which should give between 9.5-11 hours of battery life. It will be powered by a 1.33GHZ Z520 or 1.6GHz Z530 Atom CPU. I imagine that the latter will become the sensible choice for most, given the problems seen in the underpowered 11.6″ Acer Aspire One 751 which runs a Z520 Atom CPU. Check out the video after the jump. Read more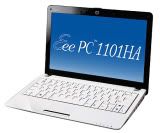 Asus has officially announced the latest member to its Seashell line of netbooks, the 11.6-inch Eee PC 1101HA. The netbook was spotted in the wild earlier this week at Computex, along with near enough full specifications.
The press release is pretty sparse on detail, only confirming it will have a HD (1366 x 768) resolution LED backlit display and battery life of 11 hours. It also confirms a 160GB HDD, wireless draft-N, Bluetooth, a 1.3MP webcam, digital array microphone and multi-touch touchpad. Hopefully some more detailed specifications, along with pricing and availability, will be announced shortly. Read more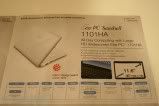 It looks like those rumours of an 11.6-inch Eee PC were true after all. It has been spotted at Computex, although it is unlikely to be officially announced until tomorrow. The screengrab (larger image after the jump) shows that it will feature an 11.6-inch (1366 x 768) display powered by the Intel Atom Z520 or Z530 CPU. Other features will include 1GB RAM, 160GB HDD, three USB 2.0 ports, card reader, WiFi, Bluetooth 2.1+EDR and there's a 1.3-megapixel webcam in the bezel.
The image shows a design that seems to be influence by the Seashell line of netbooks (Eee PC 1008HA/1005HA). Battery life is meant to last around 11 hours, although two 6-cell batteries have been spotted (2220mAh and 2800mAh). Hopefully, we'll have some official details very shortly. Read more