April 22, 2009 at 3:58 pm
The best way to think of the Acer Aspire One 531 is a slimmer version of the Aspire One D250 netbook. In almost every other way the specifications are identical, apart from slightly less battery life. T3 has reviewed the 531 and, overall, finds that it's a worthy upgrade to the 8.9-inch Aspire One.
The model that T3 reviewed came with a 10.1-inch (1024 x 600) display, powered by a 1.66GHz N280 Atom CPUs. It comes with 1GB RAM (2GB supported) and a 160GB hard-disk drive. The keyboard is 89-percent the size of a standard keyboard whilst its touchpad will support multi-touch. Other features include three USB ports, WiFi (b/g only), Bluetooth 2.0 and a 0.3MP webcam.
The Aspire One 531 certainly looks very attractive. It's half way between a fashion item, such as the Asus S101, and a regular netbook, and it looks like a good deal. Check out the key points from the review after the break. Read more
April 15, 2009 at 4:02 pm
Acer Japan has announced that it will be launching its 10.1-inch Aspire One D250 netbook on April 24th for 49,800 Yen ($500/€380/£335). The Aspire One D250 (AOD250) will be powered by a 1.66GHz Atom CPU and 945GSE chipset. It also comes with 1GB RAM and 160GB hard-disk drive. The 10.1-inch display has a resolution of 1024 x 600 pixels.
The D250 is around 1-inch thick and weighs 1.11kg with the 3-cell battery. This battery should give you around 3.15 hours of use according to Acer. For those looking for an even slimmer form-factor, the Aspire One 531 will have very similar specifications but weighs just 1kg (2.2lbs) with the 3-cell battery. Given the smaller size, the 531 has marginally worse battery life (3 hours on the 3-cell).
In the UK, no launch date has been confirmed but according to retail sites, the Aspire One D250 is set to launch around the end of April. Having a quick look, CCL Online seems to have the cheapest pre-order at £335 delivered (in-line with the Japanese RRP above).
Via Akhibara News.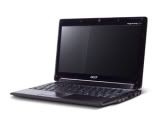 Following on from Acer's 10.1-inch Aspire One D250 netbook announced yesterday, another 10-inch from its stable has also been unveiled, the Aspire One 531. The Aspire One D250 appeared on both the Acer UK and Germany sites yesterday but was then removed later in the day. However, the Aspire One 531 is still listed on the Germany site for all to see. Looking through the specifications we are struggling to tell the difference between the two, it looks almost identical to the D250. Read more