The last mod we came across for the Asus Eee PC netbook was one that we'd not come across before (Mighty Mouse trackball). Now here is another. JustBlair created a custom-built LED whose primary function is to alert you to new messages, whether it is via email or social networking. Specifically speaking, this LED notifier alerts you to new messages from your email, Twitter and Pidgin .
He modded an Asus Eee PC 901 by creating an extra LED to the top left of the device. He used an AtMel AtTiny45 microprocessor, a 5mm red/green/blue LED that would light a different colour depending on which service the message was from. Judging by the 'how-to' post, it's clearly quite a complicated but ingenious mod, which includes programming the chip. Luckily, he got it all to work first time. For the full details head over to his blog post here.
Via Liliputing.
We have seen a number of netbook mods here at NbC, but this is a first. One hacker, who was fed up with the scrolling on the touchpad of his Asus Eee PC 901, decided to stick an Apple Mighty Mouse trackball into its palm rest. Plasti-Bots has the complete tutorial on how you go about doing this for the enterprising modders out there.
It's certainly not one for the novices out there. The trackball wires had to be unsoldered from the mouse, and then soldered onto the motherboard. The finished result looks very professional and the video below shows how well it works. I wonder whether this is something manufacturers may intend on building into their netbooks in the future… Read more
March 14, 2009 at 10:02 am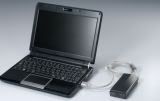 The solid-state drives that come with many netbook PCs are generally so small most users will want to upgrade them soon enough, but what does one do with the old memory? Buffalo has come up with a clever answer by developing 32GB and 64GB SSD (solid-state drive) replacements for the Asus Eee PC 901 along with a USB enclosure for converting the old SSD into an external drive.
The newer, faster drive is placed into the Eee 901 whilst the old 16GB SSD is taken out and placed into the enclosure, leaving you with a 16GB external drive. The idea is certainly novel and with SSD's growing in capacity and coming down in price we can see other manufacturers developing similar systems for other netbook models.
The 32GB kit costs ¥12,700 (£95), while the 64GB kits is ¥22,400 (£167). Sadly it is only available in Japan for now where it is expected to release in April. However, if the idea catches on we're sure to see them worldwide soon.
Via Portable Monkey.