Acer announced a number of new netbooks recently. This range is now either shipping or up for pre-order in the United States through Amazon.com. This includes the following:
– Acer Aspire One 533 for $329.99
. 10-1 inch, N475 Atom, Bluetooth 3.0.
– Acer Aspire One D260 for $329.99
. 10.1-inch, N450 Atom CPU.
– Acer Aspire One 521 for $349.99
. 10-1 inch, 1.7GHz AMD Athlon II Neo K125 CPU.
– Acer Aspire One 721 for $480.94
. 11.6-inch, AMD Athlon II Neo CPU.
– Acer Aspire 1551 for $499.99
. 11.6-inch, 1.3GHz dual-core AMD Athlon II Neo K3325 CPU or 1.5GHz dual-core AMD Athlon II Neo K625 CPU.
– Acer Aspire TimelineX 1830T for $599.99
. 11.6-inch, Intel Core i3 or Core i5.
Via Netbooked.
Acer's first 10-inch netbook the Aspire 532G has reportedly been cancelled according to Pierre from Blogeee. Apparently, technical problems meant that the Acer and Nvidia teams could not deliver on the performance front and hence cancelled the netbook. To be honest, this all sounds a bit too vague. Surely, other manufacturers are prepping 10-inch netbooks so why is Acer having difficulty?
If true, it would be a big blow to Acer and leave the ION netbook market pretty much to Asus. It's not clear whether this cancellation is on a global basis, although if those technical issues are true, then I don't see why region would make a difference.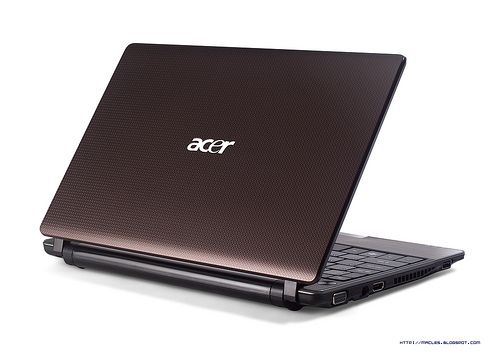 Acer is preparing to launch the 11.6-inch Aspire TimelineX 1830Z alongside the already heard of 1830T, in August/September according to Blogeee.
Both models are expected to be very similar apart from the processor used. The 1830T will be powered by a Intel Core i3-330UM CPU, whilst the 1830Z will come with an Intel Pentium U5400 ULV processor. Both devices are expected to cost around the €599 mark on launch. Check out the specs after the break. Read more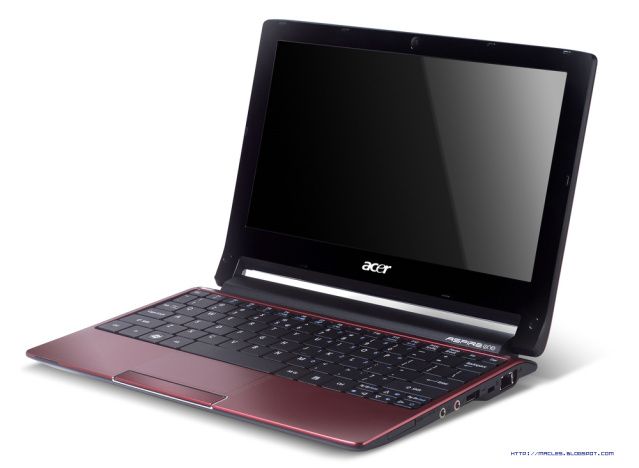 Acer is set to launch its own DDR3 10.1-inch netbook called the Aspire One 533. It will be powered by the upcoming DDR3-enabled N455 and N475 Atom processors. The benefits of DDR3 memory is that it needs only 1.5V, which is 0.3v less than DDR2 memory. This should in theory result in longer runtimes.
macles says that the battery life of the AO533 will be 10 hours and it will come with optional Bluetooth 3.0 support. There are a few design differences too, including a touchpad that rests in a chrome bed. Hard specs aren't known right now, but don't expect anything different over the current norm (1GB RAM, 250GB HDD and Windows 7 Starter). We're likely to hear more on availability and pricing at next week's Computex show in Taipei. Click through for a number of photos. Read more
The 11.6-inch Acer Aspire 721 has turned up for pre-order at Amazon.com for $429.99
in Mesh Black colour. The specific model (AO721-3574
) is powered by a 1.7GHz single-core AMD Athlon II Neo K125 processor and comes with ATI Radeon HD 4225 graphics, 2GB DDDR3 RAM and a 250GB HDD.
It features an 11.6-inch (1366 x 768) display, 1.3MP webcam, Wi-Fi (b/g/n), Windows 7 Home Premium and a 6-cell 4400mAh battery good for 5.5 hours of runtime. Performance versus Intel Atom equivalents isn't known right now, but at this price point it's an enticing proposition.
Via Netbooked.
Acer has revealed a new 10.1-inch netbook called the Aspire One 360. It appears to be the Intel variant of the Aspire One 521. The name purposely hints at a 360 degree design, although I haven't noticed any changes to the typical netbook design.
Specifications for the AAO 360 haven't been revealed although we know it will come in four colours (Onyx Black, Think Pink, Moon Shadow and Cool Purple). There doesn't appear to be any access panels and the battery panel is flush. Check out a promo video of the Aspire One 360 after the jump. Read more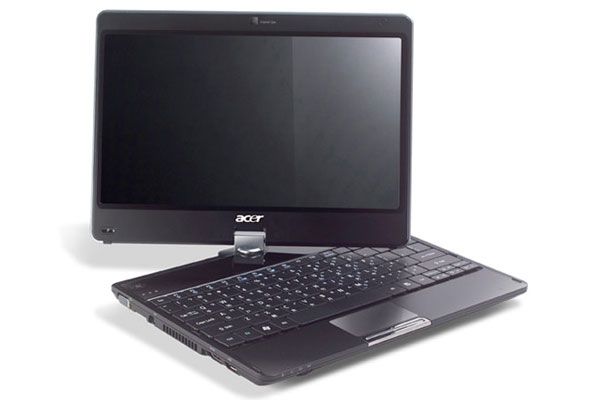 Acer has announced that the 11.6-inch Aspire Timeline 1825PT and 1825PTZ convertible netbooks should now be available in the UK. We've heard plenty about these models already, but we now know that the 1825PTZ will hit UK retail at a £599.99 price point and the 1825PT will cost £699.99.
The AS1825PT offers the SU7300 Core 2 Duo processor, 4GB RAM and 320GB HDD for the £100 extra. This compares to the SU4100 processor, 3GB RAM and 250GB HDD on the AS1825PTZ. Both models come with an 11.6-inch (1366 x 768) capacitive display, Windows 7 Home Premium, HDMI, Wi-Fi (b/g/n), Bluetooth 2.1 and a 5-in-1-card reader.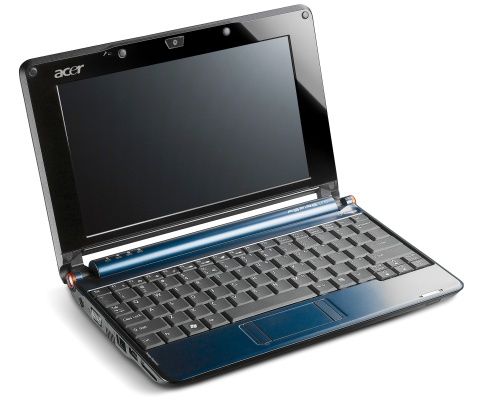 In a somewhat unusual move, Acer released a statement refuting recent rumours that it plans to showcase a Chrome OS netbook at the upcoming Computex show in Taipei. Whilst the company believes that Google's new operating system is an "exciting product announcement", it says it has "no short-term plans for such a product."
There have been a number of rumours that Acer will be launching a Chrome OS netbook, along with suggestions that it wanted to be the first company out of the block with a Chrome OS device. The timing of the statement perhaps suggests it has been released to keep those rumours in check and maybe has something to do with Chrome OS not being in a ready state to showcase right now. Click through for the full press release. Read more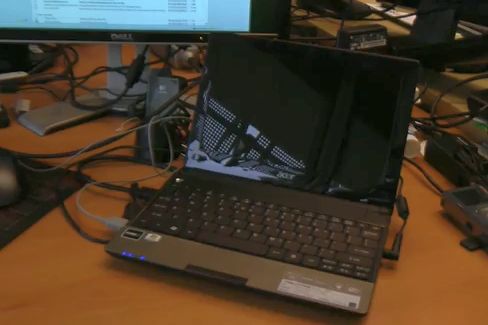 Acer officially revealed a new line-up of AMD-powered 10-inch and 11.6-inch netbooks earlier this week. The AAO 521 has a 10-inch display and comes with a 1.2GHz single-core AMD V105 processor along with ATI Radeon HD 4225 graphics with HDMI out. The latter highlights the confidence in its ability to handle HD video, even though the screen only has a resolution of 1024 x 600 pixels.
A couple of videos have appeared from Notebook Journal.de and nDevil that give an idea of how well it plays HD video content. As you'll see HD content seemed to play ok, although the same can't be said for YouTube HD that seemed to stutter. This could be a driver issue so I wouldn't get too disheartened if you were eyeing the AAO 521. Check out the videos after the jump. Read more
Acer really wants to be first out of the door with a Chrome OS device. According to a report from VentureBeat, Acer will be launching new Chrome OS devices (most likely netbooks, smartbooks or tablets) sporting the new OS at Computex Taipei in early June.
Acer may not have the Chrome OS limelight to itself though. Samsung has also talked of developing ARM-based smartbooks powered by the Nvidia Tegra 2 chipset. Google is expected to release Chrome OS during the second half of the year. Techcrunch says that Chrome OS is coming along quickly but isn't ready as things stand, they've also got some images of what the OS is likely to look like.
Update: Acer has confirmed that it will not be showcasing Chrome OS netbooks at Computex.
Acer has revealed a new line-up of AMD-powered netbooks at an event in Cannes. This includes a 10-inch model (AAO 521) and two 11.6-inch models (Acer Aspire 721 and 1551). Subsidiary Packard Bell also announced the dot.a, a rebranded version of the 11.6-inch models above.
The Acer Aspire One 521 has a single-core 1.2GHz AMD V105 processor, DDR3 support, ATI Radeon HD 4225 graphics and a HDMI output. You'll still only get a 10.1-inch (1024 x 600) display though. It comes with 1GB RAM, 160GB HDD and a 7-hour battery life. Read more
April 30, 2010 at 3:41 pm
The much-anticipated Acer Aspire TimelineX 1830T ultra-thin that sports an 11.6-inch (1366 x 768) display and Intel Core i5 processor. News on its release has been thin on the ground, but it seems that Acer Germany has officially announced that it will be landing in June at prices starting at €549.
Interestingly, there will not only be options for the Intel Core i5-520UM dual-core processor that has a 1.06GHz clock speed, but also Core i3 options too. Check out the specs after the break. Read more
April 22, 2010 at 10:07 am
The wait to see next-generation Nvidia ION graphics hit netbooks already feels like a long while. However, this wait is set to get longer if Engadget is to be believed. The 12-inch Asus Eee PC 1201PN with 16-core ION is now expected to hit Europe/Asia in late May and the US in June.
The 8-core ION Acer Aspire One 532G has also been delayed by a month is now expecting to appear in early June also. It's unknown what has caused this delay, although Nvidia claims it has nothing to do with them.
April 21, 2010 at 8:07 pm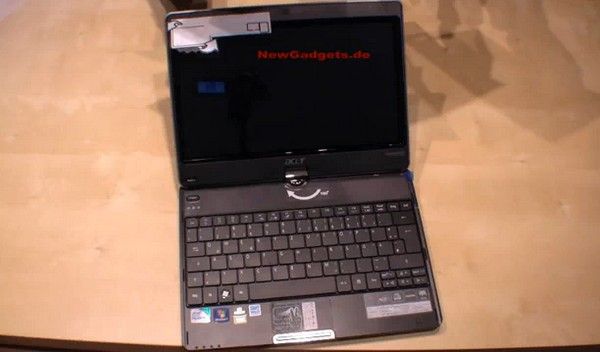 The Acer Aspire 1825PTZ convertible tablet looks like it will replace the 1820PTZ that was due to the hit market but never materialised. The main difference between the two models is that the 1825PTZ will have a capacitive display as opposed to resistive,
Johannes from NewGadgets.de managed to get hold of the 1825PTZ that is now on sale in Germany and promptly shot an unboxing video. He gives us a good tour of the device that sports an 11.6-inch capacitive display powered by the 1.3GHz SU4100 processor, 4GB RAM, 320GB HDD, WI-Fi (b/g/n) and a 6-cell battery. Check out the video after the break. Read more
April 19, 2010 at 7:31 pm
Acer has a new AMD-powered netbook on the horizon called the Aspire One 521. Trusted source macles has come up with the details who says that this 10-inch model will feature the AMD V105 processor. This CPU will not be formally announced until May, but we know that it is the slowest single-core of the "Nile" platform. It is clocked at 1.2GHz and comes with 512KB L2 Cache, a TDP of 9W and DDR3 support.
The AMD V105 CPU is paired with the AMD M880G chipset. The AAO 521 will also come with the as yet unannounced ATI Mobility Radeon HD 4225 graphics core that has 384MB of dedicated video memory. Performance is unknown although I wouldn't expect ION levels of graphical fidelity, however a HDMI port will be included. Read more