November 9, 2009 at 3:00 pm
Active Media has unveiled a new line of performance SSDs aimed at Asus Eee PC netbooks. The SaberTooth S4 series uses the 3Gbps SATA-II interface and offers sequential read speeds of up to 130MB/sec and sequential writes up to 50MB/sec. The drives use the Jmicron JMF602B controller and MLC flash memory for transfer speeds promised to be two to five times faster than the standard SSD that shipped in many netbooks from ASUS.
The company has posted a detailed Benchmark Report of the SaberTooth S4, tested on an Eee PC 1000 under Windows XP here. The benchmark results show the S4 soaring to read speeds over 120MB/sec, nearly four times faster than the default SSD in the Eee PC 1000. The Mini PCI-E SSDs measure 70 x 32 mm (2.7 x 1.3 inches). Read more
August 10, 2009 at 5:13 pm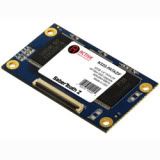 We recently saw Active Media launch a Solid State upgrade line for Asus Eee PC netbooks. The company has now followed this up with a Zero Insertion Force (ZIF) line-up for HP Mini netbooks. These PATA SSD flash drives come in 1.8-inch size only and are designed to be easy to install.
Active Media claim that these drives will fit a number of HP netbooks including the HP Mini 1000, 1010NR, 1030NR and 2510P. These drives are quite reasonably priced, a 16GB unit will cost $70 and the $32GB costs $110. However, this reflects speeds that aren't the best in class. It has sequential reads and writes up to 82MBps and 38MBps, respectively. It is also unknown whether these will fit the recently announced Mini 110 series.
There seems to be a new solid-state drive (SSD) netbook upgrade from a different manufacturer every few weeks. This time round, Active Media has announced its SaberTooth SSD upgrade for the Asus Eee PC. This SSD is tested to work with the Asus Eee PC 900, 900A and 901 and S101 models and should just fit into the Mini PCI-E card slot.
There are two different lines depending on the performance you after. The SaberTooth S has maximum read and write speeds of 90 and 55 MBps respectively and comes in capacities of 16GB ($62.95) and 32GB ($96.95). The faster SaberTooth SS has faster read and write speeds of 155 and 100MBps respectively. This line comes in 16GB ($82.95), 32GB ($124.95) as well as 64GB ($219.95) storage.
Via JkOnTheRun.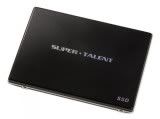 Two companies have announced solid-state drive upgrades for different netbook lines. Active Media has some new SSD drives for the Dell Mini 9 netbooks. Its new half-Mini PCI-Express SSDs offers sequential read speeds of 82 MBps and sequential write speeds of 38 MBps. The modules measure just 2″ x 1.2″ and should be able to hold data for up to 10 years. Active Media charges $65.95 for a 16GB SSD and $119.95 for the 32GB version, quite a bit cheaper than a similar drive from Runcore.
Another manufacturer, Super Talent, has also announced new SSD upgrades for the Dell Mini 9 and Asus Eee PC. The Eee PC SSD upgrades, dubbed SATA Mini 2 PCIe solid state drives, will be available in two flavours, one with MLC and one with SLC memory. The MLC based ones will be available in 16, 32 and 64GB capacities and will offer read and write speeds of up to 150 and 100MB/s. These will be backed by a two year warranty. Read more