March 19, 2009 at 10:51 am
The Chinese-language Apple Daily is reporting that Dell is planning to develop a 9-inch version of the Dell Adamo later this year according to Digitimes. Rumours surfaced earlier in the week of a 9-inch Adamo following the model number 'Adamo 9' inadvertently appearing in a Dell firmware update. It is unknown whether Apply Daily has any new information or whether it is just re-citing earlier rumours.
The report also claimed that the 13.4-inch Dell Adamo will be manufactured by Quanta Computer. It is Quanta who was rumoured to be manufacturing the rumoured Apple 10-inch netbook/tablet. More information as we have it.
March 16, 2009 at 5:38 pm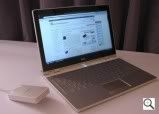 Dell's upcoming Adamo 13-inch laptop certainly has many people drooling over its super-thin design. However, one thing we have always suspected is that the Adamo name will be shared across a range of luxury laptops much like the Dell Inspiron range.
We have seen a number of websites reporting that further details on the Adamo will be released tomorrow (17th March), but whilst everyone is looking for exactly what is under the hood of the 13-inch beauty, could Dell also be announcing a super-thin 9-inch version of the Adamo too? The whole thing has been so secret that we couldn't rule it out. Read more