April 17, 2009 at 3:50 pm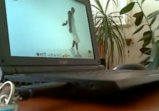 The Kogan Augora Netbook comes from Australian technology entrepreneur, Ruslan Kogan. We first reported on it back in March and it looks like units have started to hit Australian retail. The chassis is based on the Sotec DC101 and has a nice patterned effect on the lid. The Kogan comes with the gOS operating system (an option for Windows 7 will also be available later).
The following video shows a user with the Pro version that comes with a 1.6GHz N270 Atom CPU, 2GB of RAM, 160GB hard-disk drive for AUD$540. He seems to be impressed with the 10.2-inch screen and keyboard. Check out the video after the jump. Read more
March 12, 2009 at 6:03 pm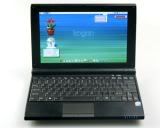 Australian technology entrepreneur, Ruslan Kogan, has presented a working prototype of his upcoming netbook dubbed the Agora. Australian PC Authority have posted their first thoughts on the 10-inch device which is powered by an Atom N270 and 1GB RAM. It will also come with a 160GB hard disk and 3-cell battery. A Pro model is also planned which will offer twice the RAM and battery.
The actual netbook design itself is nothing new, it has been used on Sotec DC101 netbooks for example. The main point of differentiation comes from the gOS operating system that the netbook ships with (Windows 7 will also be available later). Overall the preview found that the 92-percent full-size keyboard was responsive and comfortable, with a decent layout, and the 1024 x 600 display was "crisp and bright". OpenOffice loaded (in gOS) in around 30 seconds.
On release the netbook is set to sell for $499 AUD (US$320) and the Pro model is expected to sell for $549 (US$355). This will make it the cheapest on offer in Australia when it starts shipping there in April 2009.
Via Engadget.