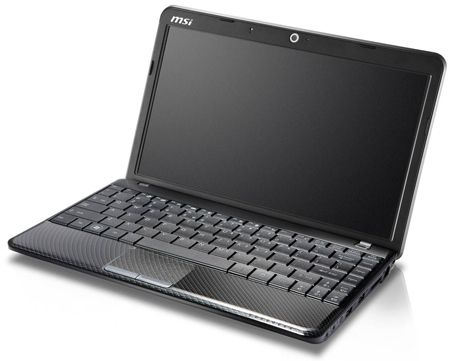 MSI has officially announced its 12.1-inch AMD-powered Wind12 U250 ultraportable. The U250 will be armed with AMD's new "Nile" ultrathin platform, more specifically a dual-core AMD Athlon II Neo (Geneva) processor that supports DDR3 memory. It also sports AMD's latest RS880M chipset that supports HD graphics as well as UVD2 and DirectX 10.1.
The design seems similar to the U230 but will come with a Cobra Gray print that helps to protect it against scratches. The Wind12 U250 will come with a 12.1-inch glossy (1366 x 768) display, up to 8GB RAM and various HDD options (160/250/320GB). Other features include HDMI, Wi-Fi (b/g/n), Bluetooth 2.1, a 1.3MP webcam, 4-in-1 card reader and three USB ports. Read more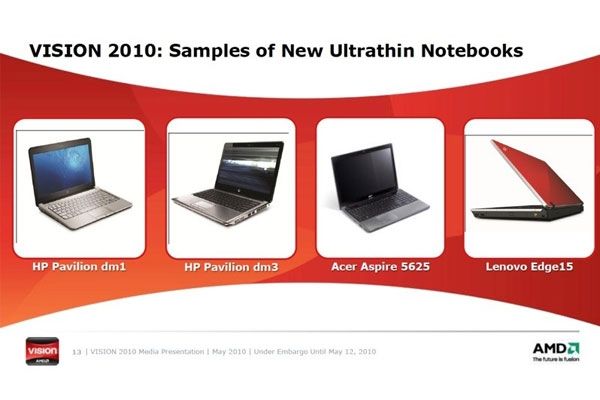 AMD has released some more details on its ultrathin 'Nile' platform range of processors. We have attached the relevant slides after the break, but basically the new platform will see a 22 percent performance increase and 36 percent increase in 3DMark06 scores compared to the older Congo platform.
Battery life is expected to be around the 4-8 hours mark. Quite a wide range, but 4 hours is active and 8 hours is "resting". Other features includes DDR3 support, 5.1 surround sound, HDMI out and DX11 support (DirectX 10.1 for HD 4200). Click through for the slides. Read more
November 12, 2009 at 11:50 am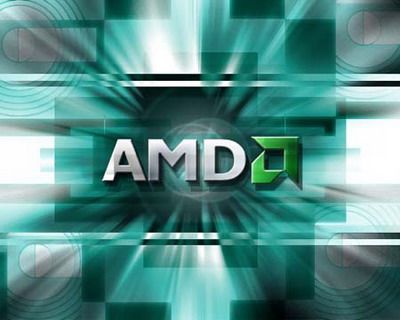 AMD yesterday held an analyst investor day and outlined its product roadmaps through to 2011 for its different product lines including desktops, notebooks and servers. It introduced two new processor cores codenamed Bulldozer and Bobcat for release in 2011.
Bulldozer is designed for desktops & servers, whilst Bobcat will mainly be aimed at ultra-thin notebooks. Interestingly, Bobcat will also see processors targeted to the netbook segment for the first time.
AMD made some bold claims about Bobcat, saying that it will provide 90 percent of today's performance in less than half of the current silicon real estate. This means it is incredibly power efficient, requiring less than a watt of power. Read more