June 25, 2010 at 11:02 am
Intel is preparing a fully native x86 version of Android 2.2 (Froyo) that it expects to ship to developers in the next two months. The company is hoping that this will ignite sales of Atom-powered netbooks and tablets.
Android was originally written for ARM processors, like those found in most current smartphones. This has meant Intel has had to play catch-up to port Android to x86 architecture.
"Our expectation is that (native x86 Android) will be based on the Froyo release and will be available this summer to developers" Renee James, Intel's senior VP for software and services said.
Via APC.
Those of you worried that the Lenovo U1 Hybrid and Skylight ultraportable devices have been canned then fear not. The guys over at TabletPCReview sat down with some Lenovo reps who told them about new Android builds on both devices implying that they will see an eventual release.
Whilst the hardware is largely in tact, the custom Linux OS for the Skylight has been ditched in favour of Android. This has given them more confidence, especially since Lenovo has worked on Android with its smartphone in China. Release timelines still remain a mystery but fingers crossed it will be out in 2010.
Via Slashgear.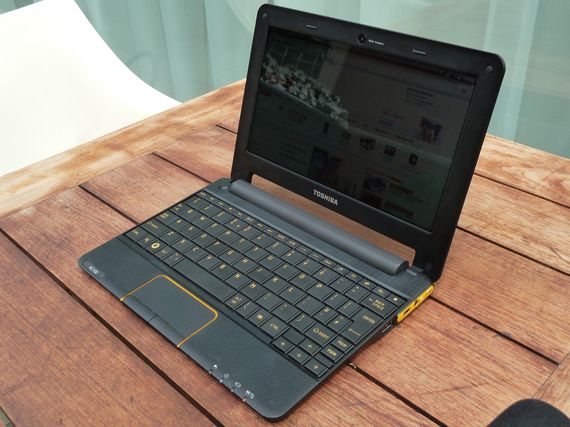 Toshiba has announced the AC100 10.1-inch Android 2.1 netbook/smartbook powered by the 1GHz Nvidia Tegra 2 (250) chipset. The AC100 smartbook offers a super slim profile, 512MB RAM, 8GB of NAND flash, a start-up time of "less than a second" and a battery runtime of 8 hours (or seven days of standby under mixed use). It looks like a traditional netbook but is slimmer and comes in a striking black and orange design (well we like it) along with a full sized-keyboard. It weighs just 870g and measures 14mm at its thinnest point.
Toshiba have made slight tweaks to Android 2.1 to make it more suited as a netbook. You'll get the usual homescreens that can be pre-configured and a number of apps will be pre-installed including Documents to Go for viewing and editing Microsoft Office files, a POP3 email client and a Toshiba Media Player. Read more
No one wants to be left off the tablet merry-ground and today's company to join the action is VIA, who says that its chip will power a number of Android tablets before the year is over. More specifically, VIA Executive, Richard Brown, said that around five different Android-based tablets priced between $100 and $150 will arrive in the US during the second half of 2010.
He goes on to say that Apple has "legitimated" the tablet market with the iPad. He is not alone in these thoughts, researcher IDC says that the global tablet shipments will increase sixfold by 2014 from 7.6 million to 46 million. Lofty projections indeed. Let's just see if this doesn't become another fad.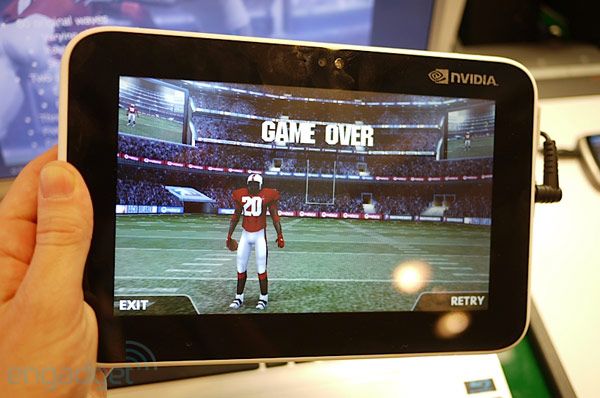 Nvidia has been showing off a Foxconn-manufactured 8.9-inch Tegra 2 tablet prototype running Android 2.1. Nvidia weren't revealing too much about the device but it is believed to have 1GB RAM, two USB ports, a front-facing camera and a 8.9-inch WSVGA screen. This model was just a reference design and a Nvidia spokesperson said that thinner and lighter designs are currently behind closed doors.
The tablet wasn't spotted booting into Android, but a 3D game was being demonstrated, most likely to show off Tegra 2's gaming prowess. A couple of sites including Engadget and NetbookNews managed to go hands-on with the device and we've attached some video hands-on after the break. Read more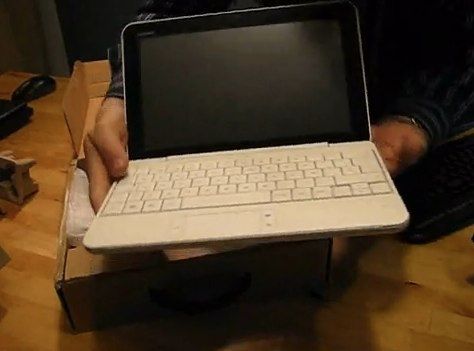 The Compaq Airlife 100 smartbook is only available in Spain right now, but that hasn't stopped Carrypad getting hold of one device to unbox and test. The 1GHz Snapdragon powered Airlife sports a lighter chassis compared to first-gen touchscreen netbooks as well as benefiting from a longer battery life.
The 10.1-inch Airlife 100 comes with the Android operating system, 512MB RAM and a 16GB flash drive. The touchscreen display is resistive rather than capacitive but comes with a matte finish. The OS has been tweaked to easily work with the touchpad as well as touchscreen. You can check out the unboxing video after the jump. Read more
April 29, 2010 at 4:14 pm
MSI is set to announce new Android and Windows 7 tablets at June's Computex show in Taiwan. These tablets are expected to come in 8.9-inch and 10-inch varieties and will ship during the third quarter. Pricing is expected to be "extremely aggressive" according to Engadget.
The dual-screen tablet, first seen at CES, has been delayed though due to issues with battery life. "The two screens are a major drain on the battery, and even with a higher density battery and the Menlow CPU we are only getting three hours," said MSI's Andy Tung. This device is now expected to land in the fourth quarter.
April 29, 2010 at 10:46 am
Compaq's AirlIfe 100 Android smartbook will be exclusively available to Telefónica customers for €229 from the middle of next month. This contract price is the up front payment, you will still need to fork out for a data contract that will set you back €48 per month.
Certainly not cheap. You can opt for a cheaper €39 per month price plan but that will require a higher initial investment of €299 for the Airlife. Engadget confirmed that the Airlife 100 will not be coming to the US, however it's unknown at this stage whether we'll see it in other European countries. Read more
April 25, 2010 at 8:07 pm
Dell will launch a "netbook tablet " and normal netbook, both sporting Android according to a leaked roadmap obtained by Android Central. The Dell Sparta netbook will come with a rotatable 11-inch (1024 x 768) display powered by an ARM processor. It will also come with optional 3G along with Wi-Fi and Bluetooth.
The Dell Athens netbook is more typical in its form-factor and will sport a similar sized display and ARM processor. It will have a thin chassis and weigh less than 900g (1.98lbs). These models are expected to launch during the Autumn. Check out a large screencap of this Dell roadmap after the break. Read more
March 31, 2010 at 6:18 pm
Acer is preparing to launch a Pine Trail update to last years Aspire One D250 dual-booting netbook. The AAO D260 will also dual-boot Android with Windows. Little other details are known right now, although Acer's mobile product manager, Martino Mombrini, apparently revealed that the chassis will be getting a redesign.
Mombrini also confirmed that Acer will be launching a Google Chrome OS netbook during Q3 and that they are working closely "with the guys at Google". We'll keep you posted on any further details.
Via Electric Pig.
March 30, 2010 at 3:57 pm
Sharp is prepping the IS01 Android smartbook in Japan that will be offered by Japan's number mobile carrier called KDDI. The 5-inch clamshell device will be powered by a 1GHz Snapdragon processor, Android 1.6 and seems more akin to a smartphone rather than a smartbook in the traditional sense.
The 5-inch capacitive display has a 960 x 480 resolution and comes with a QWERTY keyboard, 5MP camera, Wi-Fi (b/g), Bluetooth 2.1 and 4GB of storage. The Sharp IS01 will ship in Japan at the beginning of June and so far it's not known if it will appear in other regions. Click through for the specs. Read more
January 29, 2010 at 9:30 am
MSI is planning on launching its 10-inch Tegra tablet, first shown off at CES, later this year for $500 according to Digitimes. It should be armed with Tegra's Cortex A9 chipset and Android operating system.
This will pit it against the Apple iPad, with a similar price point, display and computing power. However the MSI tablet should benefit from multitasking and it is reported to be "thin and light." Tegra should also be able to handle 1080p video as opposed to 720p for the Apple iPad. There are still question marks over a full spec-list but we'll keep you posted.
January 9, 2010 at 5:37 pm
Following the official Nvidia Tegra 2 announcement, a whole number of different next-gen Tegra powered products were shown on the trade floor at CES. Rather than creating a post for every single one, we've summarised each below and attached any relevant videos. Most of these consisted of tablets, rather than smartbooks, but it gives you a good idea of what to expect over the coming year. Check out the Tegra 2 action after the jump. Read more
December 2, 2009 at 11:54 am
Acer is looking to be the first manufacturer to launch a Chrome OS netbook in the second half of 2010. The netbook has been in development since the middle of this year according to Digitimes. No specifications were given but we would expect the device to have flash storage and run either an x86 or ARM processor.
Acer was also first to market with the dual-booting Aspire One D250 Android netbook and apparently sales were not as strong as expected. This is perhaps not a surprise given the little optimization that the Android OS has seen in the move from smartphone to netbook. However, as Chrome OS is being developed for netbooks from the ground up, momentum behind Chrome OS netbooks should be higher.
November 23, 2009 at 5:23 pm
When Google Chrome OS was first announced, many questioned the strategy of needing two operating systems one for smartphones (Android) and the other for netbooks/smartbooks (Google Chrome OS). It appears that this point hasn't been lost with Sergey Brin, co-founder of Google. He has said that at some point down the road both the Android and Google Chrome operating systems will merge into a single OS.
Both operating systems have common Linux and Webkit code that should enable the transition. "Android and Chrome will likely converge over time," said Brin at a Chrome OS presentation last Thursday. However, realistically, this is some time away as Google is currently concentrating developing each fledgling platform separately. Whilst Android is already on smartphones, Chrome OS isn't expected to appear until Q4 2010. Read more