November 19, 2009 at 4:57 pm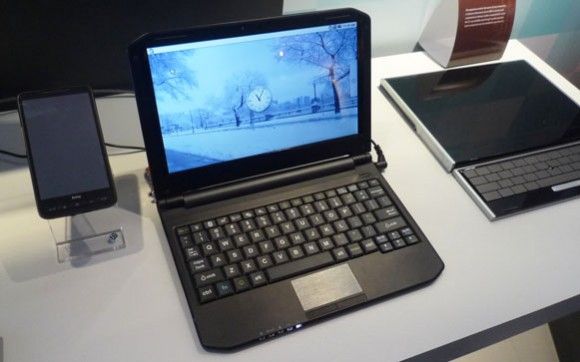 Qualcomm held a press event in London today, where it showed off different devices using its Snapdragon chipset. One of these was an Android smartbook from OEM Quanta. The fanless prototype is based on the Snapdragon chip and therefore very slimline.
The keyboard has been reconfigured to allow one-touch access to the homescreen, programs menu, applications and settings (such as 3G, Wi-Fi and Bluetooth). However, it did suffer from flex. Qualcomm confirmed that Lenovo's smartbook will be even thinner with curvier edges. Check out a hands-on video from Slashgear after the break. Read more
October 29, 2009 at 9:46 pm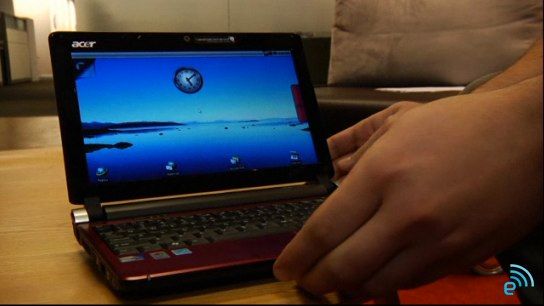 Acer's dual-booting Android/Windows Aspire One AOD250 netbook certainly has garnered lots of headlines since its announcement. However the practicalities of such a device may not be so positive. Engadget has posted its initial impressions of AOD250 and it's not pretty reading.
They couldn't get the Gmail app to install onto the desktop, which was a major flaw in their eyes. You get Google Talk and Calendar apps but that doesn't compensate for Gmail. They also had Wi-Fi & Ethernet connection problems too. They went as far to say that the Android part was "useless" and that the "best thing you can do with this is to boot it to XP". Ouch. Check out the video after the break. Read more
October 26, 2009 at 4:40 pm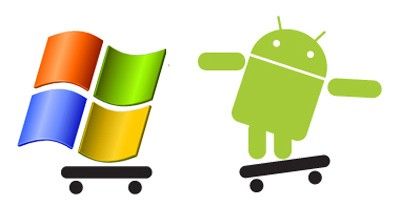 Asus President & CEO, Jerry Shen, has said that dual-operating system netbooks are "meaningless" due to the advent of Windows 7. In what is likely a dig towards Acer's dual-boot Android netbook, he said that Microsoft's new OS has already significantly improved the boot speed of netbooks, negating the need for alternative operating systems such as Android.
Shen went on to say that around 30 percent of its netbook line-up has already moved to Windows 7, which is expected to rise to 80 percent by Q1 2010 once new models with Intel's Pine Trail platform are launched. He also expects ultra-thins to become more prevalent as we move into 2010, moving from a double-digit percentage of overall notebook shipments currently to 20-30 percent share by H1 2010.
Via Digitimes.
October 15, 2009 at 8:50 pm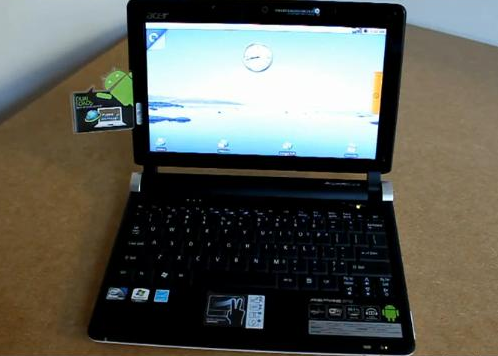 News regarding Acer's dual-booting Android/Windows 7 seems to be coming thick and fast right now. Pierre from Blogeee managed to get his hands on what looks like a finished retail unit, a week before its release.
He unboxes a white version that comes with a black interior (bezel & keyboard). The Android bootup sequence is shown and it is indeed fast. Browsing in Firefox within Android proved no problem too, working well. Pierre then shows the boot process into Windows 7, within Android. Check out the unboxing video (in French) after the break. Read more
October 14, 2009 at 8:45 pm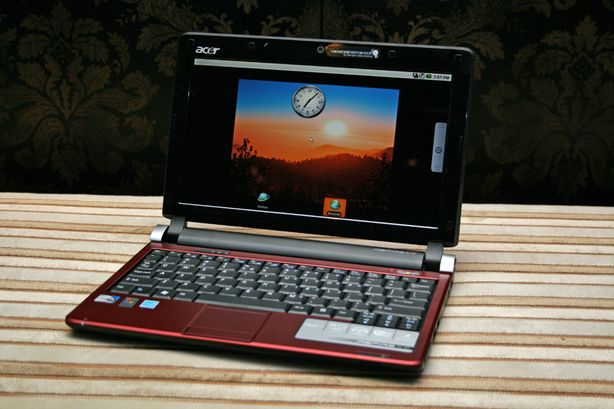 The dual-boot Android Acer Aspire One netbook was officially announced today. Pre-orders of the device appeared on Amazon.com site yesterday, listing it as dual-booting with XP & Android. However, here in the UK, the netbook will be available with both XP or Windows 7. The netbook will be released on October 22nd with the dual-boot XP version costing £279 and the dual-boot Windows 7 Starter version costing £299.
Other new bits of information regarding this netbook, includes the fact that you will be able to boot up the netbook (in Android) in a "matter of seconds". The company is quoting 18 seconds to search the internet and just 3 seconds to shut down. If you need to switch to Windows 7 you will not even need to reboot. The great thing is that all of the web connections, whilst in Android, will remain running even if you reboot. Read more
October 13, 2009 at 12:20 pm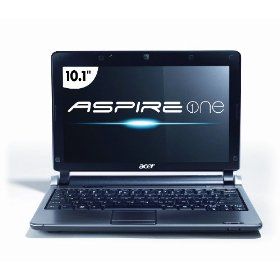 Acer's dual-boot Android netbook is now available to pre-order in the United States through Amazon.com
. Acer is using an iteration of its Aspire One D250 netbook for this new dual-boot model. The white D250 (model number: AOD250-1613) is on pre-order for $350
.
Most of the specifications are unchanged from the current Aspire One D250 (no hardware revisions unlike the Windows 7 D250). It has a 10.1-inch (1024 x 600) display and is powered by a 1.66GHz N280 Atom CPU, 1GB RAM (max 2GB) and a 160GB HDD (5,400RPM).
The system dual-boots between Google Android and Windows XP (SP3). It has a multi-touch touchpad and comes with a 5800mAh 6-cell battery that should be good for 9 hours of life. Other features include webcam, three USB ports, card reader, Bluetooth 2.1 and Wi-Fi (b/g). The D250 weighs 2.79lbs (1.3kg) and has dimensions of 10.17 x 7.24 x 1 inches (WxDxH).
Via Netbooked.
October 3, 2009 at 12:28 pm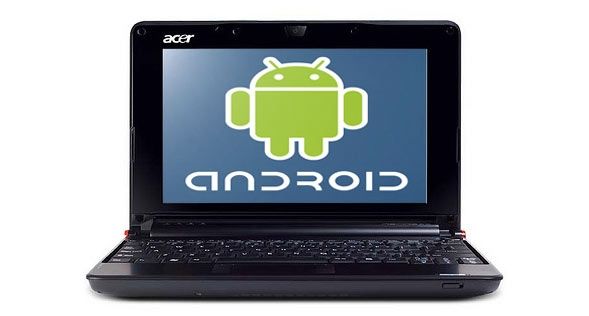 Acer's dual-boot Android/XP netbook was expected during the third quarter, but that launch window has come and gone. Gizmodo is now reporting that the netbook is expected to arrive by November without citing sources.
The netbook is expected to be similar to its current netbook range and it will not be cheaper either as it will still ship with Windows XP. It will be interesting to see how Android has been tailored for the netbook experience, especially considering that Google's Chrome OS is around the corner.
September 11, 2009 at 10:48 am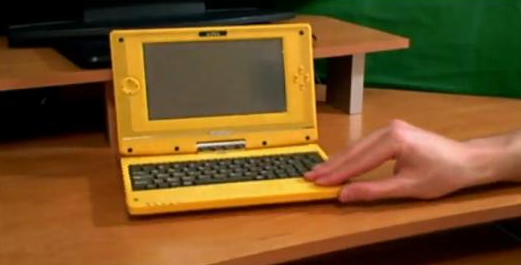 We last heard of Skytone's Alpha 860 smartbook back in May. Its main claim to fame was being the first Android netbook to be announced, despite somewhat anaemic specifications. The 7-inch (800 x 480) Alpha 680 is powered by an ARM 11 533MHz processor, 128MB RAM and 1GB of flash storage as standard. An optional upgrade to 256MB RAM and 4GB flash storage is possible. For those that want more, a SDHC slot is also supported.
Jason from Rockland got hold of a (garish) yellow Alpha 680 and shot some video impressions. Whilst the specifications may not be too grand, the form factor looks promising. It is a convertible netbook with touchscreen display and he demonstrated some touch features of Android. It does seem that it's not entirely market ready right now, for example the accelerometer doesn't seem to work. However, as a proof of concept it looks like something like this could take off with the right balance of hardware/price/design. Check out the video after the break. Read more
August 25, 2009 at 3:48 pm
The CEO of Asustek, Jerry Shen, does not see a market for smartbook devices right now and has frozen plans for its own Qualcomm Snapdragon Eee PC using Android. The device was first spotted during Computex in June, but Asus has never confirmed plans for mass production.
"Currently, I still don't see a clear market for smartbooks," said Shen during an investors conference in Taipei. The reason why an Asus smartbook has been put on the back-burner is due to limited engineering resources according to PC World. This is despite the fact that manufacturing could be outsourced to Pegatron, who has already shown a number of smartbooks. Despite this, a number of smartbooks from other manufacturers are expected by the end of the year. Let's just hope it is as close to that $199 mark that has been muted for a while.
Via Engadget.
Acer is still on track to launch its dual-booting Android netbook in the third quarter of this year according to a company representative. This follows yesterday's news that Acer was postponing the Android netbook following expected weak demand for the device.
The Aspire One netbook will come with Google's Android operating system, but Acer is expected to hedge their bets by dual-booting the netbook with Windows XP. The netbook will be based on an existing model and come with a 10-inch display and Intel Atom processor. Acer is working with a Taiwanese company called Insyde Software, who specialise in Linux, to port the Android OS to the Aspire One netbook with Atom CPU.
Via PC World.
July 28, 2009 at 11:12 am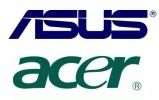 Two of the biggest netbook manufacturers, Asustek and Acer, will not be releasing any new netbook models in the second half of 2009 according to Digitimes. Both companies will instead concentrate on its CULV-based ultra-thin line-up during H209. The move by Intel to delay the launch of its Pine Trail platform (including Pineview processor) to Q1 2010 is one of the reasons both companies new netbook models have been pushed back.
This does not extend to models already announced, therefore Asus will still be launching its Eee PC T91 and T101 touchscreen netbooks. The report also suggests that an Asus Android model will launch in the second half. However, previous reports suggested we would not see an Asus Android netbook until Q1 2010 at the earliest. The Eee PC T101 is expected to launch after the launch of Windows 7 (October 22nd).
Acer will let its 10-inch Aspire One model fly the flag for Acer in H209 and it continues to reduce netbook marketing budgets and R&D spend in this area. Acer did announce an Android netbook that would dual-boot with Windows XP. The report says that the launch of this model has been postponed from its pencilled-in August launch date due to weak demand. There was no mention as to when it would likely launch instead.
July 13, 2009 at 10:58 am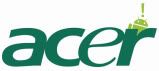 Acer will launch a dual-boot netbook with both Android and Windows XP in August 2009 according to a report from Digitimes. We previously heard that this netbook would be released in the third quarter, so the timing does make sense if true.
Don't expect the netbook to be cheaper than XP-only models, as licensing fees for XP still need to be paid. Acer has already said that if there is enough demand, it will launch an Android-only model, which would drop the price by around $25.
The move is likely to benefit ODMs Quanta and Compal Electronics, who are both expected to share in the manufacturing of this model. In related news, both Asus and MSI have reaffirmed plans to launch Android netbooks although not until 2010 according to the report.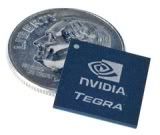 Google's Android operating system has been getting all of the column inches and hype relating to an eventual transition to netbooks and smartbooks. However, Nvidia feels that Windows CE is the more mature platform, as things stand, for Tegra-based smartbooks.
The Tegra platform is different to ION in that it pairs an ARM-based processor with an Nvidia GeForce GPU (ION pairs an Intel Atom CPU with the Nvidia 9400M graphics). Nvidia certainly has high hopes for the Tegra platform, with its CEO Jen-Hsun Huang predicting that Tegra will benefit from higher margins than its existing products and could contribute as much as half of Nvidia's revenues within a few years. Read more
At the Computex show in Taiwan a few weeks back, an Asus Eee PC was snapped powered by a Qualcomm Snapdragon chip and running Android. What was interesting is that this Eee PC was demonstrated on the Qualcomm stand and no similar demo was made by Asus. We now have word as to why that was.
Jonney Shih, Asus Chairman, said that Asus had originally planned to showcase an Android-based Eee PC at Computex, but their feeling was that it still needed more work. Asus felt that more development time was needed with Android to make the most out of the netbook experience. Read more
June 17, 2009 at 12:02 am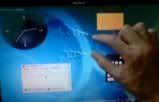 Whilst everyone is gearing up for multi-touch support on the upcoming Windows 7, a group of French developers didn't want us to forget about Linux. They have shown off a proof of concept multi-touch demonstration which is running on the 2.6.30 Kernel.
The demo shows them using a number of multi-touch gestures, including desktop switching, water ripple effects and rotating and resizing windows. They claim that this is native Linux multi-touch support. It was developed by Mohamed-Ikbel Boulabiar, Stephane Chatty, and Sebastien Hamdani, from the Interactive Computing Lab at the ENAC (Ecole Nationale de l'Aviation Civile) aeronautics academy in Toulouse, France. Read more