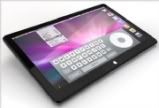 There have been many rumours over an Apple Tablet or netbook device, but there's always room for one more. We have already heard that Apple may by releasing a 'Media Pad' with Verizon and now we are hearing that it may launch with a subsidy from the carrier.
According to The Street, the Media Pad will basically be a 9 to 10-inch touchscreen device. It will be subsidised by Verizon and arrive in time for the holidays according to an unnamed source. The report suggests that a prototype has been ready for nearly a year now, whilst Apple has considered exactly what market it is targeting with this high cost device. Read more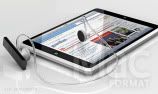 They very first rumours of a proposed Apple netbook or tablet were kicked off at the beginning of March, when reports surfaced that Wintek was to supply touch panels for the rumoured netbook. This news is being reaffirmed today according to a Digitimes report that suggests Wintek has been confirmed as the "panel module supplier for Apple's upcoming e-book form factor netbook product."
There 's not much more to the report than that. The original story suggested that shipments of these touch panels were expected in Q3 2009. If this rumour is true, it would put paid to rumours that Apple was working on an OLED tablet with the screen supplied by LG. Although, according to analysts, the rumoured netbook, tablet or Media Pad will not arrive until the first half of 2010.
There have been many rumours regarding what a rumoured Apple netbook / tablet / Media Pad will look like. Now an analyst at Piper Jaffray's has thrown his views into the mix. According to Gene Munster, Apple's tablet device will fill the gap between the iPod touch and the MacBook. It will cost between $500 and $700, run App Store apps and arrive in the first half of 2010.
"We are anticipating a new category of Apple products, with an operating system more robust than the iPhone's but optimized for multi-touch. We expect the end result to be launched later but with more dramatic differentiation than the Street is expecting," Munster said. Read more
April 28, 2009 at 5:52 pm
Apple has consistently denied rumours that it plans to enter the netbook segment as we know it. During its latest quarterly results, an Apple executive even went as far as dismissing netbooks as "junky". At the same time, Apple said it would look to make an "innovative product" and had some interesting ideas of its own. We are now hearing a rumour that Apple is set to launch a "media pad" in conjunction with Verizon Wireless.
A report from BusinessWeek suggests that this Apple media pad will be used to listen to music, view photos and watch HD content. It could also be used to make phone calls over a wireless connection. It is unknown what type of form this media pad would take, but could this be the Apple tablet that has been rumoured for so long? Read more