January 27, 2010 at 9:03 pm
Apple has finally revealed the iPad, a 9.7-inch tablet device that will be powered by a custom 1GHz Apple A4 processor and a 10-hour battery life. As expected, the iPad certainly looks gorgeous, measuring half an inch in thickness and will come in various flash storage options from 16GB to 64GB.
It will run the iPhone OS with a new UI. Included is a new e-book reading app called iBooks with a wireless online store. The company has partnered with Penguin, HarperCollins, Simon & Schuster, MacMillan and Hachett Book Group. Read more
November 19, 2009 at 10:48 am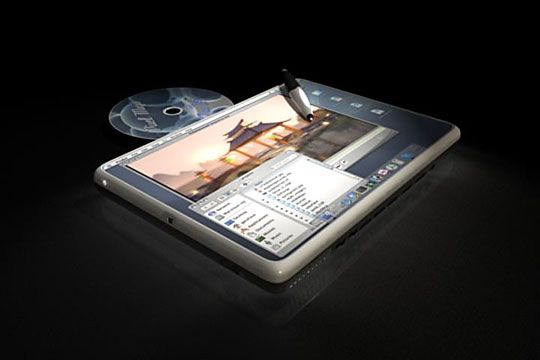 It's difficult to understand how something can be delayed when it hasn't even been announced, but Digitimes is reporting that the oft-rumoured Apple tablet will now launch in the second half of 2010. It has been pushed back from a March launch schedule as it has switched components and now plans to launch two models; one with an OLED screen and another with a TFT LCD display.
The OLED panel will be supplied by LG Display according to the report and will be 9.7-inches in size. The TFT LCD model will come with a 10.6-inch display and will be manufactured by Foxconn, Quanta and Pegatron Technology.
Looking at current OLED 9.7-inch display prices of $500, you can estimate that the tablet will have a total whopping cost of around $1,500 to $1,700 (panel costs typically account for around 30 percent of the device's total cost). However, as prices are dropping all of the time, Apple is expected that the cost of the OLED model will be in the region of $1,200-1,500 by the time of release. This will lead to a retail price of around $2,000. The 10.6-inch TFT model is expected to be priced between $800 and $1000.
November 2, 2009 at 3:57 pm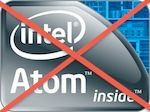 Reports are surfacing that Apple is planning to strike back at the Hackintosh netbook community, by disabling support of Intel Atom processors with the forthcoming Mac OS X 10.6.2 update.
Personally, I'm surprised it has taken the company this long to take action, especially for a company that guards its IP so vociferously. There is a large number of users that use their beloved netbooks with Mac OS X as a genuine alternative to Windows & Linux distros. Read more
Today's Apple tablet rumour of the day comes from the respected Financial Times, who are reporting that the company is aiming for a September launch date for a new project aiming to boost the interest in digital music albums. It is expected that this tablet device may be launched alongside this project, codenamed "Cocktail".
Apple is apparently working with EMI, Sony Music, Warner Music and Universal Music Group on Cocktail in a move to revive interest in high-margin music albums, rather than single download tracks. The service will include bundling an interactive booklet (like you would find in traditional CD case) when purchasing a digital album. This would include sleeve notes and other interactive features. You would also be able to play songs directly from this booklet without going back to iTunes.
Little new news on the tablet was given. The report mentions a 10-inch touch-sensitive device, kind of like a larger iPod Touch. Previous rumours suggested a 2010 release for the device. There are now so many different stories on this it's difficult to know how this device will shape up. The report says that it won't be 3G enabled, yet will be great for watching movies. Others suggest it could be a competitor for the Kindle.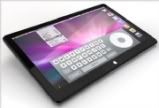 There have been many rumours over an Apple Tablet or netbook device, but there's always room for one more. We have already heard that Apple may by releasing a 'Media Pad' with Verizon and now we are hearing that it may launch with a subsidy from the carrier.
According to The Street, the Media Pad will basically be a 9 to 10-inch touchscreen device. It will be subsidised by Verizon and arrive in time for the holidays according to an unnamed source. The report suggests that a prototype has been ready for nearly a year now, whilst Apple has considered exactly what market it is targeting with this high cost device. Read more
There have been numerous rumours over whether or not Apple plans to launch a 'netbook' type device, to attack the lower-end of the computing market. Today's rumour is that an Apple 'tablet' is coming and will launch in October costing around the $800 mark.
The story comes from The China Times, where it reports that Apple is trying to launch the device in time for the Christmas shopping season. It also says that Wintek will be providing the touch panels, whilst Foxconn will be manufacturing the tablet. Both of these names have been mentioned before in these rumours, adding to the likelihood of their involvement. Read more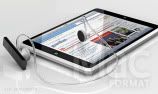 They very first rumours of a proposed Apple netbook or tablet were kicked off at the beginning of March, when reports surfaced that Wintek was to supply touch panels for the rumoured netbook. This news is being reaffirmed today according to a Digitimes report that suggests Wintek has been confirmed as the "panel module supplier for Apple's upcoming e-book form factor netbook product."
There 's not much more to the report than that. The original story suggested that shipments of these touch panels were expected in Q3 2009. If this rumour is true, it would put paid to rumours that Apple was working on an OLED tablet with the screen supplied by LG. Although, according to analysts, the rumoured netbook, tablet or Media Pad will not arrive until the first half of 2010.
There have been many rumours regarding what a rumoured Apple netbook / tablet / Media Pad will look like. Now an analyst at Piper Jaffray's has thrown his views into the mix. According to Gene Munster, Apple's tablet device will fill the gap between the iPod touch and the MacBook. It will cost between $500 and $700, run App Store apps and arrive in the first half of 2010.
"We are anticipating a new category of Apple products, with an operating system more robust than the iPhone's but optimized for multi-touch. We expect the end result to be launched later but with more dramatic differentiation than the Street is expecting," Munster said. Read more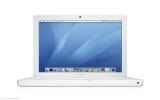 Apple is planning to cut prices on its iMac and MacBook lines "according to people who've proven extremely reliable in predicting Apple's future business directions," AppleInsider reports. The real juice from the report though is that the move isn't a response to Microsoft's recent advertising blitz, but more to combat the growth of netbooks.
Apple's COO Tim Cook recently described the netbook in its current form as "junky", the same sources for the report maintain that Apple has no plans to cater for the netbook market as it exists today.
This would be seen as interim solution until Apple is ready to introduce its own take of what a netbook should be. This is a project that is taking longer to complete than anticipated says the report. So it looks like we may be waiting a bit longer for that rumoured 10-inch Apple tablet.
April 28, 2009 at 5:52 pm
Apple has consistently denied rumours that it plans to enter the netbook segment as we know it. During its latest quarterly results, an Apple executive even went as far as dismissing netbooks as "junky". At the same time, Apple said it would look to make an "innovative product" and had some interesting ideas of its own. We are now hearing a rumour that Apple is set to launch a "media pad" in conjunction with Verizon Wireless.
A report from BusinessWeek suggests that this Apple media pad will be used to listen to music, view photos and watch HD content. It could also be used to make phone calls over a wireless connection. It is unknown what type of form this media pad would take, but could this be the Apple tablet that has been rumoured for so long? Read more
April 23, 2009 at 2:40 pm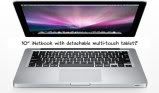 There has been many rumours in recent months over whether Apple will release its own entry into the netbook space. However, during its latest quarterly results Apple appeared to shoot down any ideas that we will see a netbook as exists in its current form. In fact, Apple tore into current netbooks which half bordered into rant territory.
"For us, it's about doing great products. And when I look at what is being sold in the netbook space today, I see cramped keyboards, terrible software, junky hardware, very small screens, and just not a consumer experience, and not something that we would put the Mac brand on quite frankly. And so, it's not a space as it exists today that we are interested in, nor do we believe that customers in the long term would be interested in. It's a segment we would choose not to play in," said Apple's Chief Operating Officer, Tim Cook. Read more
April 13, 2009 at 12:27 pm
Apple's head honcho, Steve Jobs, is apparently working on Apple's new portable device according to the Wall Street Journal. The report suggests that Apple is working on a netbook/tablet that is smaller than its current laptop computers but larger than the iPhone (kind of obvious!) It's hard to say what this Apple netbook would look like exactly — it seems none of the Apple tipster sites have yet to get a good grasp on it, but that hasn't stopped the speculation.
We have already heard a number of rumours regarding an Apple netbook or tablet device. This includes the news that Apple has apparently placed an order with Wintek to supply 10-inch touch panels, with shipments of the panel expected in Q3 2009. There have also been rumours that the device will use flash storage and even rumours that it will have an OLED screen.
MacRumors suggests: "Apple's ongoing research into multi-touch, however, has generated speculation that Apple may incorporate more advanced gesturing into a future device." This may point to a tablet device without physical keyboard. Steve Jobs, who has been absent from the public arena due to health troubles, is expected to take up a full time roll again from June. Could this coincide with the release of Apple's rumoured portable device?