March 18, 2010 at 7:46 am
We don't normally cover devices greater than 12-inches here at NbC, but we're making an exception for the Archos A13PS. It piqued our interest as it's one of the very few notebooks of that size that will be powered by a dual-core D510 Atom processor.
Now I'm not entirely sure why Archos opted for the Atom solution here instead of looking at Intel ULV processors. The only thing I can think of is that maybe the company wanted good graphics and battery life and may be looking to include next-gen ION in the package. Other details are thin on the ground apart form the fact it will come with Windows 7 Home Premium and is likely to have a 13.3-inch display. Read more
January 29, 2010 at 7:57 pm
If CES wasn't an indication enough that 2010 is likely to be the year of the tablet (or slate if you prefer), then Gizmodo has a nice comparison table where it has compared six slates (including the recently announced Apple iPad).
Having a quick run through the list, the Notion Ink stands out for me. It's the only one to come with a Pixel Qi display for e-reading duties and sports Android, Tegra 2 and even a HDMI out. The only glaring omission is Adobe Flash support, but I'm sure Android will support this at some point down the line. Check out the detailed comparison table after the break. Read more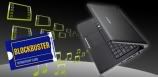 This one seems a bit of a strange partnership in our eyes. Blockbuster has announced that it has partnered with Archos to offer the Archos 10 netbook for sale across 1,000 US stores. Whilst the specifications of the Archos 10 is very run of the mill, Blockbuster will be offering the netbook for a very reasonable $299.99.
Obviously, if you go to rent a DVD from Blockbuster, there's no chance of it playing back on your netbook, which has no optical drive. However, it seems they are making sure you think of Blockbuster by ordering rentals online or using their download services. "Enhancing our consumer electronics offerings with an affordably priced netbook that allows customers to access our online rental, retail and download services, whether they're at home or on the road, is a natural fit," said Joanne DeLorenzo, VP of Products at Blockbuster.
The Archos 10 has already been succeeded (in design only) with the Archos 10s that is much slimmer than the Archos 10 but comes with the same specifications. The Archos 10 comes with a 10-inch LED backlit display powered by a 1.6GHz N270 Atom processor, 1GB RAM and a 160GB HDD. It also comes with a 1.3MP webcam and integrated Wi-Fi.
Via UMPC Portal.
The Archos 10s netbook is essentially exactly the same, in terms of components, as the Archos 10. It is a 10.2-inch (1024 x 600) netbook that uses the same 1.6GHzs N270 processor and comes with 1GB RAM and a 160GB HDD. However, whereas the Archos 10 was a pretty average netbook, the 10s ups the ante by its slimmer form-factor. It measures just 22.5mm in thickness and weighs 1.06kg with the 3-cell battery.
We now know that the Archos 10s will launch this month with 2 SKUs. The first includes a 3-cell battery and will retail for £329.99, whilst a 6-cell version will cost an extra £20 at £349.99. The Archos Classmate is expected to launch in August for £319.99.
Via Pocket-Lint.
June 29, 2009 at 12:03 pm
Archos is releasing a version of its 10-inch netbook, the Archos 10 Ubuntu Edition, which will include Ubuntu 9.04, 2GB RAM, a 500GB HDD and a 6-cell battery for €375 in France. So far this has only been announced for the Archos 10 rather than the recently announced Archos 10s, which is much slimmer than the original, but includes the same specifications.
This is only slightly more expensive than the standard Windows XP SKU that costs €349 and comes with 1GB RAM and a 160GB HDD. So far there is no idea if this SKU will be sold outside of France or, if indeed there will be an Archos 10s Ubuntu edition. We'll report back on further developments.
Via ArchosFans [via NetbookNews.de].
The Archos 10s netbook was officially launched last week. The 10.2-inch (1024 x 600) netbook is exactly the same as the Archos 10 but is much slimmer and lighter. It measures just 22.5m in thickness and weighs 1.06kg with the 3-cell battery. TechVideoBlog managed to get a video demonstration of the 10s in action, which certainly looks like a nice netbook.
When we originally reported on the Archos 10s, we said it may not have a Kensington lock or VGA. However, judging by the video, it does include a Kensington lock and VGA is provided for by a small adaptor. The unit shown was a near final version even though the keyboard is finished. The full-sized keyboard looks very good and reminds me of the Samsung N120. It spreads right to the edge of the chassis. The bottom didn't have any access panels for RAM or HDD, but the rep said that this is subject to change with the final version. It was also good to see the 10s using a matte display. Read more
June 11, 2009 at 11:02 pm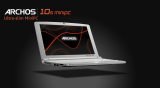 Archos has officially launched the follow-up to the Archos 10, called the Archos 10s. As you can probably tell by the model name, the two are very similar in specifications and the 10s should be seen as an aesthetic upgrade. The 's' stands for slim and it doesn't disappoint there, measuring just 22.5m in thickness and weighing 1.06kg with the 3-cell battery. The original Archos 10 was 28mm thick and weighed 1.3kg.
The technical specifications remain exactly the same, including the maximum 1GB RAM restriction. However, what I did notice is that the 10.2-inch (1024 x 600) 10s does not appear to have a VGA slot or Kensington lock. Apart from that, you'll get a 1.6GHz N270 Atom CPU & 945GSE chipset under the hood. This will come with 1GB RAM and a 160GB HDD. There's no Bluetooth, but you do get Wi-Fi (b/g), three USB ports, card reader, a 1.3MP webcam and a choice of a 6-cell battery. Pricing for the Archos 10s has not been announced, but the will launch sometime in June with three-cell and six-cell batteries. Read more
March 27, 2009 at 4:46 pm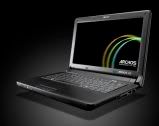 Archos is planning to release a number of 'internet media devices' powered by the Google Android operating system in the second half of this year. Archos hasn't confirmed exactly what form these internet media devices will take, however a UMPC is likely to be one of them.
"In the third and fourth quarter we will be launching internet media devices that will be based on Google's Android technology, " said Tony Limrick, MD of Archos Europe. "In terms of the forthcoming ultra-mobile PC, we are not releasing the final specifications, except we will be incorporating Google Android into one very smart piece of kit."
Further details are unknown at this point, however Limrick emphasised screen quality, size and ultra-portability as key factors. Whilst Archos is traditionally known for its personal media player (PMP) devices it launched its first netbook, the Archos 10, earlier this year. Whilst, the Archos 10 looks like most other netbooks on the market, may Archos also be planning a new netbook powered by Android? That certainly would set it apart from the rest.
Via Silicon Republic.