The Acer Aspire One 531 was recently released in the UK and now it looks like Acer's 10-inch slimline netbook has launched in the US. This follows the recent launch of the 11.6-inch Aspire One 751 netbook that is now available online as well as the Aspire One D250.
The Aspire One 531 (AO531h-1766) is in fact a carbon copy of the D250 albeit with a slimmer chassis. The Aspire One 531 Pro (AOP531h-1791) is the business version that comes with a range of operating systems and storage options (including SSD). A 3G enabled SKU (AO531h-1440) is also being sold at Costco stores in the US. If buying it on a subsidised contract, it will set you back $60 a month on a two-year AT&T contract.
Via Portable Monkey.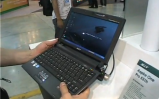 The Acer Aspire One Pro 531 recently officially hit the UK market. The 'Pro' in the name denotes that this is targeted to business users. In terms of specifications this is almost exactly the same as the Aspire One 531. The only thing that differs with the Pro versions is that there is a wider choice of operating systems and storage options (including SSDs).
JKKMobile managed to get hands-on with the Pro 531 at Computex last week. It seems like a very attractive netbook, slimline with an understated design. It has a matte textured lid and good build quality. What I can't understand, is that if this is targeted to business users, why does it have a glossy display? That certainly wouldn't be welcome be me if I was on the road all the time. Apart from that, it has good upgradability with access to the 2.5-inch hard drive, RAM and optional 3G module. Check out the video after the break. Read more
April 23, 2009 at 2:01 pm
Asus is not the only netbook manufacturer that frustrates me with its hard-to-follow model numbering. Acer's recent announcements has left me scratching my head trying to work out the difference between models. If you look at the Aspire One D250, for example, and compare it to the Aspire One 531, they are almost identical models apart from a thinner form factor for the 531. To add to the mix, Acer has now announced the Aspire One Pro 531.
Now we had first heard rumours of the 'Pro' series just under a month ago. The Aspire One Pro models were to be targeted towards business users and 'prosumers'. So how does the 'Pro 531' differ from the '531' you may ask? From what we can tell, the 'Pro 531' seems to be almost identical to the 531 apart from its storage options and choice of OS. Read more