April 15, 2009 at 4:44 pm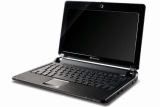 Acer-owned, Gateway, has announced the LT2000 netbook for the Japanese market. The LT2000 looks to be similar to the LT20 netbook announced for the US market last week. The LT2000 sports a 10.1-inch (1024 x 600) resolution display and is powered by a 1.66GHz N280 Atom CPU and 945GSE chipset.
It also comes with 1GB RAM (max) and a 160GB hard-disk drive. Other features include Wi-Fi (b/g), a 0.3MP webcam, Dolby Headphone and a multi-card reader. The LT2000 will come with a 3-cell battery which should last around 3 hours and will weigh 1.18kg (2.6lbs).
The LT2000 will be available in both black and red for 49,800 Yen ($500/€380/£335). This is the same price as the Acer Aspire One D250 that is due to hit Japanese retail next week.
Via Portable Monkey.
April 15, 2009 at 4:02 pm
Acer Japan has announced that it will be launching its 10.1-inch Aspire One D250 netbook on April 24th for 49,800 Yen ($500/€380/£335). The Aspire One D250 (AOD250) will be powered by a 1.66GHz Atom CPU and 945GSE chipset. It also comes with 1GB RAM and 160GB hard-disk drive. The 10.1-inch display has a resolution of 1024 x 600 pixels.
The D250 is around 1-inch thick and weighs 1.11kg with the 3-cell battery. This battery should give you around 3.15 hours of use according to Acer. For those looking for an even slimmer form-factor, the Aspire One 531 will have very similar specifications but weighs just 1kg (2.2lbs) with the 3-cell battery. Given the smaller size, the 531 has marginally worse battery life (3 hours on the 3-cell).
In the UK, no launch date has been confirmed but according to retail sites, the Aspire One D250 is set to launch around the end of April. Having a quick look, CCL Online seems to have the cheapest pre-order at £335 delivered (in-line with the Japanese RRP above).
Via Akhibara News.
Acer is planning on launching a new 8.9-inch netbook that will be WiMAX enabled according to some documents that have passed through the US FCC. I find this somewhat strange given yesterday's news that the company is in the process of phasing out its line of 8.9-inch netbooks.
The documents reveal that the unit will carry the model name of Aspire One Z5G. The WiMAX module will be embedded into the netbook itself which maybe highlights that it will be carried by wireless carriers who will look to bundle the netbook with certain data contracts. No other information such as pricing and availability is available so far.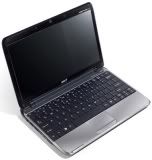 Acer held an event last night in New York to announce a number of products across different ranges. One of these was the confirmation of an 11.6" Aspire One netbook. Judging from the press release, it seems that Acer is holding back on exactly which name it will market this new netbook. Over the last few weeks we have already heard of an 11.6-inch Acer netbook in both a new Aspire One Pro line-up as well as the supposed Aspire One 751 which was previewed recently.
Like the above rumoured models the 11.6" Aspire One looks very sleek and slim and measures only 1-inch in thickness. A full list of technical specifications has not been released, but despite this we still know that it will be powered by an Intel Atom CPU and use the Intel US15W Express Chipset. Acer is also claiming battery life of 8 hours on its 6-cell 5200 mAh battery. The 11.6-inch Aspire One will come with a WXGA (1366 x 768) resolution LED-backlit screen. Whilst the official specifications have not been released, the model shown in New York last night came with a 1.6GHz Atom Z530 CPU and 1GB RAM.
In terms of wireless connectivity, it features WiFi (although no draft 'n' here), Bluetooth as well as embedded 3G. The full-sized keyboard comes with a large right shift key and the netbook will also support multi-touch gestures. The mouse buttons are placed beneath the touchpad thankfully. It will also come with a 160GB hard-drive (5,400 RPM), a multi-in-one card reader, digital microphone and webcam (resolution unspecified). The 11.6" Aspire One will come in four glossy colours (white, dark blue, red and black). No confirmation of pricing or availability has been made but some US sites suggest that it will ship at the end of April. More news as we have it. Check out some photos after the jump as well as Laptop Mag who have a video of the netbook in action. Read more
GeekyLives managed to get hands on with an Acer Aspire One D250 netbook, despite the model only being quietly announced by Acer last week. The unboxing shows how easy it is to upgrade the internals (HDD, RAM) as well as adding a mini-pci card. Overall first impressions were that it is a sleek and attractive netbook. Acer also announced the Aspire One 531 last week which has very similar specs to the D250 albeit in an even slimmer form-factor.
The Aspire One D250 netbook comes with a 10.1-inch (1024 x 600) LED backlit display in a slimline form-factor that is just 1-inch thick and weighing 1.27kg (2.79lbs) with the 6-cell battery. The unit that GeekyLives played with came with a 1.66GHz N280 Atom CPU, 1GB RAM and a 160GB hard-disk drive.
As can be seen from the video, the 6-cell 4400 mAh battery does stick out a little from the back although doesn't make the unit significantly thicker as seen with other batteries. Given that the 3-cell 2200 mAh battery is only rated for 3.15 hours, compared to the 6 hours of life from the 6-cell, it is a compromise worth making in our view. The Aspire One D250 can currently be ordered from CCL Online for £335. Check out the video (in Norwegian) after the break. Read more
Whilst we are still waiting for official confirmation of the 11-6 inch Acer Aspire One 751, the elder sibling of the 10.1-inch 531 announced yesterday, PC World Norway has already previewed a pre-production model. Overall they were impressed with the stylish slim design, good-sized keyboard and great display. The main niggle they had was the fan noise, although this may be rectified from retail models. Read more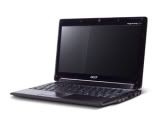 Following on from Acer's 10.1-inch Aspire One D250 netbook announced yesterday, another 10-inch from its stable has also been unveiled, the Aspire One 531. The Aspire One D250 appeared on both the Acer UK and Germany sites yesterday but was then removed later in the day. However, the Aspire One 531 is still listed on the Germany site for all to see. Looking through the specifications we are struggling to tell the difference between the two, it looks almost identical to the D250. Read more
March 31, 2009 at 9:36 pm
The Acer Aspire One D250 has been officially announced today, appearing on both the Acer UK and Acer Germany sites. Well that certainly was the case earlier today, it seems that the D250 product listing has now been removed from both sites – maybe Acer weren't ready to go public? Luckily we sat on the Acer UK product page from this morning so we still have all of the juicy details at our disposal! Read more
March 29, 2009 at 5:48 pm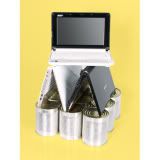 Netbooks with integrated 3G modules are generally very quick to broadcast their own signals and offer good signal strength according to a recent study by 'Connect' magazine. It studied three netbooks for wireless data transfer and by far the fastest was the Acer Aspire One A150x 3G that has an in-built Qualcomm module. The Acer was even faster than 3G phones that have been available over the last two years. Even the Samsung NP- NC10 3G and LG X110 came out with above-average performance compared to the 3G mobile phones.
With many mobile operators now offering netbooks as part of subsidised data packages, there will come a point that most netbooks will have the ability to access the internet in our view. Whether that means 3G modules will be included in most models from the start or we start to see the adoption of ARM based netbooks that are always connected to a 3G network, this can only be a good thing, giving more choice to consumers.
March 29, 2009 at 2:17 pm
Good news for those of you who have been trying to decide between an 8.9-inch and 10.1-inch Acer Aspire One netbook. Portable Monkey has posted a thorough run-through of the main differences between the two netbooks including lots of comparison photos between the two. Both systems were tested with a 3-cell battery (he didn't have access to a 6-cell battery) and came with similar specifications (1GB RAM, 160GB HDD, WiFi 802.11g and Windows XP Home).
Overall both netbooks were found to have very bright glossy displays, with the 10-inch mode slightly easier on the eyes. The 9-inch model was very loud in use and could distinctly be heard in the next room whilst the 10-inch model was super quiet. The 9-incher also had the worst speakers that they had experienced on a netbook, maybe something to do with the hard-drive failures being seen when playing certain songs? However, the 10-inch model lost brownie points for using the same keyboard as used in the 9-inch one.
Battery life on the 3-cell battery was 2 hours and 3 hours on the 9/10-inch models respectively, strange that the 10-inch model is significantly more power efficient. You should expect around 6 hours from the 4400mAh 6-cell battery. Click through for a full summary on the key comparison points. Read more
March 28, 2009 at 5:54 pm
We're not entirely sure how serious to take this, but apparently Acer's hugely popular 8.9-inch Aspire One netbook will trash the hard drive if you play music through it too loudly according to some users on HardwareCult. One of the tracks it has taken a particular dislike to is U2's Hold Me, Thrill Me, Kiss Me, Kill Me, which several users have been able to replicate the problem with.
Ultimately, the drive will undergo "complete catastrophic failure, talking with it all the user's data", according to Tigre Marino who made the original claim. The result is "read errors, ATAPI errors on the system log, and even logging Raw Read Errors on the hard drive's SMART health monitoring system."
"You'll see, after some seconds, the hard drive LED will get stuck and the machine could freeze or get a BSOD. Lower the volume or plug in some headphones and the problem magically disappears," Tigre said.
It's unknown what causes the problem. Is excessive vibration to blame? Does the video emit a frequency that causes part of the HDD to resonate? Is it simply electrical or magnetic interference? Others have suggested that when the speakers are on full, the HDD received insufficient power. All of the users that reported this were running XP rather than Linux and had hard-disk drives rather than solid-state drives. For those that dare to try it themselves, the U2 video can be found here.
March 25, 2009 at 6:19 pm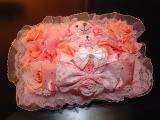 Acer is from today sponsoring a month long netbook decoration event in Tokyo, Japan to promote the brand to women bloggers. To kick off the event, Acer hosted the event with the help of some models along with some very girly-pimped Acer Aspire One netbooks. One of them, Shibuya Girl, is the star of a Japanese magazine "Ageha", famous for pimping everything she owns.
Three 'pimped' designs were shown and one of these looks quite monstrous to be honest, its lid has a couple of small teddy bears on it and some pink plastic roses. Is nobody thinking of the potential fire hazard!? The other two don't look that bad in all honesty, covered in Swarovski crystals. A voting poll is currently underway at netbookcafe.jp where three winners will receive a netbook decoration kit (I'm not sure whether anyone would actually want one of these!) Check out a video of the wacky event after the break. Read more
March 24, 2009 at 11:16 am
Following on from last week's Asus 1000HE touchscreen video tutorial, another has emerged, this time for the Acer Aspire One. Once again, the tutorial was put together using a solderless Hoda Technology touchscreen kit and cost the modder, tarzanna75, $95 from ebay.
The tutorial encompasses three videos, the first covering disassembly, the second covering hardware installation and third covering driver installation and testing. The installation was relatively straight forward although she did have some problems with the screws. A good tip from the comments section is taking a photo of the device and then, once printed, taping each screw to the printout where the screw was removed.
You can find the Hoda Touchscreen kit on eBay for around $99 (with varying shipping costs) giving you everything from the touch panel, USB harnesses and all cabling, and even the stylus. You'll also get three more internal USB ports for future hacks. Check out the three videos after the jump. Well worth a look for the more adventurous modders out there! Read more
March 21, 2009 at 11:57 am
Acer is set to release the most advanced Aspire One yet, moving away from the 10.1-inch models currently in the series, with an 11.6-inch model according to macles. Up until now the Acer Aspire One netbook has only seen minor technical revisions, whereas this new model is expected to be a new generation of netbook/mini-notebook for Acer.
The design itself is very similar to previous models, however the 11.6-inch (1366 x 768) display with widescreen (16:9) aspect ratio has enabled Acer to stick a full-sized keyboard with flat keys into the netbook. Acer has also rung the changes underneath the hood too with the 11.6-inch netbook powered by a low-power 1.6GHz Z530 Intel Atom CPU, rather than the N270 Atom CPU. The net effect of this is an increased battery life of four hours with the standard battery and eight hours with the higher-capacity battery, despite the larger screen size over the 10.1-inch variants.
The new model will also use the Intel Poulsbo chipset with GMA500 graphics core, instead of the Intel 945GSE and GMA950 graphics core found in earlier models. Despite the confusing numbering for the graphics core, the GMA500 is more advanced and features H.264 hardware decoding along with other video codecs. The new platform has a TDP of just 4.3W compared to 11.8W highlighting how much difference the move will make to power efficiency. Macles has had a good track record of breaking news on upcoming Acer-netbook development so whilst we still await official confirmation, we wouldn't be surprised if this was true. Check out some larger pictures of this new netbook after the break. Read more
March 15, 2009 at 1:08 pm
Etisalat, one of the largest telecommunication service providers in the United Arab Emirates, is following the lead of many wireless carriers in the USA, UK and Asia by introducing netbook packages to boost subscriber growth.
Etisalat will be offering the Acer Aspire One along with a free SIM Card, free one-month subscription on a 10GB data package and an additional discount per month for 24 months on the 10GB data package. The Acer Aspire One offered will come with a built-in Qualcomm 3G modem. Pricing is not known, but the two-year package will effectively lead to a free Acer Aspire One over the contract lifetime.
Mr. Essa Al Haddad, Chief Marketing Officer of Etisalat said, "Netbooks are the latest trend worldwide, with many people already enjoying the portability, on-the-go connectivity and affordability of this emerging new technology. Etisalat is proud to introduce this concept in the UAE, through Acer Aspire One, a Netbook with integrated 3G functionality and full Wi-Fi capability. With the attractive sub-zero price point, the sleek and stylish Aspire One will not only provide tremendous value and on the go connectivity to our customers, but will also change the Internet surfing and consumption dynamics in the UAE."