March 30, 2010 at 4:53 pm
The Asus Eee PC 1001PX netbook is very similar in most respects to the 1001P, however there are a few key differences. It has a 10.1-inch (1024 x 600) matte display as opposed to glossy, has options for Windows 7 Starter along with Bluetooth 2.1 and either a 160GB/250GB HDD (the 1001P comes with 160GB HDD only).
It's not all positive though as it only has two USB ports, as opposed to three on the 1001P along with 1 audio socket (2 on the 1001P). Battery life is also quoted at 9 hours compared to 11 hours for the 1001P. Pricing and availability are unclear right now.
Via EeePC.it.
February 19, 2010 at 2:26 pm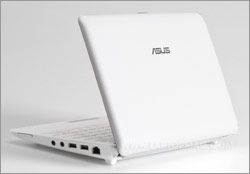 The Asus Eee PC 1001P is the company's budget-targeted Pine Trail netbook. This $299 model follows in the Seashell design of previous Eee PC netbooks and looks similar to the Eee PC 1005PE-P. The 10.1-inch (1024 x 600) netbook is powered by a 1.66GHz N450 Pineview processor, 1GB RAM, 160GB HDD and comes with Windows 7 Starter.
Laptop Mag put the 1001P through its paces and liked what they saw. Some of the highlights include a textured matte lid that avoids any fingerprint mess, a comfortable keyboard, long battery life (over 8 hours) and a bargain price. The find little not to like at this price point but picked on its single touchpad mouse button and smaller hard drive (although 160GB was the norm before Pine Trail came along!) You can check out the full review here.
February 1, 2010 at 11:14 pm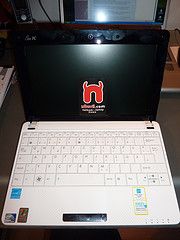 The Eee PC 1001P is the entry level Pine Trail netbook from Asus. It has typical specs that include a 1.66GHz N450 Atom processor, 1GB RAM, 160GB HDD and Windows XP. I like the fact that Asus has included 10.1-inch (1024 x 600) matte display with the unit.
nDevil has unboxed a German unit and it looks very similar to the 1005PE. We've attached that (English) video after the break, but there are a couple of additional videos (in German) that are also interesting. One compares it to the Samsung N220 and another times the 1001P's instant-on OS. Check them all out after the break.
Update: Check out another video below where the bottom panel of the Eee PC 1001P is removed to show its internals. However, if you're only looking to upgrade RAM, then this can easily be done by removing a solitary screw on an access panel. Read more
December 21, 2009 at 11:39 pm
Asus UK has officially announced the Eee PC 1005P, 1005PE and 1001P netbooks. The first two we've already heard a lot about, but the 1001P has not been mentioned until now. I imagine it will be an entry level model although we don't have too many hard details.
The Asus Eee PC 1001P will be powered by a 1.66GHz N450 Atom processor, 1GB RAM and a 160GB HDD. It will come with a 10.1-inch (1024 x 600) display and weigh 1.1kg. That's all we know for now but hopefully we'll get back to you soon with details on pricing and availability as well as a firmer spec-list.
Update: We've managed to gather some additional details on the Eee PC 1001P. It will come with Windows XP (not Windows 7), a 0.3MP webcam and a 4400mAh 6-cell battery good for 8.5 hours of battery life. The total weight including battery will be 1.27kg.