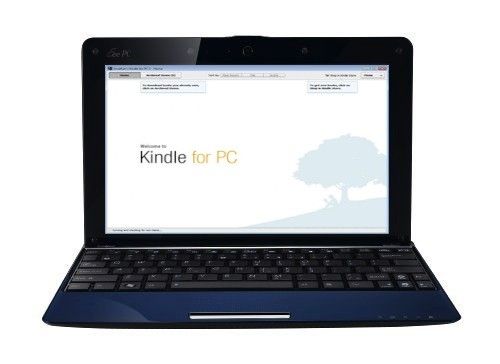 Amazon has teamed up with Asus to pre-install its Kindle for PC application on netbooks/laptops that are sold through Amazon.com. The e-book application will only come preloaded on select devices including the Eee PC 1005PE.
Whilst I agree the idea makes sense, personally I'm not too fond of pre-installed apps when I buy a new netbook / laptop. In fact to keep things fresh, the first thing I usually do is re-install the OS to get rid of the clutter. Also, the thought of actually reading a book on an LCD display for long periods fills me with pain. Now bring this onto a Pixel-Qi equipped device and it becomes a different story altogether.
Via Engadget.
March 30, 2010 at 4:36 pm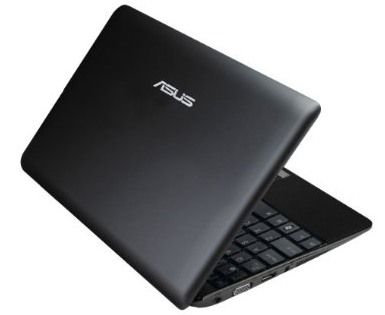 Amazon.com
is currently selling an exclusive version of the Eee PC 1005PE (1005PE-PU27) that comes with a Soft-Touch black matte lid. The new material is soft and smooth to the touch that Asus says is a "pleasant tactile experience".
We're not a fan of glossy lids here at NbC, in some ways they are worse than glossy displays in that they can make even a new netbook look very old once covered with fingerprint marks. The new model is now shipping in the US for $354.22
.
Via NetbookReviews.net.
February 8, 2010 at 9:07 am
Asus is prepping a revision of the Eee PC 1005PE netbook that will come with some improved specs. The 1005PE-H will come with 2GB RAM, 320GB HDD and Windows 7 Premium instead of 1GB RAM, 250GB HDD and W7 Starter found on the original.
Apart from that the rest of the specs are the same, including the 1.66GHz N450 Atom processor, 10.1-inch (1024 x 600) display, 6-cell 4400mAh battery, Wi-Fi (b/g/n) and Bluetooth. French retailer Fnac has it listed for €349 (€50 more expensive than the original), but there are no signs so far whether this will hit other regions.
Via Blogeee.
December 24, 2009 at 11:51 pm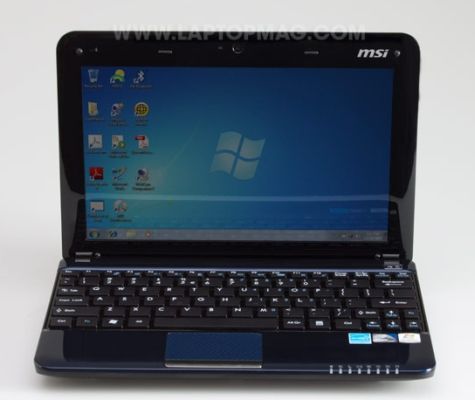 The MSI Wind U135 netbook is just one of the company's new netbooks running on the new Intel Pine Trail platform. The Wind U135 offers some extra features over the entry-level U130 including a chiclet keyboard and 20 percent larger touchpad. Laptop Mag has posted a full review of the unit and it seems to fare reasonably well given its $329 price point.
Positive points include a comfortable keyboard, bright display and great value for money. However, it does lose marks for having 5 hours less battery life than the Asus Eee PC 1005PE (the Wind U135 lasts for 5 hours and 35 minutes). The fan can also be quite noisy and the U135 suffers from long boot times. The Wind U135 is worth consideration, however they recommend that if you can plump for the extra $50, then the Eee PC 1005PE may be the better bet.
December 22, 2009 at 11:14 am
The MSI Wind U135 was officially announced yesterday armed with Intel's N450 Atom Pineview processor. The 10-inch netbook has already seen some hands-on impressions from both Engadget and Laptop Mag. The Wind U135 comes with a chiclet keyboard, 20 percent larger touchpad over the U130 and a new stripy lid pattern.
Engadget found that performance was pretty much on par with the Asus Eee PC 1005PE that was widely reviewed yesterday. The chiclet matte keys felt sturdier than the 1005PE. The plastic chassis feels solid enough and it's good to know that the 6-cell battery only protrudes slightly. Read more
December 21, 2009 at 10:42 am
The Asus Eee PC 1005PE is one of the first netbooks with Intel's next-generation Pine Trail Atom. A number of publications have published reviews this morning of Asus' 1.66GHz N450-powered 10.1-inch device.
Overall, the consensus seems to be that the Eee PC 1005PE offers superb battery times, thanks to the Pine Trail platform, although performance is barely different to what we've seen N270/N280 Atom-powered netbooks. Battery life results differ and it looks like you'll be able to get around nine hours of usage out of it.
Whilst the 1005PE is not much different to the 1005HA Seashell, you do get a bigger hard drive, more robust keyboard and of course the extra battery life. As it's at the same price point ($379) of the 1005HA, it also offers good value for money.
Asus is planning on launching two similar models the Eee PC 1005P and 1005PE. The 1005PE comes with a higher-capacity battery and larger hard drive. The Eee PC 1005PE will go on sale on 4th January 2010 for $379. There's no word on UK launch details for now. Below you'll find a list of all of the reviews that we've come across. Read more
December 18, 2009 at 11:49 pm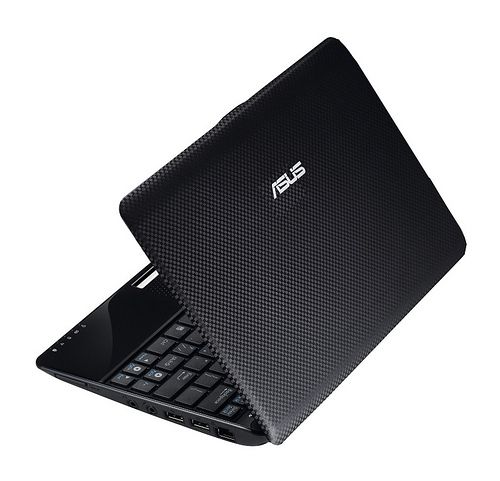 The Asus Eee PC 1005P and 1005PE 10.1-inch netbooks will be the company's Pineview version of the best-selling Eee PC 1005HA Seashell. We brought you an idea of the spec-sheets of both models yesterday and now the press shots have also been leaked.
As you would expect, the appearance is very similar to that of other netbooks in the Seashell range. The textured lid looks very similar to the one seen in the Eee PC 1001HA and these new models will come with chiclet keyboards instead of the flat keys seen in the 1005HA. Click through for a full list of specs of both the Eee PC 1005P and higher-priced 1005PE along with a number of press shots. Read more
December 17, 2009 at 2:50 pm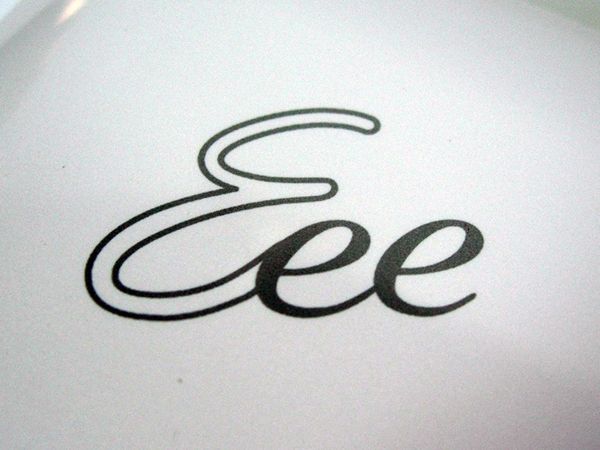 Asus, like most other manufacturers, are set to launch new netbooks based on Intel's upcoming Pineview processors. We have already heard that two of these models will follow the footsteps of the popular Eee PC 1005HA/1008HA Seashell models in the form of the Eee PC 1005P/1008P netbooks.
Details on the Eee PC 1008P have already emerged, but now we are starting to see specifications for the 1005P and 1005PE listed on several retailers. The 10.1-inch Asus Eee PC 1005P will be powered by a 1.66GHz N450 Atom Pineview, 1GB RAM, 160GB HDD and come with Windows 7 Starter. The 1005P will be available in white (1005P-WHI008S) and black (1005P-BLK009S). Read more