October 28, 2009 at 4:58 pm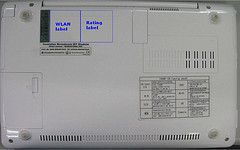 Two new Asus Eee PC netbooks have hit the FCC today, the Eee PC 1008P & Eee PC 1008PGO. Judging by the filing documents, these new netbooks will run on Intel's 1.66GHz N450 Atom 'Pineview' processor. Other specs gathered from the documents include a 160GB HDD, 1GB RAM, Wi-Fi (b/g/n), 1.3MP webcam and Bluetooth 2.1.
Given the model name, I would guess it will be very similar to the current Eee PC 1008HA model that has simply been refreshed to come with the new Intel CPUs. The GO version is likely to be the 3G-enabled version, following the similar naming convention used on other Eee PC netbooks today. There's no details on availability outside the US yet, but we'll keep you updated with future developments.
Via Liliputing.