January 8, 2010 at 2:14 pm
The 12.1-inch Asus Eee PC 1201N is widely recognized as one of the fastest netbooks on the market right now. Hardly surprising considering it includes a 1.6GHz dual-core Atom 330 processor and Nvidia ION chipset.
However, it looks like Asus is planning on releasing another model in the 1201 Seashell netbook range (we already have the 1201HA and 1201T too). The new Eee PC 1201NL was spotted at CES with a single-core 1.6GHz N270 Atom and Nvidia ION chipset. It will be sold with Windows 7 Starter rather than Windows 7 Home Premium, found on the 1201N. Read more
November 30, 2009 at 11:55 am
The Asus Eee PC 1201HA sits oddly with the rest of the '1201' lineup. Unlike the ION 1201N and AMD Congo-powered 1201T, the 1201HA sits at the bottom of the pack without too many redeeming features. In fact it is much like a 12.1-inch version of the 11.6-inch 1101HA. It sports the same 1.33GHz Z520 Atom processor, 1GB RAM, 160GB HDD and even comes with Windows XP.
Other features include Wi-Fi (b/g/n), three USB ports, card reader and a 6-cell battery good for 5.5-7 hours. No Bluetooth here I'm afraid. The Eee PC 1201HA netbook is now on sale in the US for $329.99 at Best Buy. Only a black model is listed currently.
Via Netbooked.
October 22, 2009 at 12:51 pm
The manual for Asus' upcoming 12.1-inch Eee PC netbook series is now live. Whilst we know quite a bit about the Eee PC 1201HA, information on the 1201N has been subject to rumour, but is believed to be equipped with ION graphics and a dual-core processor.
Interestingly the manual gives details on both models and shows the port differences between them too. We can see from the schematics that the 1201N does indeed include a HDMI-out that is not found on the 1201HA, in all likelihood confirming the ION chipset. The manual also talks of an Eee PC 1201T model that appears to lack the HDMI. It seems similar to the 1201HA but only has two USB ports compared to the three found in the 1201HA. Read more
October 20, 2009 at 5:11 pm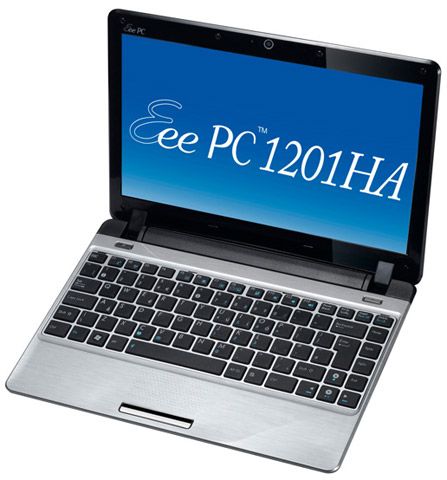 Asus Italy has today confirmed the existence of the Eee PC 1201HA Seashell. This 12.1-inch netbook will be launching in mid-November with Windows 7 Home Premium in tow for €399.
The 1201HA has a 6-cell battery that the company claims will last for 8 hours, not bad at all considering the larger display. It will be powered by a 1.33GHz Z520 Atom CPU and come with 2GB RAM and a 250GB HDD. Other features include a 0.3MP webcam, Wi-Fi (b/g/n) and 500GB of online data storage. Read more
October 11, 2009 at 9:23 pm
We have already come across the Eee PC 1201HA and 1201N netbooks from Asus. Whilst little was known on these 12.1-inch models at the time, some more information has been revealed by EeePC.it. A tipster has unveiled both a technical spec sheet on each model as well as some (what look like) official photos.
The Eee PC 1201N looks like the higher-end model, powered by a dual-core 1.6GHz Atom 330 processor and Nvidia ION. It is also expected to come with 3GB RAM, a 320GB HDD and HDMI-out. The Eee PC 1201HA will have more modest specs. It is expected to come with a 1.33GHz Z520 Atom CPU, 2GB RAM and a 250GB HDD. Read more
September 24, 2009 at 12:05 pm

We had already heard that Asus is planning to launch its own ION-based netbook, following a leaked roadmap. It looks like this launch may be getting close as the Eee PC 1201HA has popped up on the company's support pages.
The roadmap suggests that this 12.1-inch (1366 x 768) model will be powered by a 1.6GHz N270 Atom processor, 2GB RAM and a 250GB HDD. It will come with Windows 7 Home Premium, 6-cell battery, Bluetooth, and Wi-Fi (Draft-N). These specifications appear to have some ground as a Chinese retailer, PCPop, listed the 'Eee PC 1201N' last week that has the same specs. Further details include that it will run on a 5200mAh battery that should be good for 11 hours of battery life.
The roadmap suggests that the 1201HA will join the Seashell family of Eee PC netbooks and ultimately replace the 11.6-inch 1101HA. It is expected to launch for around the $499 mark during Q4 2009.