April 14, 2010 at 3:01 pm
Asus may be shortly looking to introduce two new netbooks, dubbed the Eee PC R101 and R105. Both models have popped up on the Asus support pages, where you can already download a bunch of stuff including BIOS and various drivers.
There's little other detail for now, we've got no idea what sized display this new model will have and neither what specs will be included. What we do know is that it is a Pine Trail product and comes with the Intel NM10 chipset. I would expect these new devices to be launched at Computex that is six weeks away now.
Via Netbook Italia.
April 14, 2010 at 10:01 am
The Asus Eee PC 1005PR netbook that comes with a high-resolution (1366 x 768) display and Broadcom Crystal HD media accelerator card is now available to pre-order in the US. Amazon.com
has a black model listed for $399.99
, although no release date is mentioned.
The 1005PR comes with a Broadcom BCM 70015 HD Decoder card that should mean 1080p playback on the netbook. Whilst one will be able to take advantage of this on the HD display, it would have been nice to see a HDMI output too. However, it will also benefit from YouTube HD playback thanks to Adobe Flash 10.1. Read more
April 13, 2010 at 11:31 am

MeeGo, the lovechild between Intel's Moblin and Nokia's Maemo operating systems, is getting a lot of support from the industry. The Linux Foundation has released a list of all those showing public support for the new OS including a mix of hardware and software developers.
Included in the list are netbook heavyweights Acer and Asus and highlights that we may see dedicated MeeGo netbooks at some point in the future. Acer's Jim Wong, senior corporate vice president and president of IT Products Global Operations said: "Acer was an enthusiastic adopter of Moblin and we're excited about Moblin's evolution into the MeeGo software platform. We're looking forward to ecosystem innovation that will be enabled by the open nature of MeeGo." Read more
April 11, 2010 at 5:47 pm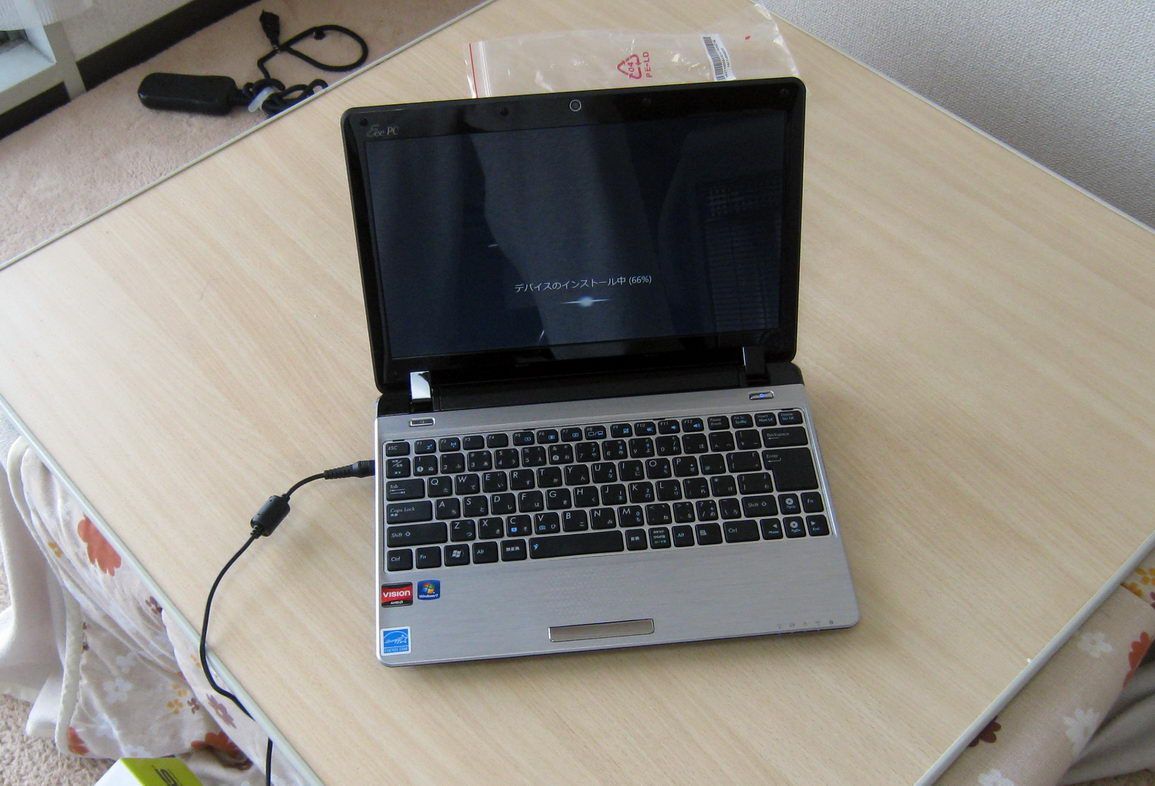 The Asus Eee PC 1201T netbook comes with the 1.6GHz AMD Athlon Neo MV-40 processor and ATI Radeon HD 3200 graphics. It recently went on sale in the US (minus the OS) and Peter from Netbooked has one to unbox.
As you would expect the chassis is almost identical to all of the other Eee PC 1201 series and very similar to the UL20A. It comes with a single slot access panel to change the RAM, but you won't find a HDMI port on this particular model. Check out his unboxing after the break. Read more
For those wondering just how quick Asus' ExpressGate instant-on operating system is compared to traditional Windows, you're in the right place. Sammy Production did a video benchmark comparing boot times side-by-side on two Asus Eee PC T101MT netbooks.
Asus ExpressGate is basically a rebranded version of Splashtop that took around 20 seconds to boot. For those wondering why it wasn't faster, it is because there are two versions of Splashtop. The one normally found on notebooks and desktops uses 512MB of Flash memory and takes around 5 seconds to boot. The other uses the hard disk partition (as in the netbook) that means it's slower. Check out the video after the jump. Read more
The AMD-powered Asus Eee PC 1201T netbook is now shipping in the US. Retailer Newegg has it on their site for a reasonable $389.99, although it's worth noting this exclusive edition ships without an operating system included.
The 1201T is a 12.1-inch netbook with 1366 x 768 resolution display. It is powered by an AMD Athlon Neo MV-40 processor and comes with ATI Radeon HD 3200 graphics, 2GB RAM and 160GB HDD. Other features include Wi-Fi (b/g/n), a 0.3MP webcam, 6-cell battery, card reader and three USB ports.
For more information, check out Laptop Reviews Central.
March 31, 2010 at 4:16 pm
The Asus Eee PC 1008P-KR, Karim Rashid-designed netbook, certainly is a looker. The skinny netbook appears to have been designed with women in mine and if there was any doubt of this, then you need to check out some newly released accessories.
The netbook is available in two colours, "Hot Pink" and "Coffee Brown" and a matching case and mouse have been designed in each colour to go with the netbook. Pricing and availability for these accessories are unknown right now, but we'll come back with any further details.
Via NetbookReviews.net.
Thanks Matt!
March 31, 2010 at 1:42 pm
The Apple iPad is set to launch officially later this week, perhaps changing the perception of tablet devices forever more. It's no surprise that a number of manufacturers will jump onto the tablet bandwagon later this year. One of them is Asus that is set to launch "at least two" tablet devices in the coming months, most likely at Computex in Japan.
"Netbooks are the best combination of personal computing and cloud computing," said Jonney Shih, chairman of Asus. "But between netbooks and smartphones and e-readers, we think there will be a space for something like a tablet or slate PC." Read more
March 30, 2010 at 4:53 pm
The Asus Eee PC 1001PX netbook is very similar in most respects to the 1001P, however there are a few key differences. It has a 10.1-inch (1024 x 600) matte display as opposed to glossy, has options for Windows 7 Starter along with Bluetooth 2.1 and either a 160GB/250GB HDD (the 1001P comes with 160GB HDD only).
It's not all positive though as it only has two USB ports, as opposed to three on the 1001P along with 1 audio socket (2 on the 1001P). Battery life is also quoted at 9 hours compared to 11 hours for the 1001P. Pricing and availability are unclear right now.
Via EeePC.it.
March 30, 2010 at 4:36 pm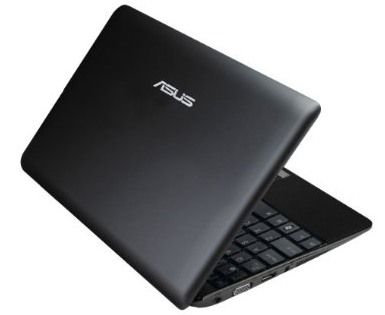 Amazon.com
is currently selling an exclusive version of the Eee PC 1005PE (1005PE-PU27) that comes with a Soft-Touch black matte lid. The new material is soft and smooth to the touch that Asus says is a "pleasant tactile experience".
We're not a fan of glossy lids here at NbC, in some ways they are worse than glossy displays in that they can make even a new netbook look very old once covered with fingerprint marks. The new model is now shipping in the US for $354.22
.
Via NetbookReviews.net.
March 26, 2010 at 8:02 am
The Asus Eee PC T101MT convertible netbook is finally getting closer to a release date. Asus UK has not confirmed pricing but it is listed on several retailer sites for around the £325 mark with a launch on April 12. This particular model will get you a 1.66GHz N450 Atom CPU, 2GB RAM, 320GB HDD, W7HP and a 6.5 hour battery.
The same model will be hitting mainland Europe for €499 according to EeePC.it, somewhat higher than the direct conversion of the above price. The US version will also be landing in early April for $499 according to Liliputing, although it's unclear what specs this will come with. It is believed this model may only come with 1GB RAM, 160GB HDD and W7 Starter.
March 26, 2010 at 7:44 am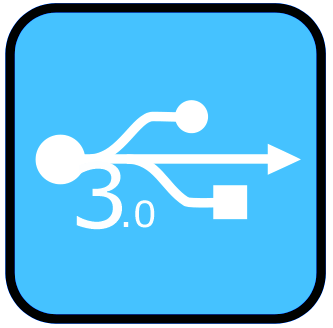 Asus has put a press release stating how it is leading the way with USB 3.0 integration and that its implementation outstrips its peers by as much as 74.38% (to two decimal places so it must be true!)
The first Eee PC netbooks to come with USB 3.0 integrated are the 1018/1015/1016 models that were recently announced at CeBIT. It's unknown whether we'll start to see this on all future Eee netbook models or just the more premium devices. My guess is if they're taking it this seriously then USB 3.0 is likely to hit all models going forward.
March 20, 2010 at 10:13 am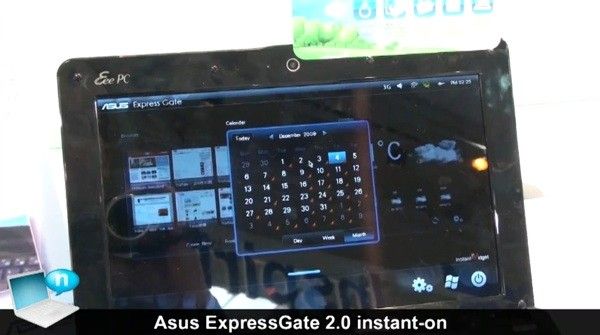 Asus' ExpressGate instant-on operating system will be getting a replacement that was being shown off at CeBIT earlier this month. Notebook Italia has a video hands-on overview of ExpressGate 2.0 that is based on the SplashTop OS.
The interface has seen a complete overhaul and is a big improvement over the original. Hopefully it should be available to download soon from the Asus Support site. Check out the video after the jump. Read more
March 15, 2010 at 8:05 pm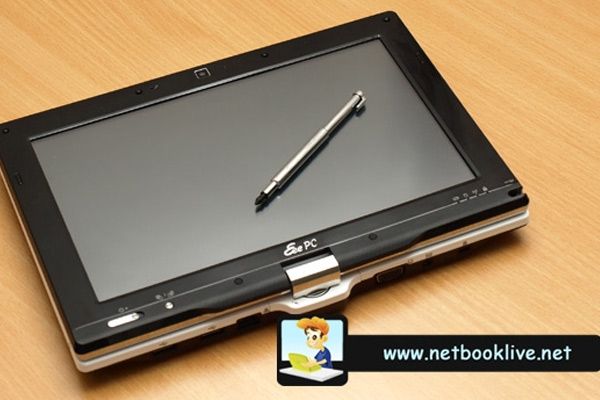 We've already seen the Asus Eee PC T101MT convertible tablet being handled by Mike over at NetbookLive recently, but that was a pre-production model. He has since been lucky enough to get hold of final hardware and there has been some improvements.
Performance is still sluggish, however the touchscreen accuracy appears to be much better both with stylus and finger use. You can check out the comprehensive video review after the cut. Read more
March 14, 2010 at 5:12 pm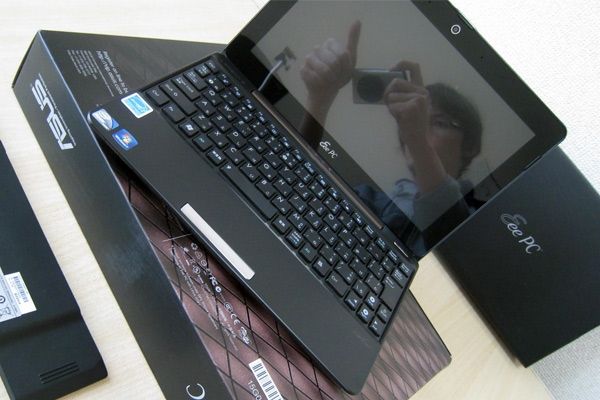 The Asus Eee PC 1008P-KR Karim Rashid netbook is one of the premium offerings from Asus, well at least until the Eee PC 1018P is released. It sports the designer's influences, mainly on the exterior. Peter from Netbooked has taken one for a test drive and shot an unboxing video.
The model unboxed comes with 2GB RAM, 320GB HDD and Windows 7 Home Premium. He also confirms that the unit does come with two batteries, although this is region specific and I'm unaware of such generosity in the UK market. Another nice features is the flush display. Build quality so far seems above average along with a firm keyboard. Check out the unboxing video of this $500 netbook after the jump. Read more