January 10, 2010 at 12:07 pm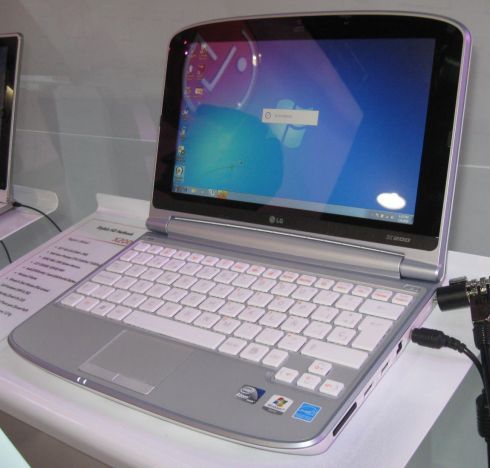 As well as the super-slim LG X300 11.6-inch ultrathin, LG will be launching the 10.1-inch X200 netbook. The LG X200 has a high resolution (1366 x 768) display and is powered by either a 1.66GHz N450 or 1.83GHz N470 Pineview Atom processor.
Other features include up to 2GB RAM, a 250/320GB HDD, Windows 7 Starter, Wi-Fi, SmartOn 2.0 instant-on OS and optional 3G. Battery options include a 4-cell 2000mAh battery or 6-cell 2600 mAh battery. There are no pricing details but it is expected to launch in February 2010. Click through for a video of the netbook in action courtesy of MobileHub. Read more
January 7, 2010 at 12:06 pm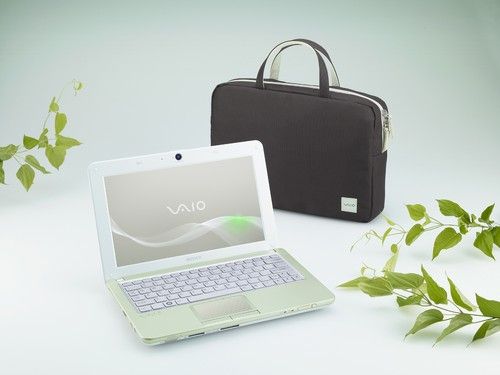 Sony has upgraded its Vaio W netbook with the Eco Edition. The new Vaio W series generates 10 percent lower CO2 emissions during production compared to its predecessor. It has recycled plastic parts, an innovative carry bag and an electronic manual (presumably loaded onto the netbook). The 10.1-inch (1366 x 768) LED backlit display is also mercury-free.
To make sure you know about its green credentials, Sony has used a mint green palm rest and touchpad. The carry bag has been designed to replace the cardboard box that normal electronic devices come in. Therefore the Vaio W Eco Edition will ship straight to your door in this bag. The outer fabric is manufactured using 100% recycled PET bottles. Read more
January 6, 2010 at 7:36 pm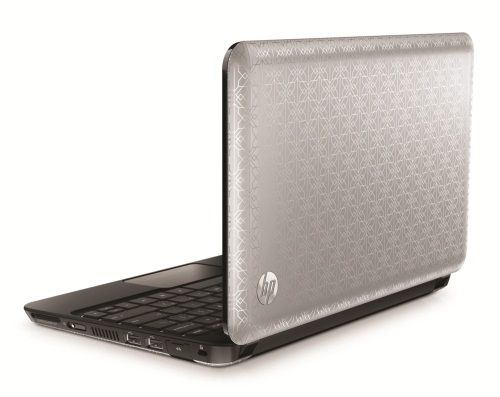 HP is on a roll, we've already reported on two of its ultraportables that launched today, the business oriented Mini 5102 netbook and TouchSmart tm2 tablet. Yet we still have more, HP has formally announced a few more 10.1-inch netbooks. This includes the HP Mini 210 which we've heard so much of recently, the Mini 2102 and the Compaq Mini 102.
Both HP Mini 210 and Mini 2102 appear to be the same in design and specifications. The latter will be targeted towards business users and therefore it comes in a brushed black metal finish instead of the plastic chassis of the 210. Read more
January 6, 2010 at 9:25 am
Gateway has introduced the LT21 series of Intel Pine Trail netbooks that promises a 10-hour battery life armed with a 1.66GHz N450 Atom Pineview processor and GMA 3150 graphics.
The LT21 series will come with a 10.1-inch (1024 x 600) LED backlit display, a 93-percent keyboard and multi-gesture touchpad (pinch to zoom in/out). The netbook has 1GB RAM on board and you can choose from 160GB/250GB HDD options. Read more
January 5, 2010 at 9:55 pm
Dell's new Inspiron Mini 10 netbook is now available in the US with prices starting at $299. The redesigned fanless Mini 10 is slimmer than the original and is characterised by its white base. The battery is also more integrated and it comes with a 92 percent keyboard. It also features a "hinge forward" design, more recently seen on its luxury Adamo laptop.
Three battery options are available including two 6-cell options (8.5hrs and 9.5hrs) as well as a 3-cell battery good for 4 hours. The amazing thing is that all batteries are the same size, for the first time you don't have to worry about the extra bulk a larger capacity battery will bring. Read more
January 4, 2010 at 5:24 pm
I have not seen any official announcement regarding the Toshiba NB300/NB305 netbook, but despite this Laptop Mag has come clean with some hands-on impressions of the Pine Trail netbook. In case you are wondering how it differs from the NB200/NB205, the NB300 has an 11-hour battery that is now flush with the chassis compared to its predecessor whose battery jutted out from the back.
If you were just having a quick glance you'd be forgiven for thinking they were the same device. The design has hardly changed at all, from the stripy textured lid to its chiclet keyboard and large touchpad. This isn't an issue as we already felt that the NB200 is one of the finest looking netbooks on the market today. Read more
January 4, 2010 at 8:34 am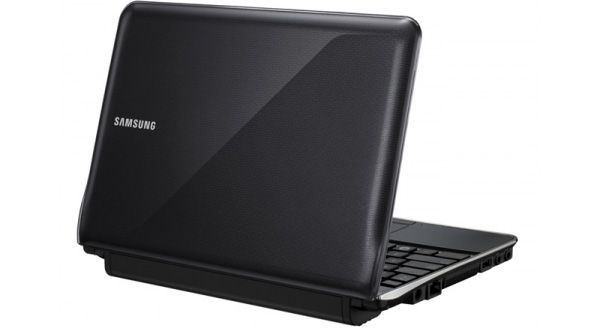 Samsung has officially confirmed its Intel Pine Trail netbook line-up. It will launch four new netbooks under the model names N210, N220, N150 and NB30. Whilst detailed specifications and pricing is still not available, Samsung says that all four models will be available across all territories in early January.
The netbooks will feature a 10.1-inch LED anti-reflective display powered by a 1.66GHz N450 Pineview Atom processor. The designs of the new netbooks don't look radically different from what we're accustomed to. They all sport a scratch-resistant lid and webcam. Read more
January 3, 2010 at 2:03 pm
Two new netbooks have been spotted at an online retailer, presumably ahead of the official CES announcement next week. The 10.1-inch HP Mini 210 HD appears to be exactly the same as the rumoured Mini 210 albeit with Broadcom's Crystal HD video accelerator. It has been spotted at US retailer Logic Buy for $330, with a release date expected next week.
The rest of the specs are the same as the HP Mini 210. It is powered by a 1.66GHz N450 Pineview Atom, GMA 3150 graphics, 1GB RAM, up to a 250GB HDD and Windows 7 Starter. Other features include Wi-Fi (b/g), a 5-in-1 card reader, webcam and 6-cell battery. Read more
January 3, 2010 at 11:35 am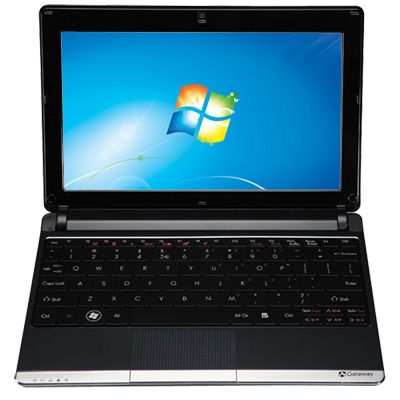 Gateway has launched a couple of new Intel Pine Trail netbooks in Canada called the LT2102H & LT2107H. The new models look similar to the Acer Aspire One 532h that was officially announced just a few days ago. The LT2100 series comes with 1.66GHz N450 Pineview Atom, 1GB RAM, a 160GB HDD and Windows 7 Starter.
Other features include a 10.1-inch (1024 x 600) display, Wi-Fi (b/g/n), card reader, three USB ports, webcam and a multi-touch touchpad. The Gateway LT2102H has a 3-cell 2200mAh battery. (4 hours of battery life) and is listed in stock for C$299.99 (£176, $285, €198). The Gateway LT2107H has a 6-cell battery 4400mAh battery (8 hours of battery life and is listed for C$349.99.
December 31, 2009 at 10:39 am
The Acer Aspire One 532 will be the company's first Intel Pine Trail netbook. We've already come across the specifications that include a 10.1-inch high-resolution (1280 x 720) display and 1.66GHz N450 Atom Pineview processor. The first pictures of the AAO 532 have been spotted at a couple of retailers. Check out a few larger pictures after the break.
The Aspire One 532 will come with 1GB RAM, a 160GB/250GB HDD and Windows 7 Starter. Other features include a 3-cell battery, 5-in-1 card reader, 0.3MP webcam, Wi-Fi (b/g/n) and three USB ports. It will be available in four different colours (Blue, Red, Black and Silver). It has dimensions of 22.9 x 31.5 x 11cm and weighs 1.25kg.
Update: The Acer Aspire One 532h has now been officially announced. It comes with a choice of two 6-cell batteries, a 4400mAh battery for 8 hours of use and a 5600mAh battery for 10 hours of usage.
Read more
December 31, 2009 at 10:07 am
Toshiba is looking to release its second 10-inch netbook in the form of the NB300 (or NB305 if you're in the US), following the well-received NB200. The Toshiba NB300 has already passed through the FCC and now its appearance at a few retailers gives a hint on what specifications to expect.
Two product numbers have cropped up, the NB300-100 and NB300-106. The Toshiba NB300-100 even has a placeholder page on the official European site. As expected, the NB300 will come with Intel's Pine Trail platform (1.66GHz N450 Atom Pineview processor and GMA 3150 graphics), 1GB RAM, 250GB HDD.
Other features include Wi-Fi (b/g/n), three USB ports and card reader. Bluetooth inclusion is unclear right now but may appear on more premium models. The NB300-106 is expected to have a larger capacity battery, capable of an 11 hour run time.
Via NetbookNews.de.
December 30, 2009 at 3:54 pm
The HP Mini 210 has still not officially been announced, but despite this the netbook is listed "in stock" at reseller eCost for $398.99. The Mini 210 is expected to be HP's 10-inch Pine Trail netbook and will sport a 1.66GHz N450 Atom processor, 1GB RAM, a 250GB HDD, 6-cell battery and Windows 7 Starter.
Also, a recently uncovered user guide points to some new details. It seems that the HP Mini 210 will have a multi-touch touchpad and is also likely to have a touchscreen option. The touchscreen will support a number of gestures including rotating objects as well as pinch to zoom in/out.
December 29, 2009 at 4:21 pm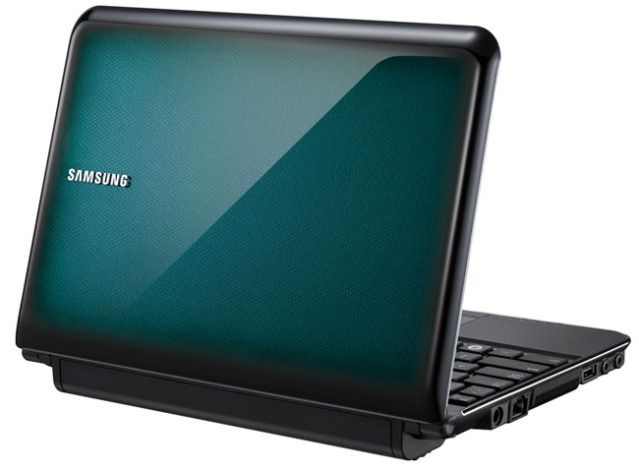 Samsung is already expected to announce two new Intel Pine Trail-powered netbooks (Samsung N150 & Samsung NB30) during CES next week and now we can add another to the list. The Samsung N220 has popped up in a few retailers including Rue de Commerce in France. The €349 priced netbook looks similar to the Samsung N140, albeit with a 1.66GHz N450 Pineview processor.
The Samsung N220 is also listed by UK retailer OYYY for £338.11 and the specs seem typical. You'll get a 10.1-inch (1024 x 600) display, 1GB RAM, a 250GB HDD and Windows 7 Starter. However, the interesting part is a claimed 11.5 hours of battery life with its 6-cell 5900mAh battery. During video playback you should be able to get 7.5 hours of battery life. Read more
December 28, 2009 at 8:43 pm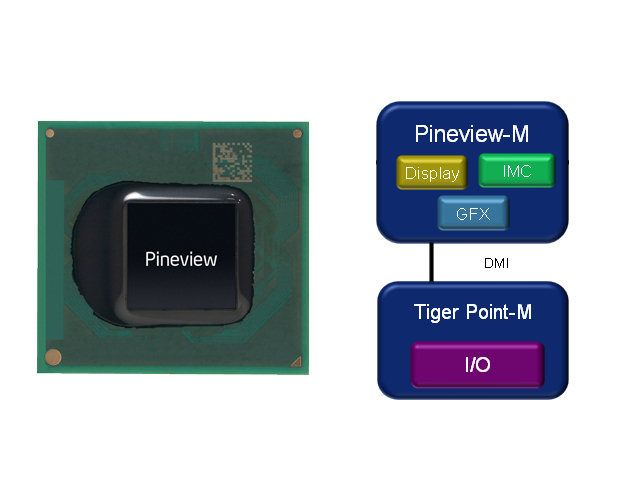 Intel has released the technical documents surrounding the N400-series of Pineview Atom processors. The 1.66GHz N450 Atom will be the main processor used in netbooks in Q1 2010, however a faster 1.83GHz N470 Atom is planned for release shortly after.
The new N400 Pine Trail Atom is a two-chip platform that combines the GPU and CPU on the same die. Intel kept news on the IGP (GMA 3150) of the N450 Atom to a minimum when it officially announced the platform. However, judging by the docs it looks like there is no hardware decoding of H.264 or WMV files, you'll only get hardware decoding of MPEG-2. Somewhat a backwards step from the GMA 500 chip. Read more
December 24, 2009 at 11:51 pm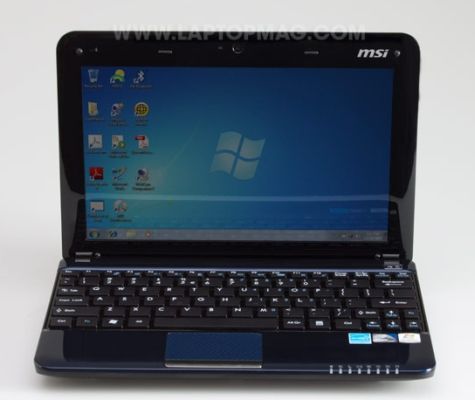 The MSI Wind U135 netbook is just one of the company's new netbooks running on the new Intel Pine Trail platform. The Wind U135 offers some extra features over the entry-level U130 including a chiclet keyboard and 20 percent larger touchpad. Laptop Mag has posted a full review of the unit and it seems to fare reasonably well given its $329 price point.
Positive points include a comfortable keyboard, bright display and great value for money. However, it does lose marks for having 5 hours less battery life than the Asus Eee PC 1005PE (the Wind U135 lasts for 5 hours and 35 minutes). The fan can also be quite noisy and the U135 suffers from long boot times. The Wind U135 is worth consideration, however they recommend that if you can plump for the extra $50, then the Eee PC 1005PE may be the better bet.