BenQ announced the 10.1-inch Joybook Lite U102 at the end of last month. The follow-on to the U101 differs by its very slim chassis, measuring just under 1-inch in thickness and weighing 1.05kg (2.3lbs). NetbookNews took the U102 for a quick video hands-on and the netbook certainly looks attractive.
It has a very glossy lid and display, which looks like it will be a fingerprint nightmare. You'll find the usual array of ports, although you do get a dedicated Wi-Fi switch, which is always nice to have. Upgradability is well catered for with access to the HDD, RAM and a couple of Mini PCI-E card slots. The keyboard looks pretty comfortable with all the buttons in the right places and the touchpad has taken cues from the MacBook by having the mouse buttons integrated into the pad itself.
The BenQ JoyBook Lite U102 is on sale in Taiwan, Thailand and China. As with the bigger U121, there's no word on a Western release right now. Check out the video after the break. Read more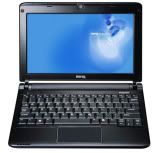 BenQ has announced its latest netbook, the 10.1-inch Joybook Lite U102. Its claim to fame is ultra-portable dimensions, measuring under 1-inch in thickness and weighing 1.05kg (2.3lbs) along with a smaller than average AC adaptor weighing 200g.
The 10.1—inch LED backlit screen has a resolution of 1024 x 600 pixels and is powered by an Intel Atom 1.6GHz N270 CPU. It comes with 1GB RAM and a 250GB HDD (a break from the 160GB norm). Other features include Wi-Fi, webcam, microphone (with smart noise suppression and echo cancellation), three USB ports, 4-in-1 card reader and optional 3G.
The keyboard is 90 percent full-sized and has a hotkey that allows you to switch between the different types of wireless networks. It comes with a 3-cell battery that should be good for 3 hours of life. An optional 6-cell battery is also available which should double that battery life. The Joybook Lite U102 netbook should be available as we speak in Taiwan, China, and Thailand. No word on pricing or on a western release.
Via Electronista.