August 17, 2009 at 2:52 pm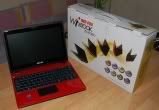 Philippine company, Red Fox, recently launched the Wizbook N1020i netbook. Whilst most of the specs are your standard fare, the Wizbook is the first netbook to feature the Bluetooth 3.0 standard. It also as an Expresscard slot and optional 6-cell 4600mAh battery.
Electronic Pulp has reviewed the N1020i and found that it didn't really offer good value for money. It only ships with a standard 3-cell battery, has a poorly placed touchpad and small keyboard. Yes, it does offer a great design in five different colours but you can get the Asus Eee PC 1000HE for less money that has better specs. You can read the full review here.
Via Netbooked.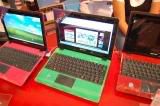 Red Fox, based in the Philippines, has launched the Wizbook N1020i netbook. Whilst most of the specifications are your standard fare for a netbook, this particular model piqued my interest as being one of the first to sport the Bluetooth 3.0 specification. There may not be too many Bluetooth 3.0 compatible devices but at least it will be relatively future-proofed once they do start to appear. The N1020i also has an Expresscard/34 slot that you don't find on too many netbooks these days.
Apart from that you've find a 10.2-inch (1024 x 600) display powered by a 1.6GHz N270 Atom CPU, 1GB RAM (2GB max) and 160GB HDD. You will also find three USB ports, a card reader, a pair of audio jacks, webcam and Wi-Fi (b/g).
It comes with a 6-cell battery rated at 4600mAh that should last at over four hours with heavy usage according to Electronic Pulp. He felt the keyboard was a little cramped and wasn't fond of the cheap plastics used. The Wizbook N1020i netbook will be available in a number of (bright) colours when it goes on sale in the Philippines for 21,190 Pesos ($440, €315, £271).