June 19, 2009 at 10:53 am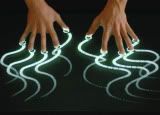 There is no doubt that a number of manufacturers are planning to release touchscreen netbooks/notebooks in the fourth quarter, coinciding with the Windows 7 launch. From previous reports, we have heard that a number of panel manufacturers will ramp up production in the second-half of the year.
We are now hearing that Cando, which is a subsidiary of AU Optronics, has landed an order to supply 12.1-inch capacitive multi-touch panels to Acer, HP and Lenovo. According to Digitimes, these panels will start to ship in August, which could mean a year-end launch date for some of these models, although a H1 2010 release is more likely. Cando is the first touch panel manufacturer to receive certification or Windows 7 compatibility.
In related news, EETI (Egalax_empia Technology) is pushing for Windows 7 certification for 10.1-inch and 11.6-inch touch-panels. It is currently sampling touch panels based on analogue matrix resistive (AMR) and projective capacitive technology. The focus for Windows 7 netbooks and mini-notebooks will be on display sizes between 10 to 12-inch screens. It sees Windows 7 certification as a big driver to gain orders.