January 15, 2010 at 8:30 am
If there was one disappointment at CES, it was a lack of information (or products) using the Nvidia ION 2 GPU. Nvidia used CES to mainly talk about its Tegra 2 chipset, however it wasn't only ION 2 that got left to the wayside, even its upcoming Fermi line of desktop cards were barely mentioned.
Anyway, whilst much rumour and speculation continues over what form the ION 2 will take, Pierre over at Blogeee came across some promotional material that may give some insights. An upcoming Asus EeeTop ET2010PNT will be using "Nvidia GeForce G310 ION2 graphics with hardware decoding" according to the marketing blurb. Read more
January 9, 2010 at 8:01 pm
The Asus Eee PC T101MT convertible netbook was first spotted passing through the FCC a few weeks back, and it was again on show at CES. The 10-inch version of the 8.9" Eee PC T91MT has been due to launch for the best part of the year, but its appearance hopefully means we will see it hit retail shelves in 2010.
The MT stands for multi-touch, although strangely Asus has opted for a 10.1-inch (1024 x 600) resistive panel, rather than capacitive. This means you need to exert a little pressure on the screen to get pinching to work. Asus has bundled a stylus and handwriting software into the package to make the most of its tablet features. Read more
January 9, 2010 at 6:00 pm
Samsung released four new Intel Pine Trail netbooks at CES and it's the NB30 that has been designed to take a knock or two. Apart from its 11-hour battery life, it comes with a water-tight seal to prevent liquid damage and it also has a HDD freefall protection sensor.
It's not only the internals that are designed with durability in mind, the NB30 also has a rubberised lid and deck. Apart from this, you'll get a 1.66GHz N450 Atom, 1GB RAM and 160GB HDD powering the 10.1-inch (1024 x 600) matte display. Check out some video impressions from Laptop Mag after the break. Read more
January 9, 2010 at 5:37 pm
Following the official Nvidia Tegra 2 announcement, a whole number of different next-gen Tegra powered products were shown on the trade floor at CES. Rather than creating a post for every single one, we've summarised each below and attached any relevant videos. Most of these consisted of tablets, rather than smartbooks, but it gives you a good idea of what to expect over the coming year. Check out the Tegra 2 action after the jump. Read more
January 9, 2010 at 3:51 pm
Earlier in the week, Freescale announced a $200 tablet reference design that it hopes will come to the market via an OEM partner as early as this Summer. The tablet has a 7-inch (1024 x 600) display and is powered by the i.MX515 processor (including the ARM Cortex A8 chip), 512MB RAM and 4-64 GB of flash storage.
A number of publications went hands-on during CES this week with a mixed reception. The UI tended to be a bit laggy but the resistive touchscreen worked well. The build quality also wasn't great and neither was the keyboard according to some reports.
Interestingly, there is an optional ($50) docking keyboard that the tablet slides right into turning it into a quasi-netbook. However, the dock keeps the display at one angle and can't be folded over, so it's only real use will be on a desk. Check out some videos of the device in action after the break. Read more
January 7, 2010 at 9:20 pm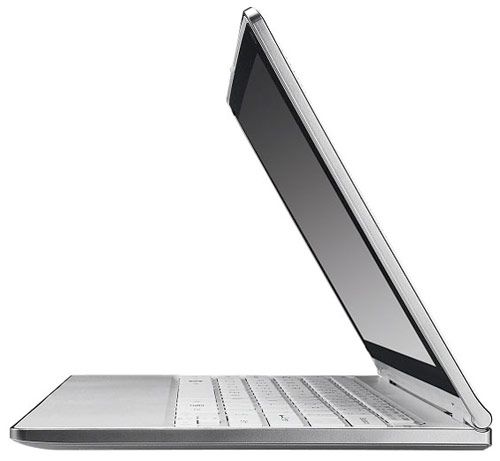 LG has unveiled a new super-skinny 11.6-inch ultraportable called the X300. It measures just 17.6mm and weighs just 970g. Whilst no pricing details have been revealed, the fanless X300 does not look cheap. It sports a tiny bezel with flush display.
The LG X300 is powered by a 2.0GHz Z550 Atom, 2GB RAM and a solid-state drive. It sports a chiclet keyboard and borderless touchpad that has hidden lighting and tactile feedback.
It comes with a 2-cell battery (including spare), which combined should last for 7 hours. Other features include a 1.3MP webcam, Bluetooth, embedded 3G and SRS TruSurround HD. The LG X100 will be hitting retail next month globally. Check out some larger pics after the jump. Read more
January 7, 2010 at 6:36 pm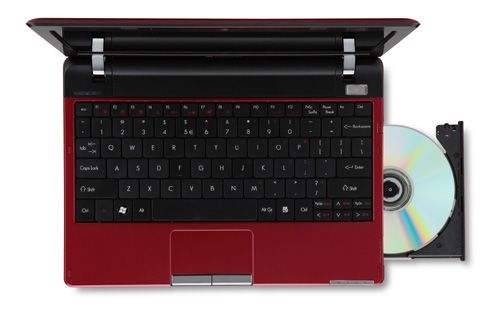 Gateway has announced the 11.6-inch EC14D CULV-powered ultra-thin, the first to feature a built-in 8x DVD drive. The $629 model seems reasonably well-specced for the price, armed with a 1.3GHz Pentium SU4100 processor, 4GB Ram and a 320GB HDD.
Other features include a HDMI port, Wi-Fi (b/g/n) and Windows 7 Home Premium. Check the full spec-list after the jump. The EC14D is due to land later this month. Read more
January 7, 2010 at 6:22 pm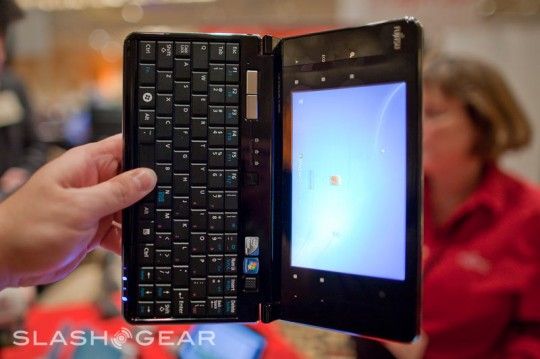 Fujitsu has unleashed a number of products at CES, but the two relevant here are the 5.6-inch UH900 UMPC and 10-inch MH380 netbook. The champagne-coloured UH900 weighs just 1.1lbs and supports a 5.6-inch multi-touch display as well as Windows 7. The UH900 is powered by a 1.6GHz Z530 Atom, 2GB Ram and a 64GB SSD. It also comes with a Garmin app, allowing you to use it for GPS, other features include two USB ports, card reader and mini VGA. It doesn't come cheap though at $1,000.
The $449 MH380 netbook has a 10-inch display and comes with a glossy red finish and flat black keyboard. Apart from a high-resolution screen (1366 x 768) the rest of the features are the same as most other recently released Pine Trail netbooks. This includes a 1.66GHz N450 Atom processor, 1GB Ram, 250GB HDD and Windows 7 Starter. You also get Wi-Fi (b/g/n), Bluetooth and webcam thrown into the mix too. However, the MH380 has a circular scrolling pad, the first time we've seen something like it in a netbook. Check out videos of both devices in action after the break. Read more
January 7, 2010 at 1:29 pm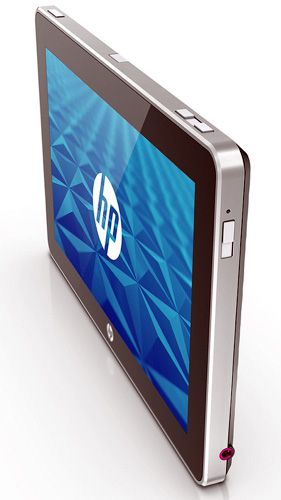 HP drew back the curtains on a Slate tablet device running Windows 7. The device was unveiled at the Microsoft CES keynote by Steve Ballmer but very little is actually known about, including the name.
The slate tablet has been confirmed by HP who said it will be "available later this year." Judging by the pictures it looks like it sports a 10-inch flush display surrounded by metal chassis. Check out a promo video of the mystery slate after the break. We've also attached a couple of larger shots of the slate courtesy of Gizmodo. Read more
January 7, 2010 at 1:00 pm
Rumours that MSI is planning a dual-screen netbook have been around for a while now. MSI is now showing a prototype in CES that sports two 10.1-inch multitouch capacitive displays in a clamshell form-factor. It means you can use it as an e-reader with pages on either display or as a netbook with the bottom display bringing up a virtual keyboard.
It is powered by a Atom Z-series processor and comes with Windows 7 Home Premium. It will also include an accelerometer in the final version. Both displays can be used when navigating Windows 7, dragging stuff from the top display to the bottom one etc. The software is patchy, but considering this is an early build that's not surprising.
Whilst the device remains a prototype for now, MSI are planning on bringing this to the market within the next 12 months. Start saving those pennies though, it's not likely to come cheap. Check out Engadget's hands-on video after the jump. Read more
January 7, 2010 at 12:39 pm
HP is showing off a new concept smartbook over at CES in Las Vegas. The smartbook is powered by a 1GHz Qualcomm Snapdragon (QSD8250) chipset and is loaded up with the Android operating system. It also has a 10-inch resistive touchscreen display
As with other smartbooks it has 3G and WiFi for always-on connectivity. In terms of exterior, this is no Lenovo Skylight, not a surprise given it's a prototype. The chassis used looks almost the same as the current HP Mini netbooks. There are no other details for now, but check out some hands-on videos after the break. Read more
January 6, 2010 at 9:12 pm
The MSI Wind U160 has made an appearance at CES as predicted. We drooled over the leaked press shots that appeared a few weeks back and now we are treated to a number of hands-on videos. The U160 is without doubt the sexiest netbook design coming out of MSI's labs in a while.
It has taken inspiration from a number of other models including the Toshiba NB200, Asus Eee PC Seashell range and even the Sony Vaio. The end result is a slim device with glossy mocha-brown lid (we wish MSI had looked at the excellent Toshiba NB200 matte lid here). The chiclet keyboard was found to suffer from some flex issues.
The MSI Wind U160 is powered by a 1.66GHz N450 Atom, 1GB RAM, 250GB HDD and Windows 7 Starter. It will be sold for $399 on release. Check out some hands on videos from Engadget, NetbookNews and Laptop Mag after the break. Read more
January 6, 2010 at 8:54 pm
The Lenovo Skylight is one of the first smartbooks from one of the big notebook manufacturers to be announced. As a flag-bearer for the smartbook category it has a lot of pressure on it, but according to the first impressions coming out of CES, it looks like it's a mighty fine device. The Skylight runs the 1GHz Snapdragon processor and has a 10.1-inch HD display (click here for the rest of the specs).
Judging by the videos and write-ups I've seen, the Skylight looks like a very sexy piece of kit. It's one of the thinnest 10-inch devices I've seen and the display, keyboard and large touchpad all look of the highest quality. I especially like the slot just above the keyboard where you can store a USB flash drive.
One of the biggest negatives is nothing to do with the hardware itself, but that $499 price point. This will obviously be lower when subsidised through AT&T, but some people are miffed given the promise of $200 smartbooks. Click through for a video hands-on from Engadget, Laptop Mag and JKKMobile.
Update: We've also included videos from Liliputing (run through of the custom UI) and NetbookNews. Read more
January 6, 2010 at 7:59 pm
Lenovo's premium offering in the 10-inch netbook space, the Ideapad S10-3t has been given the hands-on treatment by a number of publications. As a quick reminder, the S10-3t sports a 10-inch multitouch capacitive display. It comes in a convertible tablet form-factor that means it is likely to go head-to head with the Gigabyte T1028 and upcoming Asus Eee PC T101MT.
The $499 convertible netbook has a responsive touchscreen and the screen will adjust whilst flipping around thanks to an inclusion of an accelerometer. It's thicker and heavier than the Ideapad S10-3, but that's to be expected given the hinge mechanism and thick display. Check out some video hands-on impressions of the device from Engadget, Liliputing , JKKMobile and GottaBeMobile below. Read more
January 6, 2010 at 7:35 pm
One of the more exciting ultraportables to be announced so far at CES is the 11.6-inch Ideapad U1 Hybrid that can be used as CULV notebook or tablet depending on preference. It was officially announced yesterday, so check out our previous post for all the details.
However, a number of publications have since gone hands-on with the device and posted their impressions. After the break, you'll find six videos of the U1 Hybrid. It's interesting to see that overall impressions were extremely positive, even more impressive given that this was only a pre-production model as the U1 isn't set to launch until June.
Below you will find videos from Engadget, Liliputing, JKKMobile, NetbookNews, Laptop Mag and Slashgear. Gizmodo's write-up is also worth a read if you're fishing for information. Read more