April 22, 2009 at 4:39 pm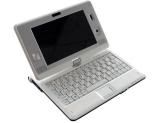 The Clevo TN70M netbook, which first appeared over a year ago, has now started to ship according to UMPC Portal. The Clevo TN70M is a convertible tablet, a similar design to that of the Gigabyte T1028 and Asus T91.
The TN70M has a 7-inch (800 x 480) touchscreen which is powered by a 1.33GHz Intel Atom processor. Other features include a 60GB hard-drive, ExpressCard/34, and a 4-cell battery that should be good for around 7 hours of battery life. The whole thing weighs 900g.
The Clevo TN70M is now retailing for €472 in Europe, but that figure excludes an operating system. Not a problem if you are planning on using Linux. Personally, the unit seems quite pricey for what is only an 800 x 480 resolution display.