If you were wondering whether WiMAX would ever really kick-off, a number of WiMAX-enabled netbooks from different manufacturers have been announced this morning. First off, is the Samsung NC10 WiMAX (NC10-12PWBK). It doesn't come cheap, however, at $519.99 and is available to purchase now in the US. Other than the WiMAX module, the specs are exactly the same. The vanilla NC10, which costs $380, comes with a 10.2-inch (1024 x 600) display, 1.6GHz N270 Atom CPU, 1GB RAM, 160GB HDD, Wi-Fi (b/g), Bluetooth 2.0, a 1.3MP webcam and a 6-cell battery.
Intel along with UQ Communications is promoting the widespread deployment of WiMAX Services in Japan. UQ is committed to cover 90 percent of Japan with its WiMAX service by 2012 and sees the official UQ WiMAX launch on 1st July. As a result of this, several WiMAX-enabled netbooks and notebooks have been announced in Japan. Read more
March 10, 2009 at 1:59 pm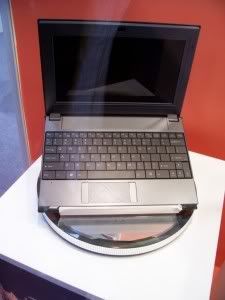 Clevo, a Taiwanese notebook/netbook manufacturer, has revealed that it is forecasting to ship 1.7 million notebooks & netbooks in 2009, a rise of 13 percent from last year. Of this number it expects 300,000 global netbook shipments, following a large ODM (original design manufacturer) order from a Portuguese wireless carrier. An ODM is a company which manufactures a product which ultimately will be branded by another firm for sale. This move by the as yet unnamed Portuguese wireless carrier highlights a growing trend by mobile operators to boost subscriber growth by providing self-branded netbooks. This is what Taiwan Mobile is doing and rumours suggest that Vodafone may be doing the same in Europe. Clevo formally introduced its M810L netbook at CeBIT last week and certainly wins points for trying to differentiate itself in terms of design.
Whilst Clevo's M810L netbook first came to light at the end of last year, it was formally showcased at CeBIT last week. Thankfully, it does not look like almost every netbook model out there and has some design cues of its own. Gone are the curves found on most netbooks today, with the M810L sporting a more 'cubic' look. It is this design that The Inq referred to it as a book-end (in the best way possible mind). It's reasonably light at 1.2kg and only 1.1 inches thick. Specs-wise, however, the M810L doesn't really stand out. It sports a 10.1-inch (1024 x 576) screen, is powered by a 1.6GHz Intel Atom N270 CPU/945GSE chipset and supports up to 2GB RAM. Other features include WiFi, Bluetooth, 1.3MP webcam and optional 3G support. The M810L is set to launch at the end of this month although no price point has been released thus far. More pics after the jump.