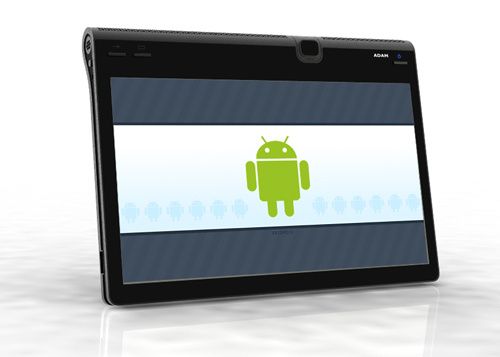 The Nvidia Tegra 2 chipset that was heavily shown off at the Consumer Electronics Show in January, mostly in numerous tablet devices, is suffering "some serious issues" relating to stability according to Slashgear. This is causing a delay in the production pipeline for many companies looking to incorporate the chip into their products.
Devices that were expected to hit the market in June 2010 have now been delayed to August at the earliest. This includes projects such as the much anticipated Notion Ink (delayed to Q4 2010) and Compal (delayed to mid-September) tablets. This can only be good news for the Apple iPad that will have the market to itself for even longer.
January 9, 2010 at 5:37 pm
Following the official Nvidia Tegra 2 announcement, a whole number of different next-gen Tegra powered products were shown on the trade floor at CES. Rather than creating a post for every single one, we've summarised each below and attached any relevant videos. Most of these consisted of tablets, rather than smartbooks, but it gives you a good idea of what to expect over the coming year. Check out the Tegra 2 action after the jump. Read more
August 3, 2009 at 4:36 pm
A number of manufacturers are preparing ARM-based smartbooks based on Snapdragon and Tegra processors to launch during the fourth quarter according to Taiwanese industry sources. Smartbooks are expected from the likes of netbook heavyweights such as Asus and Acer along with Mobinnova, Inventec and ODMs such as Foxconn, Pegatron and Compal.
These units will launch at a similar time to new netbooks using Intel's next-gen Pineview processors. However, the smartbooks are likely to be cheaper and smaller devices than netbooks. They are also more likely to be sold through contracts from telecom providers rather than on a standalone basis. Read more
Some of you may have been expecting some more substantial news to come out of Intel's and Nokia's partnership, instead of the wishy-washy commitment we got instead. However, it looks like Nokia IS planning to enter the netbook and smartbook segment according to a Commercial Times report.
The report claims that Nokia has ordered netbooks from ODM Quanta Computer which will use an Intel Atom processor and go on sale as early as the third quarter this year. Even more interesting is that, it says it has also ordered smartbook devices from Compal Electronics that will be powered by an ARM-based Qualcomm Snapdragon processor. No muted release date was given for the smartbook. There's no other details for now, but we'll keep you posted with further developments.
Via Bloomberg.
Despite Computex Taipei finishing last week, we are still hearing about a number of models that didn't share the limelight last week. Amongst them are two netbooks from ODMs that were spotted by NetbookNews at the Intel booth running Moblin v2.0 beta, the Compal KTV00 and FIC CW001.
The Compal KTV00 was a reasonably slim model with some similarities to Dell's Inspiron Mini 10 due to its huge touchpad and integrated mouse buttons within the touchpad itself. It comes with a 10-inch (1024 x 600) glossy display. The keyboard itself looked average, whilst it was powered by the N270 Atom CPU.
The 10-inch FIC CW001 looked quite average. It did have some dedicated buttons for 'Home', 'Email' and 'Pictures', although they didn't seem to work at the booth. Other notable points of interest included an Expresscard slot, which isn't found on too many netbooks. The keyboard an touchpad seemed a bit small, whilst VGA ports and a Kensington lock were fond at the rear. Check out both videos after the jump. Read more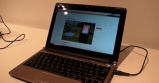 The smartbook moniker has only been created very recently, but judging by this year's Computex show, it is set to become a firm part of the portable gadget landscape. This time around it is ODM (Original Design Manufacturer) Compal's turn. They have demonstrated a smartbook device that is powered by a Qualcomm Snapdragon chip and running Google Android.
Asus has also shown an Eee PC running Android and powered by a Snapdragon chip, however it looks like they weren't ready to showcase this model themselves (the reveal was on the Qualcomm stand at the Computex show).
Compal has optimised the start-up interface and apparently further tweaks are on the way. The video shows just how quickly the internet browser loads pages. This smartbook is expected by the end of the year. Check out videos from TechVideoBlog and JKKMobile after the jump. Read more
Taiwanese Original Design Manufacturer (ODM), Compal Communications, is developing netbooks based on the Android operating system reports Digitimes. The report highlights that Compal is currently in negotiations to cooperate with several netbook vendors on the Android netbook. Compal were tipped to take over manufacturing of the Acer Aspire One and are believed to be the ODM for the Dell range of Inspiron Mini netbooks.
Google recently set up an Android team in Taiwan to tailor its smartphone based operating system to netbooks. Details on the netbook are thin, however the use of an ARM-based CPU is a strong possibility. This could be via a basic ARM CPU or a HD-capable Qualcomm Snapdragon device complete with 1080p support and high-speed WWAN connectivity.