The 10.1-inch Snapdragon-powered Compaq Airlife 100 smartbook is one of the first on the market. It comes with a resistive touchscreen display, the Android operating system, 512MB RAM and a 16GB flash drive.
Carrypad has just published the first review I've seen of this device. They loved some of the headline features of smartbooks generally including the always on 3G experience and long battery life (18 hours from mixed use). However, internet connectivity was patchy and there is no included Android Market that mars the experience. Software is one of the main negatives with the feeling that Android is too "immature in large-screen" scenarios. Click here for the full review.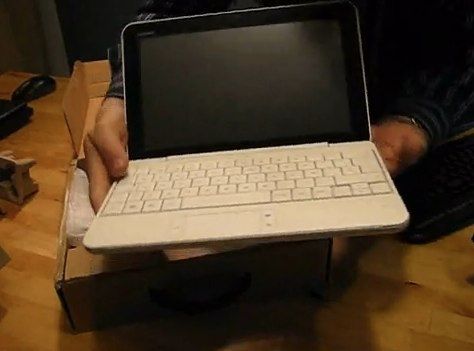 The Compaq Airlife 100 smartbook is only available in Spain right now, but that hasn't stopped Carrypad getting hold of one device to unbox and test. The 1GHz Snapdragon powered Airlife sports a lighter chassis compared to first-gen touchscreen netbooks as well as benefiting from a longer battery life.
The 10.1-inch Airlife 100 comes with the Android operating system, 512MB RAM and a 16GB flash drive. The touchscreen display is resistive rather than capacitive but comes with a matte finish. The OS has been tweaked to easily work with the touchpad as well as touchscreen. You can check out the unboxing video after the jump. Read more
April 29, 2010 at 10:46 am
Compaq's AirlIfe 100 Android smartbook will be exclusively available to Telefónica customers for €229 from the middle of next month. This contract price is the up front payment, you will still need to fork out for a data contract that will set you back €48 per month.
Certainly not cheap. You can opt for a cheaper €39 per month price plan but that will require a higher initial investment of €299 for the Airlife. Engadget confirmed that the Airlife 100 will not be coming to the US, however it's unknown at this stage whether we'll see it in other European countries. Read more
April 29, 2010 at 10:28 am
In an unexpected move, HP acquired Palm for $1.2 billion yesterday. One of the side affects of this acquisition could be HP using Palm's WebOS operating system for use in a number of devices, besides smartphones, including tablets and netbooks.
On the conference call yesterday, HP's Todd Bradley said "between smartphones, slates, and potentially netbooks, there are a lot of opportunities here." HP is obviously testing a number of different form-factors and OSes at the moment including the Compaq AirLife that sports Android and the HP Slate. Whilst there's nothing definitive right now, we look forward to see exactly what could come of this deal.
Via Engadget.
April 21, 2010 at 5:57 pm
We pretty much knew a lot about HP's upcoming smartbook, the Compaq Airlife 100, however the company has now put up its product page including the full specifications. The page confirms the 1GHz Snapdragon chipset and customized Android OS.
The Airlife 100 also sports a 16GB SSD, 512MB RAM, 512MB ROM and a 28Whr battery that should last for over 12 hours. It also comes with a 10.1-inch (1024 x 600) resistive screen. Click though for the full specs. Read more
February 16, 2010 at 1:55 pm
HP is showing off its 10.1-inch Compaq Airlife 100 smartbook at the Mobile World Congress tradeshow in Barcelona. The Airlife 100 looks very much like a typical netbook, although it features a touchscreen resistive display and is powered by a 1GHz Snapdragon chipset and Android 1.6 combo.
The touchpad has a few shortcut buttons adjacent to it with key controls for the Android interface, such as the Menu, Home and Back keys. Other features include a 16GB SSD, Wi-Fi, 3G connectivity and a 12-hour battery life. The Airlife 100 smartbook will initially be offered by Telefonica through subsidized contracts. Read more
February 12, 2010 at 12:40 pm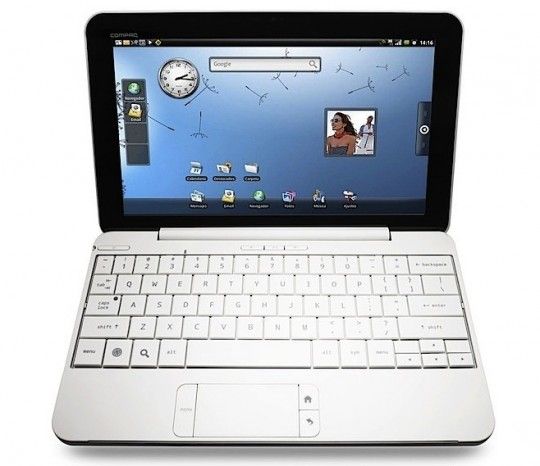 HP Spain has announced the Compaq Airlife 100 smartbook. It comes with a 10.1-inch display and integrated 3G pointing to the ARM chipset (possibly a Qualcomm Snapdragon?) Other features include a 16GB SSD, Wi-Fi, card reader, webcam and a 12-hour battery life.
The Airlife 100 looks like a very attractive slim line device, sporting a flat-key keyboard and some additional shortkey buttons sitting besides the touchpad. I didn't notice the mouse buttons, which could point to an integrated solution. It's also difficult to tell whether it comes with a matte or glossy display and at what resolution. Read more