June 10, 2009 at 11:16 pm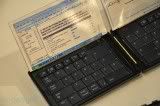 We reported on the DragonFly cross-folding concept design just yesterday and it looks like Engadget has already gone hands-on with a mock-up device in the flesh. If you remember, this concept is based on a double-folding design that supposedly transforms a fully-functioning netbook into a device small enough to fit in your pocket.
Their impressions weren't convincing, feeling that it will need the backing of a bigger organisation to pull the concept off. Developer, Edward Bullister, plans to stick a Moorestown chip inside the device and has the idea that it will dual-boot Windows XP and Moblin. He has some very ambitious plans (and timelines) for the device, hoping that it will be ready to ship by the end of this year!
As with some of the smartbooks we saw at Computex, he says that the device will have an "all day" battery life. There is no working prototype of the model so far and no manufacturer lined up as things stand. My guess is that we'll be waiting until the second half of next year at the earliest to see this particular concept in action.
Update: Liliputing has a video of the concept in action. Check it out after the break. Read more
CrossFold has shown off a new netbook concept design that is certainly something I've not seen before. The DragonFly concept includes a double fold design, the first fold sees it turn into a flip-phone form factor, for which the device can be used as a smartphone. Folding it again, reveals a double display and full-sized keyboard, turning the device into a proper netbook. Folding it back completely should leave the DragonFly small enough to fit into your jacket pocket.
Apparently the display will also use touch panels, so that you can use it as a tablet device too. It all sounds very ambitious and I'd be surprised if such a concept would become a reality any time soon. The concept design is being shown at the Consumer Electronics Association event in New York where there will hopefully be some further details. In the meantime, check out the concept in action after the break. Read more