March 31, 2010 at 6:18 pm
Acer is preparing to launch a Pine Trail update to last years Aspire One D250 dual-booting netbook. The AAO D260 will also dual-boot Android with Windows. Little other details are known right now, although Acer's mobile product manager, Martino Mombrini, apparently revealed that the chassis will be getting a redesign.
Mombrini also confirmed that Acer will be launching a Google Chrome OS netbook during Q3 and that they are working closely "with the guys at Google". We'll keep you posted on any further details.
Via Electric Pig.
December 2, 2009 at 11:54 am
Acer is looking to be the first manufacturer to launch a Chrome OS netbook in the second half of 2010. The netbook has been in development since the middle of this year according to Digitimes. No specifications were given but we would expect the device to have flash storage and run either an x86 or ARM processor.
Acer was also first to market with the dual-booting Aspire One D250 Android netbook and apparently sales were not as strong as expected. This is perhaps not a surprise given the little optimization that the Android OS has seen in the move from smartphone to netbook. However, as Chrome OS is being developed for netbooks from the ground up, momentum behind Chrome OS netbooks should be higher.
October 13, 2009 at 12:20 pm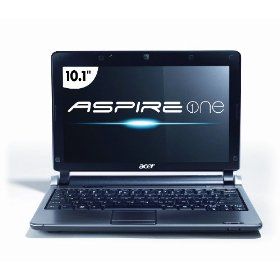 Acer's dual-boot Android netbook is now available to pre-order in the United States through Amazon.com
. Acer is using an iteration of its Aspire One D250 netbook for this new dual-boot model. The white D250 (model number: AOD250-1613) is on pre-order for $350
.
Most of the specifications are unchanged from the current Aspire One D250 (no hardware revisions unlike the Windows 7 D250). It has a 10.1-inch (1024 x 600) display and is powered by a 1.66GHz N280 Atom CPU, 1GB RAM (max 2GB) and a 160GB HDD (5,400RPM).
The system dual-boots between Google Android and Windows XP (SP3). It has a multi-touch touchpad and comes with a 5800mAh 6-cell battery that should be good for 9 hours of life. Other features include webcam, three USB ports, card reader, Bluetooth 2.1 and Wi-Fi (b/g). The D250 weighs 2.79lbs (1.3kg) and has dimensions of 10.17 x 7.24 x 1 inches (WxDxH).
Via Netbooked.
October 13, 2009 at 9:02 am
Acer has announced a new Aspire One netbook that will launch with Windows 7 next week. Acer is launching an updated version of the Aspire One D250 that includes some hardware improvements. The D250 will have a 10.1-inch display with high-resolution (1280 x 720) display.
The Windows 7 Aspire One D250 will be powered by a 1.66GHz N280 Atom processor, 2GB RAM and a 160GB HDD. It will come with the entry level Windows 7 Starter Edition. Battery life will be 3.5 hours on the standard battery but is extended to 7.5 hours on the (optional) higher-capacity battery.
Only details for the Japanese market have been announced right now, where it will launch on October 22nd for ¥46,800 (£330, $520, €352). I would imagine details for European, US markets should be out before the launch of Windows 7.
Via Akihabara News.
Acer will launch a revision to its Aspire One D250 netbook that will sport a high-definition (1280 x 720) display as opposed to the 1024 x 600 resolution found on the current model. This will be the last revision of the D250 before it releases new models based on the Pine Trail platform early next year according to Fudzilla.
The rest of the specifications will remain the same and include a 1.6GHz N270 Atom processor, 1GB RAM and a 160GB HDD. The D250 is a reasonably lightweight (1.33kg) and thin model, coming with a 6-cell battery. The new revision is already available on pre-order from a retailer in Norway, it is scheduled to launch on 30 July 2009. There is no word on other regions for now.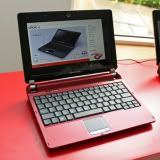 We first heard of the 11.6-inch Packard Bell dot m and 10.1-inch dot s netbooks back in early April. Whilst the European launch details were revealed, we didn't have any news on the UK side of things. Well the official UK pricing details have now been announced – the smaller dot s will cost £299 whilst the dot m will cost £369 when it launches in July.
Acer-owned Packard Bell, has based the 11.6-inch dot m netbook on the Aspire One 751. If you compare them side by side, the keyboard and hinges look similar. Things are slightly different under the hood, with it powered by a AMD Athlon L1110 CPU and will support memory up to 2GB and a hard-drive up to 320GB. Other options for the dot m include an Intel Atom CPU, Windows Vista and 3G. Read more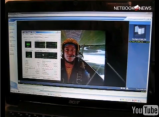 One of the complaints from the recent Acer Aspire One 751 review, was that the 1.3GHz Z520 Atom processor was just not powerful enough for this 11.6-inch slender netbook. Now Riccardo from NetbookNews.it has come out with the benchmarks to highlight the same point. He says that you shouldn't expect anything more from the netbook but basic web browsing and use of word documents and spreadsheets.
YouTube HQ (not HD) videos played okay, despite a CPU load of near 100 percent. However, HD Vimeo videos were unwatchable. So poor were the results that he ended up re-installing the operating system. He had thought that there was something wrong with the configuration. Whilst the HDD and RAM perform satisfactorily, he concludes that the poor performance is down to the Z520 CPU. A performance benchmark comparison chart against other netbooks is attached after the break.
It also seems that Acer is shipping a 4400mAh rated 6-cell battery, rather than the 5200mAh battery suggested by Acer's website. The Aspire One 751 has a suggested retail price of £379.99 and is expected to be available from next week, along with the Aspire One D250 which will retail for £329.99. A 3G version of the D250 will set you back a pricey £479.99. Read more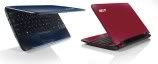 Whilst the 10.1-inch Acer Aspire One D250 and 11.6-inch Aspire One 751 have been announced for the European markets for a few weeks now, it has now officially launched in the US market. The D250 has a suggested retail price of $298 whilst the 751 will set you back $379.99. The press release says that both models should be available in retail channels now.
The specifications for both appear to be the same as that announced for Europe. The 11.6-inch Aspire One AO751h has a HD resolution of 1366 x 768 pixels and sports a full size keyboard. The 751h is certainly a looker with its slender lines measuring just 1-inch in thickness. The Aspire One AOD250 has a 10.1 inch (1024 x 600) display and is thinner than its predecessor. The specifications are pretty run of the mill, with a N270 Atom CPU, 945GSE chipset, 1GB RAM and a 160GB HDD. The full specs are attached after the break. Read more
April 15, 2009 at 4:44 pm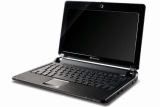 Acer-owned, Gateway, has announced the LT2000 netbook for the Japanese market. The LT2000 looks to be similar to the LT20 netbook announced for the US market last week. The LT2000 sports a 10.1-inch (1024 x 600) resolution display and is powered by a 1.66GHz N280 Atom CPU and 945GSE chipset.
It also comes with 1GB RAM (max) and a 160GB hard-disk drive. Other features include Wi-Fi (b/g), a 0.3MP webcam, Dolby Headphone and a multi-card reader. The LT2000 will come with a 3-cell battery which should last around 3 hours and will weigh 1.18kg (2.6lbs).
The LT2000 will be available in both black and red for 49,800 Yen ($500/€380/£335). This is the same price as the Acer Aspire One D250 that is due to hit Japanese retail next week.
Via Portable Monkey.
April 15, 2009 at 4:02 pm
Acer Japan has announced that it will be launching its 10.1-inch Aspire One D250 netbook on April 24th for 49,800 Yen ($500/€380/£335). The Aspire One D250 (AOD250) will be powered by a 1.66GHz Atom CPU and 945GSE chipset. It also comes with 1GB RAM and 160GB hard-disk drive. The 10.1-inch display has a resolution of 1024 x 600 pixels.
The D250 is around 1-inch thick and weighs 1.11kg with the 3-cell battery. This battery should give you around 3.15 hours of use according to Acer. For those looking for an even slimmer form-factor, the Aspire One 531 will have very similar specifications but weighs just 1kg (2.2lbs) with the 3-cell battery. Given the smaller size, the 531 has marginally worse battery life (3 hours on the 3-cell).
In the UK, no launch date has been confirmed but according to retail sites, the Aspire One D250 is set to launch around the end of April. Having a quick look, CCL Online seems to have the cheapest pre-order at £335 delivered (in-line with the Japanese RRP above).
Via Akhibara News.
GeekyLives managed to get hands on with an Acer Aspire One D250 netbook, despite the model only being quietly announced by Acer last week. The unboxing shows how easy it is to upgrade the internals (HDD, RAM) as well as adding a mini-pci card. Overall first impressions were that it is a sleek and attractive netbook. Acer also announced the Aspire One 531 last week which has very similar specs to the D250 albeit in an even slimmer form-factor.
The Aspire One D250 netbook comes with a 10.1-inch (1024 x 600) LED backlit display in a slimline form-factor that is just 1-inch thick and weighing 1.27kg (2.79lbs) with the 6-cell battery. The unit that GeekyLives played with came with a 1.66GHz N280 Atom CPU, 1GB RAM and a 160GB hard-disk drive.
As can be seen from the video, the 6-cell 4400 mAh battery does stick out a little from the back although doesn't make the unit significantly thicker as seen with other batteries. Given that the 3-cell 2200 mAh battery is only rated for 3.15 hours, compared to the 6 hours of life from the 6-cell, it is a compromise worth making in our view. The Aspire One D250 can currently be ordered from CCL Online for £335. Check out the video (in Norwegian) after the break. Read more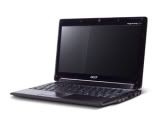 Following on from Acer's 10.1-inch Aspire One D250 netbook announced yesterday, another 10-inch from its stable has also been unveiled, the Aspire One 531. The Aspire One D250 appeared on both the Acer UK and Germany sites yesterday but was then removed later in the day. However, the Aspire One 531 is still listed on the Germany site for all to see. Looking through the specifications we are struggling to tell the difference between the two, it looks almost identical to the D250. Read more
March 31, 2009 at 9:36 pm
The Acer Aspire One D250 has been officially announced today, appearing on both the Acer UK and Acer Germany sites. Well that certainly was the case earlier today, it seems that the D250 product listing has now been removed from both sites – maybe Acer weren't ready to go public? Luckily we sat on the Acer UK product page from this morning so we still have all of the juicy details at our disposal! Read more
March 8, 2009 at 11:46 am
A refresh of the Acer Aspire One has been spotted, with most of the changes being under the hood. On the surface the model looks very similar to the 10.1-inch D150, albeit slimmer with a height of 26mm. A different motherboard layout means the ports on sides of the netbook have been rearranged. Despite the technical specifications remaining unchanged, Macles suggest that this model will be the D250 and sport a bigger hard-disk. Some users are already reporting to have seen this configuration hit retail channels. More information as we have it.
Via Portable Monkey.