September 27, 2009 at 10:48 am
Dell's CULV-based 11.6-inch ultra-thin has finally made an appearance on the UK Dell site. It is available in a number of price-points. The base configuration at £349 includes a single-core 1.3GHZ Celeron ULV 743 processor, 2GB RAM, a 160GB HDD and Vista Home Basic.
For £50 more at £399 you get a dual-core 1.3GHz ULV SU4100 processor, larger HDD (250GB) and Vista Home Premium. For a further £100 at £499, you get 4GB RAM and a 320GB HDD. All of these configurations include the standard 3-cell 28 WHr Lithium Ion battery, a 6-cell battery will cost £45 extra.
September 1, 2009 at 10:57 pm
Dell's 11.6-inch netbook, the Inspiron 11z, has been reviewed by the guys over at Notebook Review. They were fond of the form-factor and build quality and feel that the screen size and resolution (1366 x 768) is a great combination for a netbook. They also found the keyboard to be quite comfortable.
However, this was let down by a very poor touchpad, in fact it was one of the worse they've used. They also found that the Celeron processor's performance was below expectations and slower than Intel's Atom CPU. However, this was made up the much better integrated performance of the X4500 GPU and GS45 chipset. A small standard battery rounded off a device that they could just not recommend.
August 30, 2009 at 7:00 pm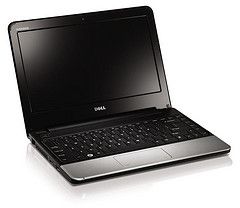 Dell launched its Inspiron 11z mini-notebook for $399 just last week. However, it appears that Dell has already put up the price by $50 to $449. There seems to be some confusion regarding the price hike, but according to a Dell representative, there is a slight hardware difference between the two models.
The original $399 version is already sold out and the new newer $449 model is said to have better display. It is believed that the newer model comes with a WLED backlit display that the original model didn't have. It is unknown whether the price will drop down to $399 again, but when Dell offers more configuration options, then the WLED display may become optional with a lower base price.
Via Laptop Mag.
August 18, 2009 at 1:55 pm
Dell has officially announced the CULV-based Inspiron 11z 'netbook'. The device is the company's first entry into the "thin and light with great battery life" segment. The 11z is only an inch thin and weighs around 1.4kg (3lbs). The new Intel ULV processor should enable "smooth HD video playback" according to Dell. The 11z's 28WHr battery is only expected to last for around three hours.
It is currently only being sold as a pre-configured system, although more configuration options will be available at a later date. The device is actually available to buy now in the US from the Dell site for a very reasonable $399. A European release will be following suit on August 25th, where it will be available in Carphone Warehouse in the U.K. and the Phone House in France. Read more
August 12, 2009 at 11:25 pm
We speculated recently that the departure of Dell's Inspiron 12 netbook was likely to mean the imminent arrival of a rumoured 11.6-inch CULV-based ultra-thin model to replace it. Right on cue, Gizmodo has some images of the Inspiron 11z. There's little detail on specifications, it seems that Gizmodo can't divulge that detail right now.
What we can tell from the design is it will sport a thin chassis and come with a wide touchpad. The mouse buttons appear to be incorporated in the touchpad. The keyboard stretches to the edge of the chassis and they've even managed to fit in separate Home, End, PgUp and PgDn keys to the very right of the keyboard in a vertical strip. Hopefully, an official announcement will be coming very shortly. Check out some pictures of the 11z after the break. Read more