August 28, 2009 at 1:52 pm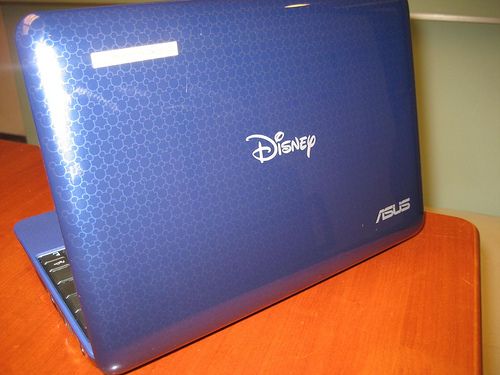 The Disney Netpal netbook recently went on sale on the US. The 8.9-inch device is manufactured by Asus and is technically part of its Eee PC family line-up. The Netpal is targeted for kids between the ages of 6 and 12 and includes customised software and user interface. Sascha from NetbookNews has gone hands-on with the Netpal and given us a great video tour of the device.
The 8.9-inch netbook is powered by a 1.6GHz N270 Atom CPU and comes with 1GB RAM and a 160GB HDD. We like the little touches that the design team has put into the netbook. The exterior is covered with a special Disney print, in this case, the blue version has a tiny Mickey Mouse print. We also like the Mickey Mouse shaped webcam.
The netbook has an 8.9-inch matte display with resolution of 1024 x 600. The Netpal comes with an internal battery and the only component that is upgradeable is the RAM. The keyboard seems comfortable to use with good feedback and large right shift key. The touchpad is similar to that seen in the Seashell Eee PC series, it is largely invisible apart from a dimpled surface. Check out the full video along with customised kids software after the break. Read more
June 16, 2009 at 10:35 pm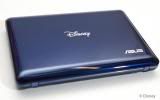 Disney is launching its own branded netbook called the Netpal, which is effectively a re-skinned Asus Eee PC. The 8.9-inch Netpal will be targeted for kids between the ages of 6 to 12. The design appears to be reasonably subtle for what is a children's netbook, you get a reasonably discreet Disney logo on the lid of the case.
However, you'll find the kiddie-theme in a special user interface which fits over Windows XP. This will come with several themes that kids can change including Toy Story and Cars. As you can imagine with a kid-targeted product, security is of the utmost importance. You'll find the usual parental and email controls and sites can only be surfed that have been approved by parents.
A number of widgets are also available including a radio, digital memo pad, calculator and stopwatch. The Netpal is powered by an unspecified Atom processor and will come either with a 160GB HDD or 16GB SSD. The Netpal weighs between 1.0-1.2kg (2.2-2.6lbs). The netbooks will come in "Princess Pink" (with florals) or "Magic Blue" (miniature Mickey Mouse icons) colours. The Netpal is set to launch in late July and will retail for $350 from Amazon.com and Toys R Us.
Update: Laptop Mag has gone hands-on with the Netpal and they found it to be very durable and the keyboard is spill-proof. They have a video on the site that's worth checking out too.