April 29, 2010 at 11:39 am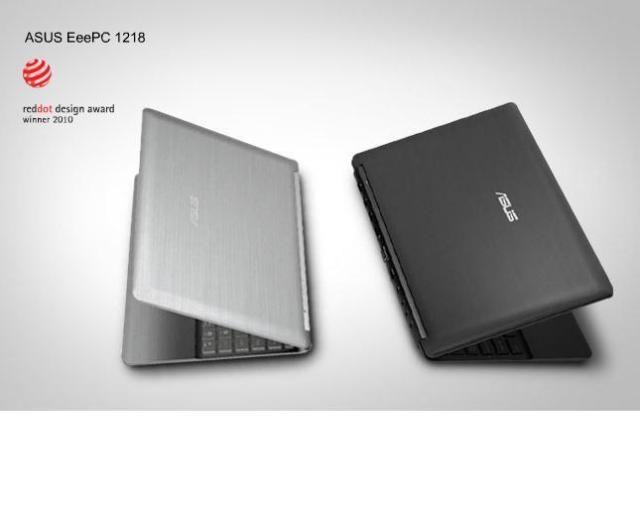 It looks like Asus weren't ready to announce news of a new netbook in its 12-inch series called the Eee PC 1218. To my eyes it looks like a 12-inch version of the desirable Eee PC 1018P.
AsusDesign has prematurely revealed that the netbook as a 2010 RedDot Award winner. The Eee PC 1015 and 1215 also won the award. The Eee PC 1218 appears to be clad in aluminium and comes with a chiclet keyboard, retractable webcam and ports located at the back. There's little other information for now, but let's hope it comes with next-generation ION graphics and would it be too much to ask for dual-Atom too? Check out a larger screencap after the break.
Update: Digitimes reports that the Eee PC 1218 will sport Nvidia ION graphics. Read more
April 26, 2010 at 7:52 pm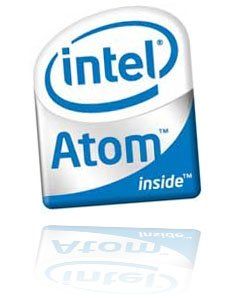 There's no doubting that Intel has a dual-core netbook Atom part on the horizon, especially given that Intel's chief recently confirmed the rumours. Digitimes is reporting that Intel will launch the dual-core Atom N500 Atom series in June along with releasing details on Intel's third Atom platform.
The Asus Eee PC 1215N will be one of the first dual-core Atom N500-powered netbooks when it launches early in the third quarter. It will also start to prepare the DDR3-enabled N455 and N475 Atom processors. These chips were seen running in the ASUS Eee PC 1018P, the company's new flagship 10-inch netbook. No release dates for these netbooks have been announced so far.
April 25, 2010 at 7:49 pm
The Asus Eee PC 1201NL is one of the many netbooks the company has using the 12-inch chassis. This particular model combines the 1.6GHz N270 Atom processor and original Nvidia ION LE chipset. It also includes 1GB RAM, 160GB HDD and Windows XP.
I haven't heard too much about this netbook since it was announced at CES in January. However, Indian site Techtree has reviewed the 1201NL and will be released in the country next month. Compared to the AMD-powered 1201T, the 1201NL offers HDMI, a higher capacity battery (63Wh vs 47Wh) and a slightly brighter screen. Their battery test yielded 3.5 hours of runtime.
Via Netbooked.
April 23, 2010 at 11:52 am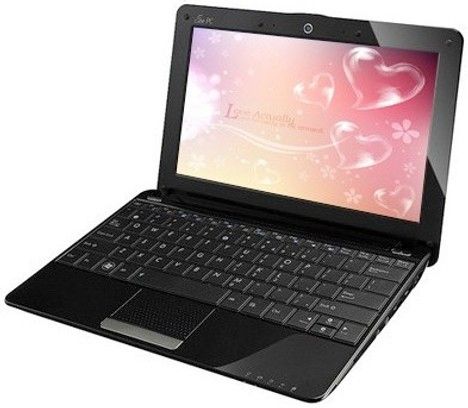 Following on from this morning's rumour that the 12-inch Asus Eee PC 1201PN will not feature Nvidia Optimus technology, despite running next-gen ION graphics, Blogeee is reporting on another Asus netbook that will include Optimus.
The Asus Eee PC 1215N netbook will come with Intel's new dual-core Atom netbook processor, next-generation ION and Optimus technology. It is expected to launch in July. No other specs are known at this time.
Update: Notebook Italia is also confirming the existence of the Eee PC 1215PN, although they say it will launch in June, rather than July. They also confirm the Optimus-less 1201PN and say it will launch in May.
April 23, 2010 at 10:49 am
I'd park this firmly in rumour territory for now, but Pierre from Blogeee is reporting that Asus' upcoming Eee PC 1201PN netbook that comes with ION 2, will not be sporting Nvidia's Optimus power-saving technology.
His source for this news is Nvidia France, who has suggested that next-generation ION graphics is not synonymous with Optimus technology. If true, this is completely against my understanding of the next-gen ION part. ION 2 was presented to us as having embedded Optimus technology. At no point was it suggested that it is a feature that a manufacturer may or may not include. Read more
April 21, 2010 at 5:44 pm
The Asus Eee PC 1201PN will be the company's first netbook with next-generation ION when it launches shortly. It uses the same chassis as most other 12-inch netbooks in the Eee PC 1201 range, but differs from its current ION netbook (1201N) by offering a single-core N450 Atom processor as opposed to the dual-core 1.6GHz Atom 330.
For those wondering how the Eee PC 1201PN will perform then NotebookCheck has the answers. They've taken an exhaustive look at the performance of ION 2 and used the Eee PC 1201PN to do the benchmarks. Read more
April 20, 2010 at 10:55 am
Asus really knows how to design netbooks and the Eee PC 1018P is no exception. The aluminium-clad netbook is just 18mm thick and sports the latest USB 3.0 and Bluetooth 3.0 standards (optional) along with DDR3-packing N455/N475 processors.
The lucky guys over at TechInStyle.tv managed to get hold of the Eee PC 1018P and shot some pictures of it in the wild that you can check out after the break. The Eee PC 1018P was first announced at CeBIT and will come with a 10.1-inch (1024 x 600) display, up to 2GB RAM, 250GB-500GB HDD and Wi-Fi (b/g/n). No word on pricing or availability at this stage. Read more
April 19, 2010 at 8:29 pm
Two mysterious Asus Eee PC netbooks were spotted last week and these included the R101 and R105 models. Whilst nothing was revealed at the time, it looks like an Amazon.de listing has spilled the beans on the R101.
Two models are listed on Amazon Germany. The Eee PC R101 is your typical netbook fare with a 10.1-inch display, N450 Atom, 1GB RAM, 160GB HDD, Windows XP. This model is listed for €249. Read more
April 17, 2010 at 4:40 pm
A new Asus Eee PC 900 model passed through the FCC yesterday. The 900AX is likely to be an 8.9-inch model powered by an Intel Atom processor running either Windows XP or Linux. Given the age of this line of Asus netbooks I'd be surprised to see it turn up in Europe or the US, although there may be other regions that Asus is planning to target with this netbook.
A couple of new 12-inch model names were unearthed too. This includes the Asus Eee PC 1201K and 1201X. These models were spotted over on Asus' support pages. As to how different these are to the current 1201 range remains a mystery for now.
Via Wireless Goodness and EeePC.it.
April 16, 2010 at 5:50 pm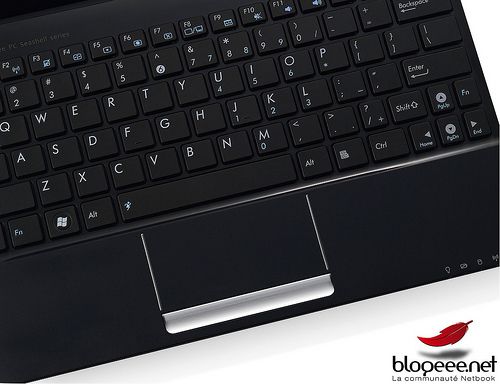 One of Asus' upcoming netbooks, the Eee PC 1015PE, was first spotted at CeBIT. It's sleeker than the 1005PE offering a larger touchpad, a toggle switch for the webcam along with a matte display and lid.
Pierre from Blogeee managed to get hold of some official press shots of the 1015PE and it's looking like a nice update. I especially like the chrome effect used on the sides of the touchpad. Check out Blogeee for the full gallery.
April 14, 2010 at 3:01 pm
Asus may be shortly looking to introduce two new netbooks, dubbed the Eee PC R101 and R105. Both models have popped up on the Asus support pages, where you can already download a bunch of stuff including BIOS and various drivers.
There's little other detail for now, we've got no idea what sized display this new model will have and neither what specs will be included. What we do know is that it is a Pine Trail product and comes with the Intel NM10 chipset. I would expect these new devices to be launched at Computex that is six weeks away now.
Via Netbook Italia.
April 14, 2010 at 10:01 am
The Asus Eee PC 1005PR netbook that comes with a high-resolution (1366 x 768) display and Broadcom Crystal HD media accelerator card is now available to pre-order in the US. Amazon.com
has a black model listed for $399.99
, although no release date is mentioned.
The 1005PR comes with a Broadcom BCM 70015 HD Decoder card that should mean 1080p playback on the netbook. Whilst one will be able to take advantage of this on the HD display, it would have been nice to see a HDMI output too. However, it will also benefit from YouTube HD playback thanks to Adobe Flash 10.1. Read more
April 11, 2010 at 5:47 pm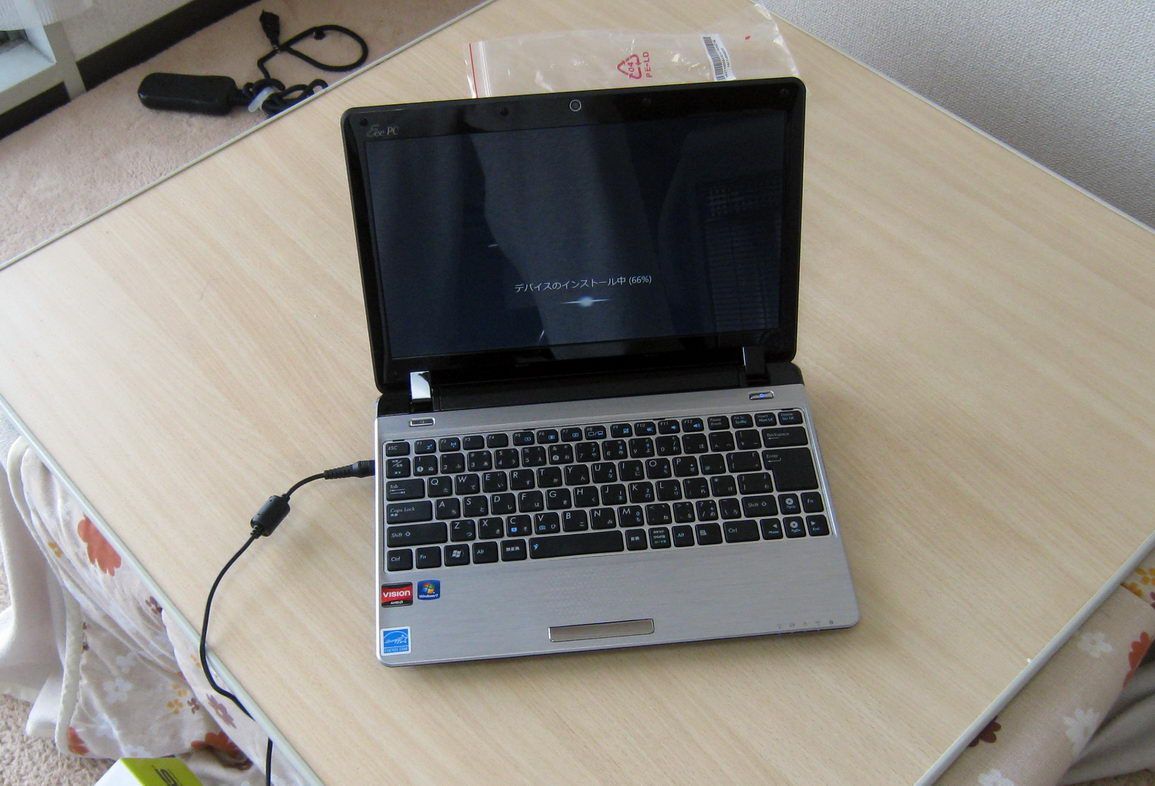 The Asus Eee PC 1201T netbook comes with the 1.6GHz AMD Athlon Neo MV-40 processor and ATI Radeon HD 3200 graphics. It recently went on sale in the US (minus the OS) and Peter from Netbooked has one to unbox.
As you would expect the chassis is almost identical to all of the other Eee PC 1201 series and very similar to the UL20A. It comes with a single slot access panel to change the RAM, but you won't find a HDMI port on this particular model. Check out his unboxing after the break. Read more
For those wondering just how quick Asus' ExpressGate instant-on operating system is compared to traditional Windows, you're in the right place. Sammy Production did a video benchmark comparing boot times side-by-side on two Asus Eee PC T101MT netbooks.
Asus ExpressGate is basically a rebranded version of Splashtop that took around 20 seconds to boot. For those wondering why it wasn't faster, it is because there are two versions of Splashtop. The one normally found on notebooks and desktops uses 512MB of Flash memory and takes around 5 seconds to boot. The other uses the hard disk partition (as in the netbook) that means it's slower. Check out the video after the jump. Read more
The AMD-powered Asus Eee PC 1201T netbook is now shipping in the US. Retailer Newegg has it on their site for a reasonable $389.99, although it's worth noting this exclusive edition ships without an operating system included.
The 1201T is a 12.1-inch netbook with 1366 x 768 resolution display. It is powered by an AMD Athlon Neo MV-40 processor and comes with ATI Radeon HD 3200 graphics, 2GB RAM and 160GB HDD. Other features include Wi-Fi (b/g/n), a 0.3MP webcam, 6-cell battery, card reader and three USB ports.
For more information, check out Laptop Reviews Central.