March 15, 2009 at 1:42 pm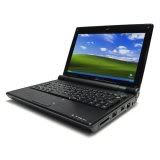 Zoostorm has announced its latest netbook, dubbed Freedom. The netbook has an 8.9-inch LED backlight display with a resolution of 1024×600 and is powered by the capable 1.6GHz N270 Intel Atom CPU. However some may see the 512MB RAM (1GB supported) and 8GB SSD storage as a bit measly.
The unit's chassis comes with a metallic glossy finish and weighs only 0.9kg. It certainly looks sleek although given the weight it would have been more desirable if it had been slightly thinner (3.4cm thickness). Other features include an integrated webcam (0.3 MP), WiFi (including 'n' capability), card reader and three USB 2.0 ports. Its 4-cell 4400-mAh battery should give around 4.5 hours of run time.
It does come competitively priced though. Just having a look at a few of the retailers in the UK shows that the unit can be had for as little as £219.99 from Argos or £229.99 from Amazon. Click thorough for a full list of specifications. Read more