December 28, 2009 at 7:46 pm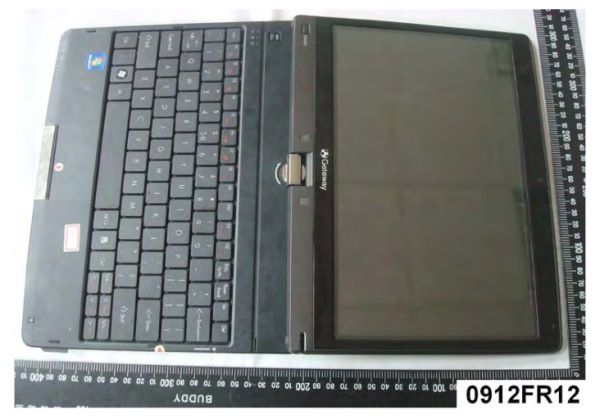 The 11.6-inch Gateway EC18T convertible netbook has passed through the FCC. We've already seen a whole gallery of photos of the EC18T but this news is likely to mean a US release is just around the corner. The model just looks like a rebranded Acer Aspire 1420P or Packard Bell Butterfly Touch, not surprising since both Gateway and Packard Bell are subsidiaries of Acer.
The Gateway EC18T convertible tablet will be powered by a dual-core 1.2GHz SU2300 processor, 4GB RAM (8GB supported) and a 250GB/320GB or 500GB hard drive. It will have HDMI, three USB ports and a battery that will last for 8 hours.
Via NewNetbookReviews.
October 16, 2009 at 3:13 pm
Packard Bell has been showing off its new 11.6-inch touchscreen convertible netbook, dubbed the Butterfly Touch in Amsterdam. The guys over at PortableGear.nl were at the event and didn't hesitate in taking lots of pictures of the new device.
The move is perhaps unsurprising given that Packard Bell, along with Gateway, are subsidiaries of Acer. Gateway recently launched a very similar looking device in the EC18T. Acer itself is meant to be releasing an almost identical device in the form of the Aspire Timeline 1820P.
The Butterfly Touch has a multi-touch display (much like the 1820P is meant to have). The full specifications of Packard Bell's device hasn't been released so far, but I'd be surprised if it wasn't too dissimilar to the 1820P. The battery life is meant to be good for 8 hours. What we do know is that it will come with Windows 7 Home Premium and be released on October 22nd for €599. Check out a couple of hands-on videos after the break. Read more
October 7, 2009 at 10:20 am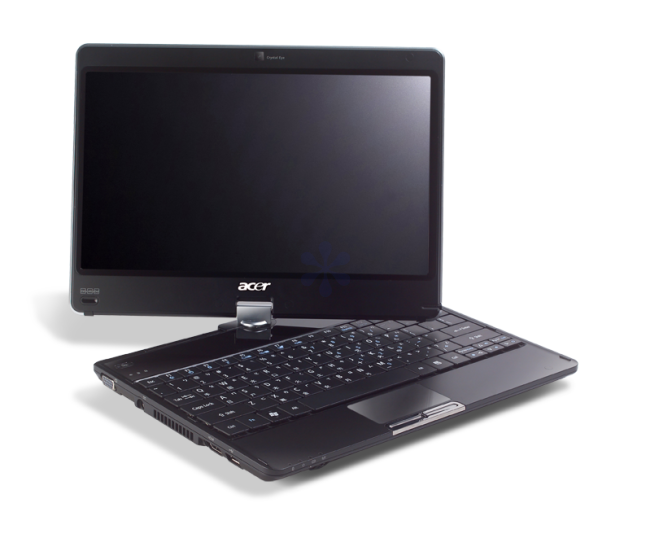 Following on from yesterday's news regarding the Gateway EC18T, an 11.6-inch convertible netbook, I was waiting to see how long it would be before an Acer equivalent crops up. After all, Gateway is owned by Acer. Lo and behold, macles has revealed the Acer Aspire Timeline 1820P convertible tablet.
Given the similarities in model number to the 11.6-inch Aspire 1810T (or 1410 as it's known in some regions), don't expect the technical hardware to differ. Apparently the port layout, components and technical specifications are all the same. The main difference is that the 1820P will be multi-touch enabled (I'm guessing therefore a capacitive screen?)
The tablet mechanism does mean that the 1820P is around 300g heavier than the 1810T. It will ship with Windows 7, so hopefully we should see a release by the end of the year. Check out some larger pictures after the break. Read more
October 6, 2009 at 7:58 pm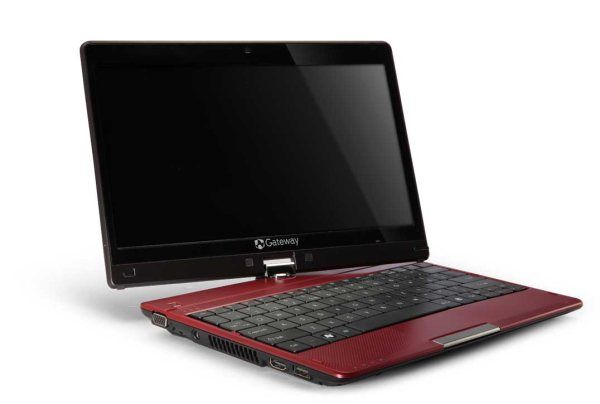 It looks like that Gateway may be prepping its own answer to some of the convertible netbooks we've seen recently including the Gigabyte T1028 and Asus Eee PC T91. The Gateway EC18T is an 11.6-inch convertible tablet that will run Windows 7 Basic or Home Premium.
A tipster has leaked quite a few official-looking photos of this new device to Engadget. Other specifications that the EC18T is rumoured to have includes an Intel Core 2 Duo processor, up to 4GB of DDR3 SDRAM and the Intel GS45 Express graphics chipset.
Other things revealed by the pictures include what looks like a HDMI port and a stylus holder built into the screen bevel rather than the chassis. There are no details on availability or pricing right now, but hopefully more news is around the corner. Check out some more pictures after the break. Read more