January 12, 2010 at 8:43 pm
The Gateway LT2102H is just one of the company's offerings in the 10-inch Pine Trail space. Lee from Minifrag managed to get hold of a unit and has posted his initial impressions of the device as well as some unboxing pictures.
This is his fourth Acer/Gateway device and the build quality is as good as the last. The chiclet keyboard is comfortable to use, despite a slight wiggle. The touchpad is large and the single rocker mouse button has a solid feel. Whilst, Lee hasn't done a full battery test yet, he says that the 3-cell 2200mAh battery should last 4 hours and 55 minutes according to Windows 7. Read more
January 3, 2010 at 11:35 am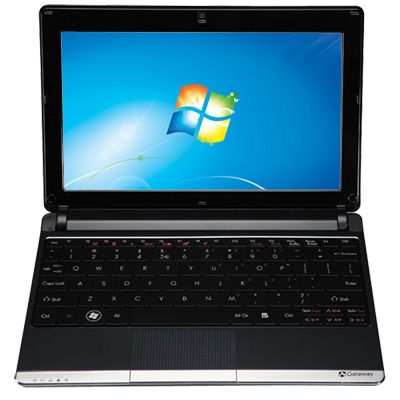 Gateway has launched a couple of new Intel Pine Trail netbooks in Canada called the LT2102H & LT2107H. The new models look similar to the Acer Aspire One 532h that was officially announced just a few days ago. The LT2100 series comes with 1.66GHz N450 Pineview Atom, 1GB RAM, a 160GB HDD and Windows 7 Starter.
Other features include a 10.1-inch (1024 x 600) display, Wi-Fi (b/g/n), card reader, three USB ports, webcam and a multi-touch touchpad. The Gateway LT2102H has a 3-cell 2200mAh battery. (4 hours of battery life) and is listed in stock for C$299.99 (£176, $285, €198). The Gateway LT2107H has a 6-cell battery 4400mAh battery (8 hours of battery life and is listed for C$349.99.