Gigabyte is set to announce a number of new netbooks at CeBIT that officially begins tomorrow. The T1000P already made an appearance on Gigabyte's official website last week, so there's not too much we don't already know. It is the Pine Trail update to the 10-inch T1028 TouchNote that also sports a chiclet keyboard.
Two versions are due, the T1000X has a 4-cell 4500mAh battery and weighs 1.3kg (2.9lbs). The more expensive T1000P will have a N470 Atom CPU, multi-touch display, 6-cell 7650mAh battery and weighs 1.48kg (3.3lbs). JKKMobile has a hands-on video of the T1000P that we've attached below. Read more
February 26, 2010 at 10:50 pm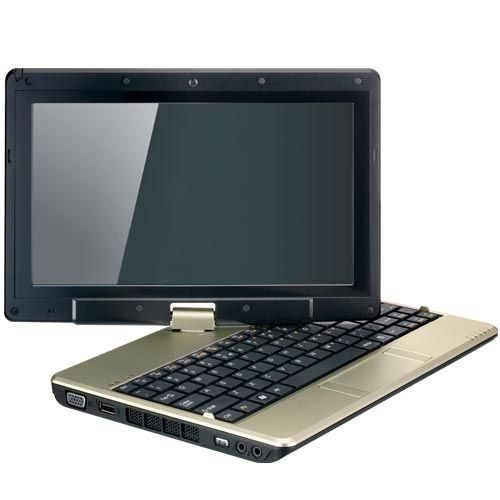 Gigabyte will soon be launching a Pine Trail update to its 10-inch TouchNote T1028 convertible tablet. The Gigabyte T1000 made a brief appearance on the company's official site with a full list of specs, which has since been pulled.
The T1000 looks very similar to the T1028 but will come with a 1.66GHz N450 Atom or 1.83GHz N470 Atom processor. It also sports a chiclet keyboard, the original came with a normal keyboard.
Two SKUs are due, the T1000X has a 4-cell 4500mAh battery and weighs 1.3kg (2.9lbs). The more expensive T1000P will have a multi-touch display, 6-cell 7650mAh battery and weighs 1.48kg (3.3lbs). You can check out a full spec list after the break. Read more