April 21, 2009 at 3:26 pm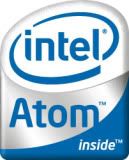 If I were to say that there is a lack of hardware variety powering most netbooks today, it would be an understatement. I've written the following line 'N270CPU, 945GSE chipset, 1GB RAM, 160GB hard-drive etc' so many times now that it is ingrained into my cerebral cortex. Two particular pieces of netbook tech I've been following closely are Nvidia's Ion platform and Intel's GN40 chipset, which are both meant to be much more powerful than the aging 945GSE chipset.
The first netbook that is due to appear with the Intel GN40 is the Asus Eee PC 1004DN, Asus' first with embedded optical drive. Gigabyte also plans on releasing the TouchNote T1028P which will also support the chipset. HKPEC has managed to get hold of a 1004DN and put it through a number of benchmarks to see what the N280 CPU plus GN40 chipset combo was capable of. Unfortunately, it seems that the GN40 is not that much of an improvement over the 945GSE chipset. Read more
March 11, 2009 at 6:25 pm
Intel has clarified that its upcoming GN40 chipset will support "typical broadband internet content" in 1080p HD – but not Blu-ray playback according to Fudzilla. An official statement from the company slightly clarifies the positioning of the chipset: "GN40 is designed to do 1080p HD playback for typical broadband internet content; it is not designed to enable full Blu-ray capability where the bitrates and demands of multi-layer content are significantly higher than that of internet HD content." This comes despite claims from Intel that it would be offering "full Hi-Def video decode with HW acceleration with the off-roadmap Mobile Intel GN40 Express Chipset."
While the GN40 was always going to handle the relatively lightweight 720p HD format, no-one was quite sure whether full-HD 1080p would be on the cards. In our view, the lack of 1080p playback is not too much of a big deal. After all can anyone really tell the difference between 720p and 1080p on a 10-inch screen? This is even more apparent given that no netbooks released so far have a resolution close to 1920 x 1080. In our eyes, this would only be of use to a HDMI-equipped netbook which would allow the connection to an external display. For some this news may come as a disappointment and gives Nvidia's Ion platform a chance to steal the limelight.