HP has made some changes to its netbook line-up by offering an updated HP Mini 110 that now has an integrated 6-cell battery good for 8 hours of battery life. It will launch on June 15 in the US for $279.99.
The HP Mini 210 also has had a makeover that includes two new designs, preppy pink and white crystal. These new netbooks use 3D imprint technology that uses a mould with multiple layers on the top and bottom covers that make the top layer appear that it is 'floating', casting a shadow on the lower layer. The touchpad also features the same preppy pink finish. These new Mini 210's will also be available on June 15 for $354.99.
Via HP.com.
April 27, 2010 at 6:26 pm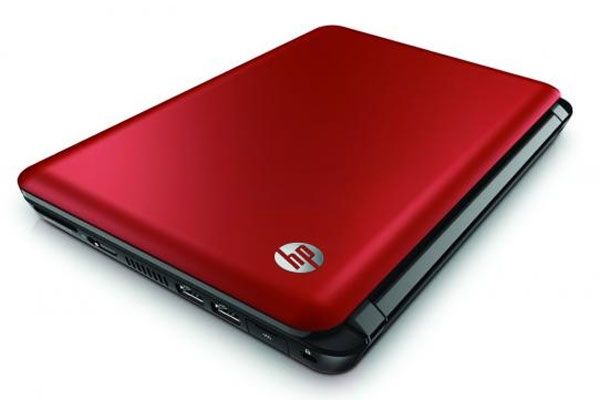 Following on from yesterday's news that the Toshiba NB305 will be getting updated with the new DDR3-enabled Atom N455 Atom processor, it has emerged that two more netbooks will also be getting a similar refresh.
Amazon Germany is listing two new versions (black and silver) of the HP Mini 210 that sport the N455 Atom. The rest of the specs are the same and include a 10.1-inch display, 1GB RAM and a 250GB HDD. Amazon.de has it listed for €349 and is expected to arrive in 3-4 weeks. Read more
HP has officially launched the Mini 210 Vivienne Tam Edition netbook that first made an appearance last September. The netbook is adorned with a butterfly design clearly appealing to the female consumer, along with a gold keyboard.
The specs are the same as the current vanilla Mini 210 netbook, including a 10-inch display, 2GB RAM, up to 320GB HDD, Windows 7 Home Premium and a 3-cell battery good for 5.5 hours of runtime. For those looking to make a fashion statement, the Mini 210 Vivienne Tam Edition will set you back $599 when it launches on March 19th.
Via Engadget.
January 18, 2010 at 10:19 pm
For those keeping an eye on the Acer Aspire 532h & HP Mini 210 Pine Trail netbooks, you may want to check out a couple of unboxing videos for a closer look. nDevil unboxed a HP Mini 210 with high-resolution (1366 x 768) display. You can see that the 6-cell battery sticking out quite a bit at the back, another video also shows the screw-less access to the bottom panel.
The Acer Aspire 532h was unboxed by NetbookNews.it. It's in Italian but gives you an idea of what's in the box. Check out both videos after the jump. Read more
January 6, 2010 at 7:36 pm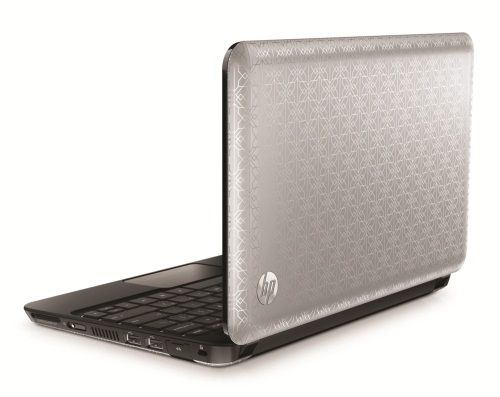 HP is on a roll, we've already reported on two of its ultraportables that launched today, the business oriented Mini 5102 netbook and TouchSmart tm2 tablet. Yet we still have more, HP has formally announced a few more 10.1-inch netbooks. This includes the HP Mini 210 which we've heard so much of recently, the Mini 2102 and the Compaq Mini 102.
Both HP Mini 210 and Mini 2102 appear to be the same in design and specifications. The latter will be targeted towards business users and therefore it comes in a brushed black metal finish instead of the plastic chassis of the 210. Read more
January 3, 2010 at 2:03 pm
Two new netbooks have been spotted at an online retailer, presumably ahead of the official CES announcement next week. The 10.1-inch HP Mini 210 HD appears to be exactly the same as the rumoured Mini 210 albeit with Broadcom's Crystal HD video accelerator. It has been spotted at US retailer Logic Buy for $330, with a release date expected next week.
The rest of the specs are the same as the HP Mini 210. It is powered by a 1.66GHz N450 Pineview Atom, GMA 3150 graphics, 1GB RAM, up to a 250GB HDD and Windows 7 Starter. Other features include Wi-Fi (b/g), a 5-in-1 card reader, webcam and 6-cell battery. Read more
December 30, 2009 at 3:54 pm
The HP Mini 210 has still not officially been announced, but despite this the netbook is listed "in stock" at reseller eCost for $398.99. The Mini 210 is expected to be HP's 10-inch Pine Trail netbook and will sport a 1.66GHz N450 Atom processor, 1GB RAM, a 250GB HDD, 6-cell battery and Windows 7 Starter.
Also, a recently uncovered user guide points to some new details. It seems that the HP Mini 210 will have a multi-touch touchpad and is also likely to have a touchscreen option. The touchscreen will support a number of gestures including rotating objects as well as pinch to zoom in/out.
December 22, 2009 at 10:37 am
The HP Mini 210 is likely to be the company's first Intel Pine Trail equipped netbook. Listings for the device have already appeared but more are popping up given us greater colour in terms of specs. The 10-inch Mini 210 netbook will be powered by a 1.66GHz N450 Atom processor, 1GB RAM, 160GB/250GB HDD and Windows 7 Starter.
It will offer Wi-Fi (b/g/n), webcam, chiclet keyboard and either a 3-cell or 6-cell battery. Leaked promo shots (attached after the jump) show that the Mini 210 has a flush glossy display and chiclet keyboard. Four colours will be available when the Mini 210 goes on sale in the New Year. This includes Matte Silver with pattern, Matte Black with pattern, Sonoma Red, Pacific Blue and Solid Black. Read more
December 11, 2009 at 8:22 am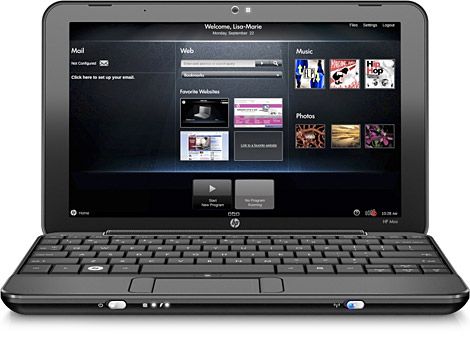 References to the HP Mini 210 netbook have been unearthed before, albeit with little detail. The same model has now been spotted on the official HP support site. Before you get too excited though, there's still no detail in terms of hardware specifications. There is no doubt that this model is on the horizon and I've seen it listed on numerous e-tailers (with no hardware specs unfortunately).
One particular site suggests a release date of February 1st 2010. This puts it in the frame to be HP's Pineview Atom-powered netbook. However, debating what else the HP Mini 210 could feature is just guess work right now. Hopefully, we'll hear more at CES 2010 in early January. We've attached the HP Mini 210 screen grabs listed on HP after the jump.
Update: Spanish retailer Area Integral has some specs of the HP Mini 210. It looks like it will be an Intel Pineview-powered netbook armed with a 1.66GHz N450 Atom processor, 1GB RAM, 250GB HDD and Windows 7 Starter. Read more
September 7, 2009 at 11:01 am
It appears that HP may be looking to launch two more netbooks to its portfolio. Some members of the Notebook Review forums came across a list of notebook model numbers that included the "HP Mini 311/Compaq Mini 311" and "HP Mini 210/Compaq Mini 210" netbooks. HP normally releases its netbooks under the Compaq brand in Europe, which is why there are two listings per model.
Whilst there was no additional details on these models, NetbookNews.de did a little digging and came across a retail listing for the HP Compaq Mini 311c. It seems that this model will sport an 11.6-inch display, powered by the Nvidia ION LE platform and 1.6GHz N270 Atom processor. Read more