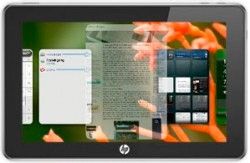 HP will launch a "a webOS tablet under the code name HP Hurricane" that may launch in the third quarter of this year according to the Examiner. This is in line with recent reports that HP will look to launch webOS tablets and netbooks, following its acquisition of Palm.
It's all rumour for now, but given reports that HP has canned its Windows 7 tablet, using webOS would be the next natural move. We don't know anymore details for now, but we'll keep our eyes peeled for further news.
Via Engadget.
April 30, 2010 at 2:32 pm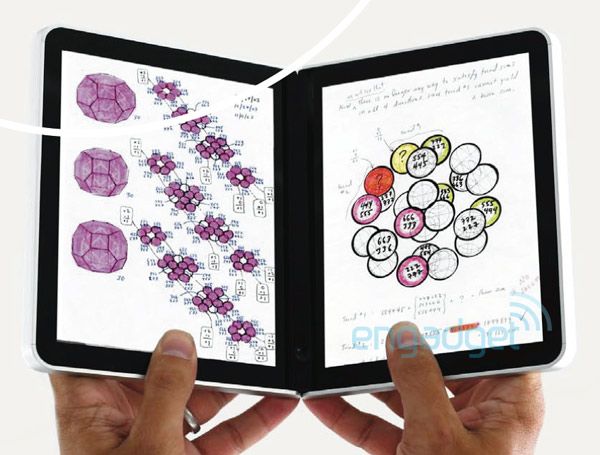 Two of the most talked-about portable gadgets of recent months have been shelved according to sources. Microsoft's rumoured dual-screen Courier project will not see the light of day according to Frank Shaw, Microsoft's VP of corporate communications.
"The "Courier" project is an example of this type of effort and its technologies will be evaluated for use in future Microsoft offerings, but we have no plans to build such a device at this time," said Shaw. Read more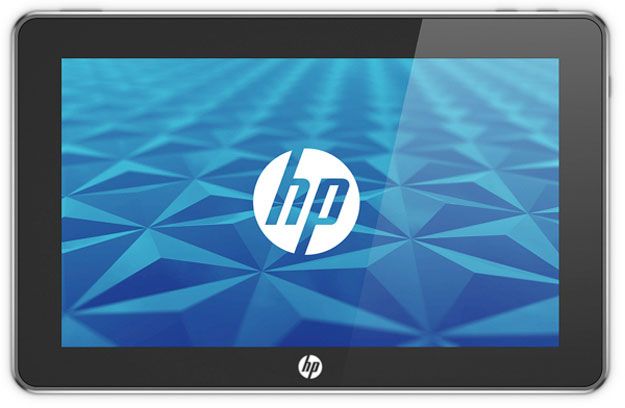 Following on from yesterday's teaser video, Engadget managed to get hold of an internal HP presentation slide that apparently reveals the specifications of its Slate tablet device and compares it to the Apple iPad. According to the leak, the HP Slate will be powered by a 1.6GHz Atom Z530 processor and use a media accelerator for 1080p video playback (Broadcom Crystal HD?)
The base configuration will start from $549 and include an 8.9-inch (1024 x 600) capacitive display. It will come with 1GB RAM (max), 32GB of flash storage and a 5-hour battery. Other features include two cameras, SDHC slot, HDMI, SIM card slot and a USB port. An extra $50 will buy you 64GB of storage. Question marks remain over software, although Windows 7 is expected to be used. Read more
Not to be overshadowed by the glut of Apple iPad news over the last few days, HP is trying to remind the world that there are other tablets that are due to hit the market. It has released a very short video of the HP Slate that shows off the tablet's user interface, webcam and (ironically) the ability to play iTunes.
The UI looks broadly similar to HP's TouchSmart software and does a good job of skinning Windows 7. The Slate is shown running iTunes along with a USB cable that looks like it's from Apple, perhaps highlighting iPhone/iPod sync functionality. There are still no details on pricing or availability right now, but check out the teaser video for the latest on the Slate. Read more
March 20, 2010 at 9:15 am
More information on the HP Slate is beginning to leak out. We are now hearing that the HP Slate will be priced at €400 ($540, £360) according to Spanish publication Clipset. The device is expected to be formally announced in June and will hit retail "before Septemer", at least in Europe.
Specifications will include an Atom processor, Windows 7, Adobe Flash support, card reader, webcam along with USB connectivity. Looks like the Apple iPad will have some competition on its hands.
Via Engadget.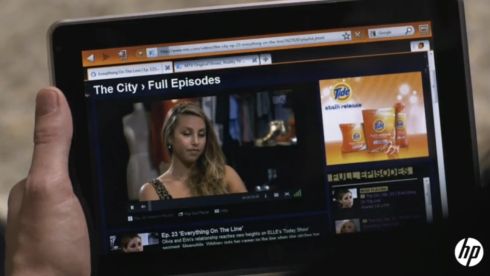 The HP Slate tablet is an enigma in many ways. Ever since Steve Ballmer showed it off at CES earlier this year, it's only appeared in a few videos with most of the hard information still under wraps. Anyway, whilst we wait, a couple of new videos give us more insight into its functionality.
The first, from Adobe, shows off the HP Slate's Flash and Air capabilities in Windows 7. Engadget highlights that the Slate is hardware accelerated, which could mean it comes with a Broadcom Crystal HD card or going further, it might even have an ION chip inside. HP has also posted another marketing video. You can check out both after the jump. Read more
February 19, 2010 at 3:57 pm
Hewlett Packard has released little detail on its Slate tablet device. Apparently this is for good reason. According to the WSJ, HP was waiting to see what Apple had in store with the iPad, before tweaking features and price-points. Its sources suggest that HP executives will be meeting in the US and Taiwan over the next few weeks to discuss these exact issues.
It sounds like 3G will be one of the Slate's features as the company is considering selling a version of the Slate that has a similar display size and features as the iPad (including a 3G connection) for a price less than Apple is charging ($629). Read more
January 29, 2010 at 7:57 pm
If CES wasn't an indication enough that 2010 is likely to be the year of the tablet (or slate if you prefer), then Gizmodo has a nice comparison table where it has compared six slates (including the recently announced Apple iPad).
Having a quick run through the list, the Notion Ink stands out for me. It's the only one to come with a Pixel Qi display for e-reading duties and sports Android, Tegra 2 and even a HDMI out. The only glaring omission is Adobe Flash support, but I'm sure Android will support this at some point down the line. Check out the detailed comparison table after the break. Read more
January 26, 2010 at 7:47 am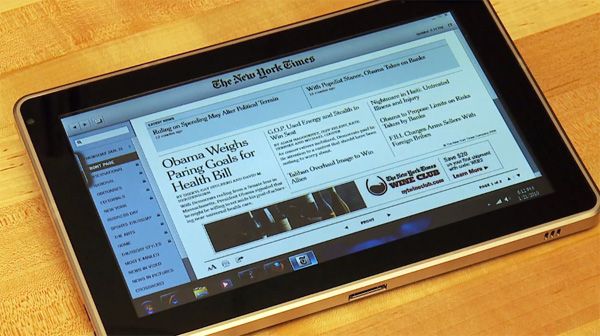 Perhaps reminding people that there are other tablets coming to the market apart from Apple's mythical device, HP has released a timely video where a few employees talk about its Slate tablet device. The device is demoed by HP Spokesperson Greta Schlender and Phil McKinney, CTO of HP's Personal Systems Group.
Apparently it was conceived two years ago but shelved as it wasn't ready for the market. Since then a "perfect storm" of hardware and software has made it viable again. It is expected to arrive at some point during 2010. Check out the video after the break. Read more
January 7, 2010 at 1:29 pm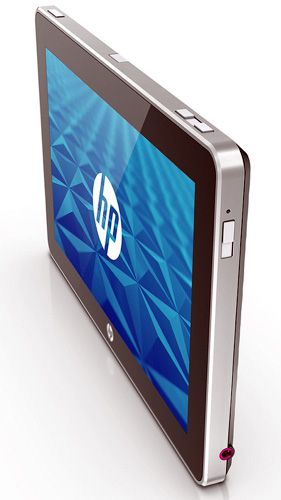 HP drew back the curtains on a Slate tablet device running Windows 7. The device was unveiled at the Microsoft CES keynote by Steve Ballmer but very little is actually known about, including the name.
The slate tablet has been confirmed by HP who said it will be "available later this year." Judging by the pictures it looks like it sports a 10-inch flush display surrounded by metal chassis. Check out a promo video of the mystery slate after the break. We've also attached a couple of larger shots of the slate courtesy of Gizmodo. Read more