For those wondering just how quick Asus' ExpressGate instant-on operating system is compared to traditional Windows, you're in the right place. Sammy Production did a video benchmark comparing boot times side-by-side on two Asus Eee PC T101MT netbooks.
Asus ExpressGate is basically a rebranded version of Splashtop that took around 20 seconds to boot. For those wondering why it wasn't faster, it is because there are two versions of Splashtop. The one normally found on notebooks and desktops uses 512MB of Flash memory and takes around 5 seconds to boot. The other uses the hard disk partition (as in the netbook) that means it's slower. Check out the video after the jump. Read more
March 20, 2010 at 10:13 am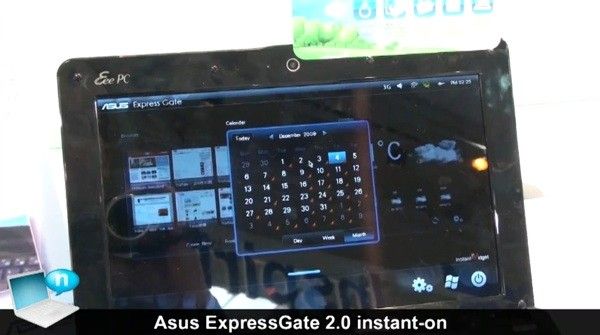 Asus' ExpressGate instant-on operating system will be getting a replacement that was being shown off at CeBIT earlier this month. Notebook Italia has a video hands-on overview of ExpressGate 2.0 that is based on the SplashTop OS.
The interface has seen a complete overhaul and is a big improvement over the original. Hopefully it should be available to download soon from the Asus Support site. Check out the video after the jump. Read more
March 20, 2009 at 12:08 pm

Another competitor has thrown its hat into the 'instant-on' OS arena. Xandros has announced that 'Presto' has entered beta stage and is being offered as a free download until its retail release on April 13th at which point it will cost $19.95. The OEM version of Presto has already been out for a while, but this is the first time the consumer version has been released for beta. Read more