December 21, 2009 at 12:46 pm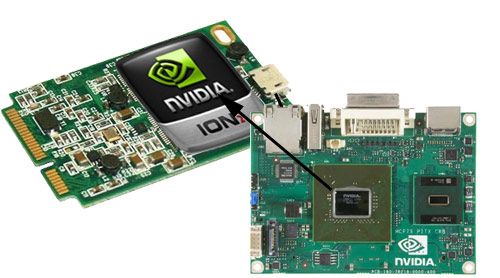 Despite the popularity of Nvidia's ION chipset, it cannot be used on Intel's new Pine Trail Atom platform. The move from a three-chip to two-chip processor platform means that Nvidia needs to revise its ION chip to be compatible with upcoming netbooks sporting Pineview CPUs.
Nvidia's next-generation ION part (ION 2) is expected to launch in Q1 2010, although it's still an unknown as to what form it will take. Intel's new Atom platform does not offer HD video acceleration or Adobe flash acceleration with its GMA 3150 GPU and judging by the reviews seen today, won't offer an improvement in performance over the current Atom platform. Read more
December 21, 2009 at 8:39 am
Intel has officially unveiled its next-generation Pine Trail Atom platform. This comprises the 1.66GHz N450 Atom processor for netbooks and 1.66GHz D410 & D510 (dual-core) Atom processors for nettops. Both will use the Intel NM10 Express Chipset. The first devices featuring Intel Pine Trail will be available from 4th January 2010.
The new 45nm platform is a two-chip solution that integrates graphics and memory controller into the processor. The benefits of doing so include a smaller footprint and lower power usage. Intel is quoting that netbooks should use 20 percent less power with a 60 percent package size reduction. Nettops should see even bigger gains with 50 percent less power usage and a 70 percent reduction in package size. Read more