November 22, 2009 at 4:27 pm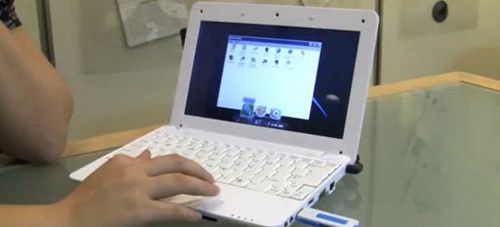 Inventec has shown off a new smartbook that sports the Nvidia Tegra T600 chipset. It boasts a boot time of around ten seconds and supports 1080p video playback using just 1W of power.
NetbookNews managed to get close-up with the Inventec smartbook and looks at the Windows CE boot time. Inventec is an ODM so if the device hits the market it will most likely come under a different name. Check out the video after the jump. Read more
August 7, 2009 at 12:51 pm
Computex 2009 saw the launch of a number of Nvidia Tegra-based smartbooks. The Tegra platform is different to ION in that it pairs an ARM-based processor with an Nvidia GeForce GPU (ION pairs an Intel Atom CPU with the Nvidia 9400M graphics). Nvidia has once again been doing the rounds in Taiwan to further promote its Tegra platform and did so via two smartbook devices.
The first, the Inventec Rainbow, was announced at Computex but we didn't hear too much detailed information at the time. It has a 10.1-inch (1024 x 576) LED backlit display and is powered by the Tegra 600 platform (600MHz, ARM 11). It comes with 256MB RAM and just 256MB of flash memory. The Rainbow also has a choice of EVDO Rev.A or HSPA radios. Read more