January 8, 2010 at 2:14 pm
The 12.1-inch Asus Eee PC 1201N is widely recognized as one of the fastest netbooks on the market right now. Hardly surprising considering it includes a 1.6GHz dual-core Atom 330 processor and Nvidia ION chipset.
However, it looks like Asus is planning on releasing another model in the 1201 Seashell netbook range (we already have the 1201HA and 1201T too). The new Eee PC 1201NL was spotted at CES with a single-core 1.6GHz N270 Atom and Nvidia ION chipset. It will be sold with Windows 7 Starter rather than Windows 7 Home Premium, found on the 1201N. Read more
January 5, 2010 at 10:08 pm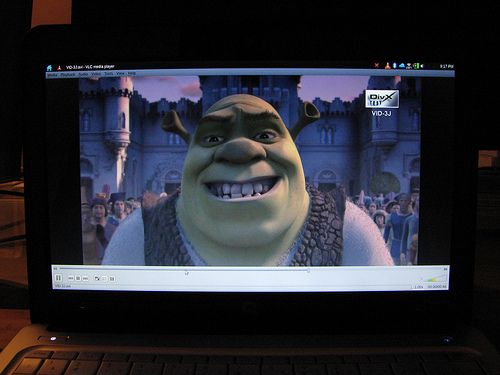 Jolicloud will be getting Nvidia ION netbook support in the very near future. This means the ability to play back 1080p high definition video content out of the box, certainly a very nice addition. There's no word on exactly when it will be released but it can't be too long now. Check out a video demonstration of this in action after the break. Read more
January 3, 2010 at 2:47 pm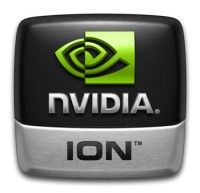 There are many question marks over exactly how Nvidia plans to offer its ION graphics solution to Intel Pine Trail netbooks. SemiAccurate is now reporting that ION 2 will not be a chipset, unlike the original ION, but will instead be a G218 GPU "with a few ports added on".
Two parts are due (GT218-ION-A3 and GT218-ILV-A3) that will be DX10.1 compatible. The G218 will not offer the advancements as rumoured before, and will only see 16 cores running at 535MHz and 1230MHz memory. The TDP of the new chip will be 12W and under 5W at idle.
The inclusion of the chip is likely to reverse the battery gains made by Intel on its new Pine Trail chips. However, I'm sure those looking for extra muscle would be willing to trade-off the worse battery life for better 3D performance. It will be connected over a 1x PCI-E 2.0 link according to the report.
Via Netbooked.
December 31, 2009 at 10:50 am
The Samsung N510's arrival is important for a number of reasons. It is one of the first netbooks to be released armed with the Nvidia ION LE chipset. It is also the company's first 11.6-inch device. On paper it sounds like a winning combination, you get a 1.66GHz processor, high-resolution matte display, HDMI, Wi-Fi (including Draft-N), Bluetooth 2.1 and a 6-cell 5900mAh battery.
However, times move quickly and with the advent of Windows 7, some may not want to purchase a new netbook that only comes with XP. It's also not cheap at around the £380 mark, pitting it a significant premium to the main other ION netbook on the market right now, the Compaq Mini 311c at £330. Read on to find out whether ION really makes a difference and whether the Samsung N510 is worth the premium. As usual, you'll also find some comprehensive performance and battery tests. Read more
December 25, 2009 at 12:10 am
Laptop Mag has pitted the four current ION netbooks on the market against each other. This includes the dual-core Asus Eee PC 1201N, HP Mini 311, Lenovo S12 ION and Samsung N510. They compared each of the four across a number of categories including battery life, value for money, design as well as video and gaming performance.
It's probably not surprising to hear that the Asus Eee PC 1201N won most of the performance tests, whilst the HP Mini 311 won best design and value for money. The Samsung N510 came out on top in terms of battery life. Choosing a winner seems a bit subjective as people will value different features more strongly than others. Click through to find out who the overall winner was.
Update: Engadget also has a good write-up of the above four ION netbooks head-to-head.
December 21, 2009 at 12:46 pm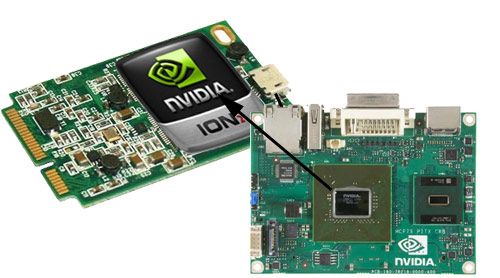 Despite the popularity of Nvidia's ION chipset, it cannot be used on Intel's new Pine Trail Atom platform. The move from a three-chip to two-chip processor platform means that Nvidia needs to revise its ION chip to be compatible with upcoming netbooks sporting Pineview CPUs.
Nvidia's next-generation ION part (ION 2) is expected to launch in Q1 2010, although it's still an unknown as to what form it will take. Intel's new Atom platform does not offer HD video acceleration or Adobe flash acceleration with its GMA 3150 GPU and judging by the reviews seen today, won't offer an improvement in performance over the current Atom platform. Read more
December 18, 2009 at 11:40 am
The Asus Eee PC 1201N netbook always had the building blocks to be a raring success. It combines the much sought after Nvidia ION chipset with a dual-core 1.6GHz Atom 330 processor. This is the first time we have seen such a combination from one of the big netbook manufacturers and judging by HotHardware's review, Asus is onto a winner.
The dual-core CPU was quick in their benchmarks and the inclusion of Nvidia ION meant that the ability to play even recent games was possible. Under their real world battery testing, the battery lasted for 3 hours and 23 minutes. This is obviously lower than the claimed 5-hour battery life but it was achieved with 50 percent brightness, Wi-Fi & Bluetooth switched on. Read more
December 17, 2009 at 12:46 pm
Nvidia will showcase ION 2 at CES 2010 in January, with a formal launch penciled in for the first quarter of 2010. Nvidia confirmed the existence of the chip during a conference call yesterday and expects several partners to be showing off ION 2 devices at CES.
Nvidia has apparently delayed the release of the chip due to pressure from its partners such as Asus, HP and Lenovo who are still enjoying good sales of netbooks/nettops using the original ION. ION 2 is expected to run twice as fast as the original, sporting at least twice as many shaders. Read more
December 17, 2009 at 7:39 am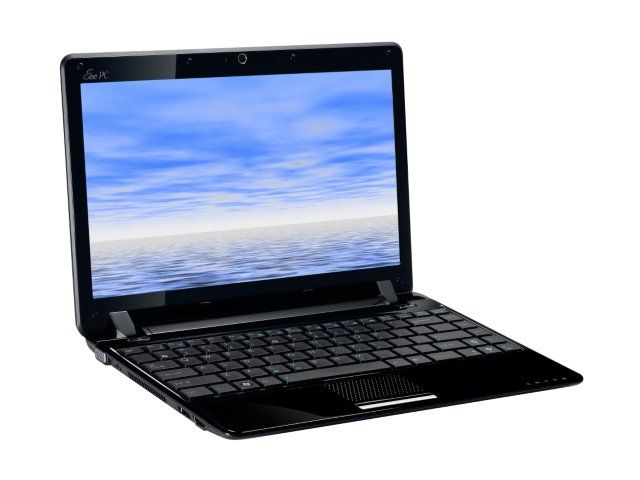 Judging by the Amazon pre-order it was widely expected that the ION-powered dual-core Eee PC 1201N would not be available until mid-January. However, Newegg has come up trumps and has the 12.1-inch netbook in stock for $499.99 with free shipping. That means that if you order now there's a good chance of getting it under the Christmas tree!
A quick reminder on the specs: the 1201N will come with a 12.1-inch (1366 x 768) display, 1.6GHz dual-core Atom 330 processor, Nvidia ION, 2GB RAM, 250GB HDD and Windows 7 Home Premium.
Via Netbooked.
December 16, 2009 at 4:19 pm
Nvidia's Tegra chipset is similar to ION but differs in that it marries an ARM-based processor with an Nvidia GeForce GPU whereas ION pairs an Intel Atom CPU instead. The benefits of the Tegra SoC (system-on-chip) includes the ability to handle 1080p video, HD Flash, GPS, Wi-Fi, 3G and a huge battery life. All of this while being very energy efficient.
However, Tegra hasn't taken off as well as Nvidia would have hoped. It is used in the Zune HD but not too many other high profile products. In response to this, Nvidia is set to announce the second-generation Tegra chipset at CES in January. Tegra 2 is believed to be twice as powerful as the original and run on a 40nm dual-core ARM processor. A number of new devices sporting the Tegra 2 chipset are expected to appear at CES 2010. Read more
December 14, 2009 at 4:54 pm
We have already seen some hands-on impressions of the 12.1-inch Asus Eee PC 1201N netbook, but we are now treated to some more detailed performance results of the dual-core ION powered netbook. Blogeee did some exhaustive testing on battery life and the results were quite surprising. Noti also did some benchmark performance testing.
Both sites praised the machine and found it to be a great 'bridge' device between netbooks and ultra-thin devices. Build quality was reasonably solid although Noti found the battery to be a bit loose. Overall performance was very good with multi-tasking proving no problem for the 1201N. Read more
December 11, 2009 at 9:11 pm
The Asus Eee PC 1201N dual-core ION netbook is not set to hit US/UK shores until next month, but it appears that a lucky few have already got hold of the powerful device. Pierre over at Blogeee has a very thorough selection of photos of the netbook including a number of hands-on videos. The videos are in French but it's not hard to get the gist of what's going on.
Pierre also compares the 1201N to other netbooks but unfortunately there are no benchmarks or battery life results, this will come later. However Vention from Noti did manage to do some graphics benchmarks against the HP Min 311 (also ION-powered).
Interestingly, the performance between both machines were very similar. The Asus 1201N was slightly ahead in 3DMark2006, but was behind in 3DMark 2003 and 3DMark2005. I'm looking forward to seeing the results comparing more CPU-intensive tasks to see how the dual-core processor of the 1201N fares against traditional single-core netbooks. Check out the graphs after the break. Read more
December 9, 2009 at 9:07 am
Whilst the 12.1-inch Lenovo Ideapad S12 has been around for many months, the ION version was only recently released. Lenovo waited for the launch of Windows 7 before release, which some feel took some of the steam out of its early momentum. Especially as the S12 was the first announced ION netbook, however in the end the HP Mini 311 and Samsung's N510 launched ahead of it (at least in Europe).
A couple of sites have reviewed the Lenovo S12 ION. Laptop Mag found the graphics performance to be good and the S12 offered a spacious keyboard, bright colourful display and loud speakers. However, it was let down by poor battery life and felt that the HP Mini 311 offered better value for money, as it is both cheaper and lasts for two hours longer. The S12 ION lasted for three hours and forty-five minutes in terms of battery. Read more
December 4, 2009 at 10:33 am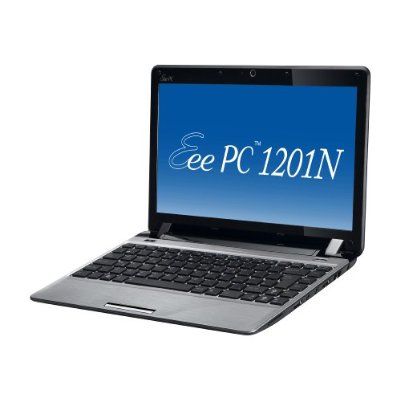 Asus' dual-core ION-wielding Eee PC 1201N netbook has hit pre-order on Amazon.com for $499.99
. It is available in both black
(1201N-PU17-BK) and silver
(1201N-PU17-SL) colours and has a release date penned in for 15th January 2010. This is a month later than was expected in the US.
No UK pre-orders have popped up so far, but that US launch date is in line with what Asus has previously told us was penned in for the UK market. Hopefully, not too long to wait for a belated Christmas present to yourself. Click here for the lowdown on specs.
Via Engadget.
December 1, 2009 at 10:18 pm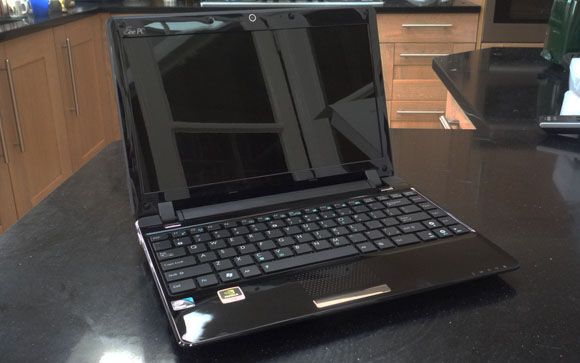 Whilst we are waiting for the 12.1-inch ION-breathing Asus Eee PC 1201N to hit UK shores in mid-January, the guys over at ElectricPig have already managed to unbox a unit. As part of the Seashell range, it's no surprise that it looks very similar to the 11.6" 1101HA and 10.1" 1005HA netbooks.
This includes a dimpled touchpad and clam shell design. This particular model comes with a chiclet keyboard though, rather than the flat keys seen in the rest of the Seashell range. The model is due to retail for £399 and will come with a dual-core 1.6GHz Atom 330 processor along with the Nvidia ION chipset.