December 14, 2009 at 8:21 am
The guys over at WOW-POW provided us with the first video unboxing of Kohjinsha's DZ dual-screen netbook. They've followed this up with a three-part video review of this unique device. The Kohjinsha DZ netbook has two 10.1-inch (1024 x 600) displays which slide out so they can sit side-by-side.
In terms of the actual sliding mechanism, it appeared to work quite solidly with a sturdy hinge. When fully stretched, the display can wobble a bit due to the weight of the panels. Performance seems reasonable too with the 1.6GHz AMD Neo processor gaining a higher score than the 2GHz Z550 Atom. They are getting around 3 hours on the 6–cell battery.
You can check out all three videos after the break. The first video focuses on the dual-displays, the second video looks at the processor performance, whilst the last video looks at video & gaming performance as well as upgrading components. Read more
December 11, 2009 at 11:06 am
The Kohjinsha DZ dual-screen netbook is very much a reality and in stores (well in Japan anyway). The guys over at WOW-POW were lucky enough to get hands-on with this unusual netbook and shot an unboxing video to give us an idea of what's inside.
The DZ looks very intriguing it has an internal USB port that allows you to attach a USB 3G/WiMAX modem without it sticking out. It will also be easy to upgrade the 160GB HDD as it slides out easily once the single screw is removed. Kohjinsha promises a 4.5-hour battery life with its 5,200mAh battery, although I wonder if that's a tad optimistic with two 10-inch displays going at full tilt. Check out the video after the break. Read more
December 10, 2009 at 2:09 pm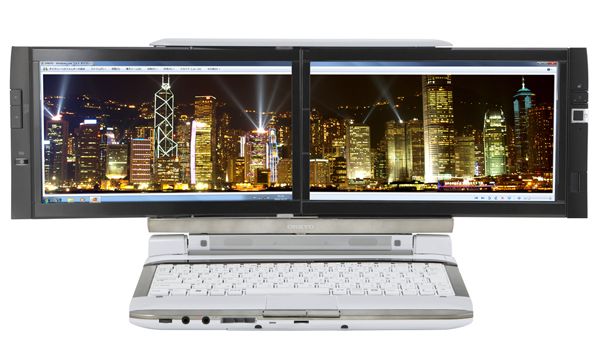 Onkyo has unveiled a new DX series of netbooks that will incorporate twin displays, as first seen with the Kohjinsha DZ range. The Onkyo DX1007A5/ DX1007A5B netbooks go one better than the Kohjinsha DZ by including two 10.1-inch displays with high resolution (1366 x 768) panels. The Kohjinsha DZ has two 10.1-inch displays with 1024 x 600 resolution.
The Onkyo dual-screener also gets 2GB RAM and a 320GB HDD, comparing to the 1GB RAM and 160GB HDD found on the Kohjinsha. Apart from these internal differences the devices appear identical, they are probably using the same ODM.
It is powered by a 1.6GHz AMD Athlon Neo MV-40 processor, ATI Radeon HD 3200 GPU, 2GB RAM and 320GB HDD. Other features include Bluetooth 2.1, Wi-Fi (b/g/n), a 1.3MP webcam, a 3.7-hour battery and Windows 7 Home Premium. It will be on sale at the end of this month in Japan for 84,000 Yen ($953, £585, €646).
Via Akihabara News.
November 26, 2009 at 4:40 pm
Early last month, Kohjinsha demonstrated what was believed to be a concept netbook device carrying two displays. The idea is that 10.1-inch LCD screen sits behind the other and slides out when needed. Well it appears that Kohjinsha will be commercially launching this netbook, dubbed DZ, in December.
It will have two 10.1-inch (1024 x 600) displays that, when combined, will give a total resolution of 2048 x 600 pixels. It will be powered by a 1.6GHz AMD Neo MV-40 processor, 1GB RAM, 160GB HDD and Windows 7 Home Premium. The dual screens will come at the cost of 1.84kg in weight. Battery life should last for 4 hours according to the company.
The Kohjinsha DZ netbook will launch in Japan on December 11th for 79,800 Yen (£560, $920, €615). It's unlikely that we'll be seeing this unique model hitting western shores. Check out a video of the concept in action after the break. Read more