March 26, 2010 at 4:53 pm
The rumoured Lenovo Thinkpad Mini 10 netbook looks like a reality. The 10-inch N450 Atom powered netbook is currently being rolled out to 60,000 students across Australia. In addition the device comes with Windows 7 Home Premium, a spill-resistant keyboard and HDD protection.
It looks like the Thinkpad Mini 10 uses the same chassis as the X100e, hence the huge bezel surrounding the 10.1-inch (1280 x 720) display. The big question is whether Lenovo plans to release this model into retail, or whether it will only be targeted to schools. Check out some photos and a video of the device after the break. Read more
February 22, 2010 at 5:06 pm
When Lenovo launched the 11.6-inch AMD-powered Thinkpad X100e, I thought that would be as close as we get to a Thinkpad netbook. Well according to the official site, Lenovo may be planning to launch a 10.1-inch version at some point soon.
Lenovo's support page for the Thinkpad X100e clearly lists both the Intel N450 Atom processor in addition to the AMD Athlon MV-40 that is used in current models. Also, under the display heading, a 10.1-inch LED backlit display with 1280 x 720 resolution is listed alongside the current 11.6" (1366 x 768) specs. Read more
January 29, 2010 at 8:41 pm
As a seasoned Thinkpad user, I have to admit in being slightly horrified that Lenovo adopted a new chiclet (or isolation) style keyboard for its new 11.6-inch Thinkpad X100e and Edge 13". The keyboard is one area in which Thinkpads have excelled and I can't help but wonder whether the move to an isolation keyboard was more out of fashion than design.
However, Lenovo has outlined on its official blog the ways in which its chiclet keyboard differs from its competitors. The shape of the keys is a big difference, the top of the keys being concave in shape allowing your fingertips to hug the keys with ease. The keyboard has also been specially tuned with the same pantograph design as the original Thinkpads. Read more
January 19, 2010 at 12:50 pm
The Lenovo Thinkpad X100e has seen its first review courtesy of Peter at Netbooked. He praised the typical Thinkpad industrial looks and ergonomics and went as far to say that the chiclet keyboard is the best used on an 11.6-inch device. Add the fact that it includes a matte display and trackpoint navigation and the X100e doesn't let the Thinkpad brand name down.
Peter was less enamored with choice of 1.6Ghz AMD Athlon Neo processor that was sluggish in use and barely more powerful than your average netbook. However, the X100e is good enough for HD video playback thanks to its ATI Radeon HD 3200 graphics, although you don't get a HDMI-out included. Read more
January 15, 2010 at 2:33 pm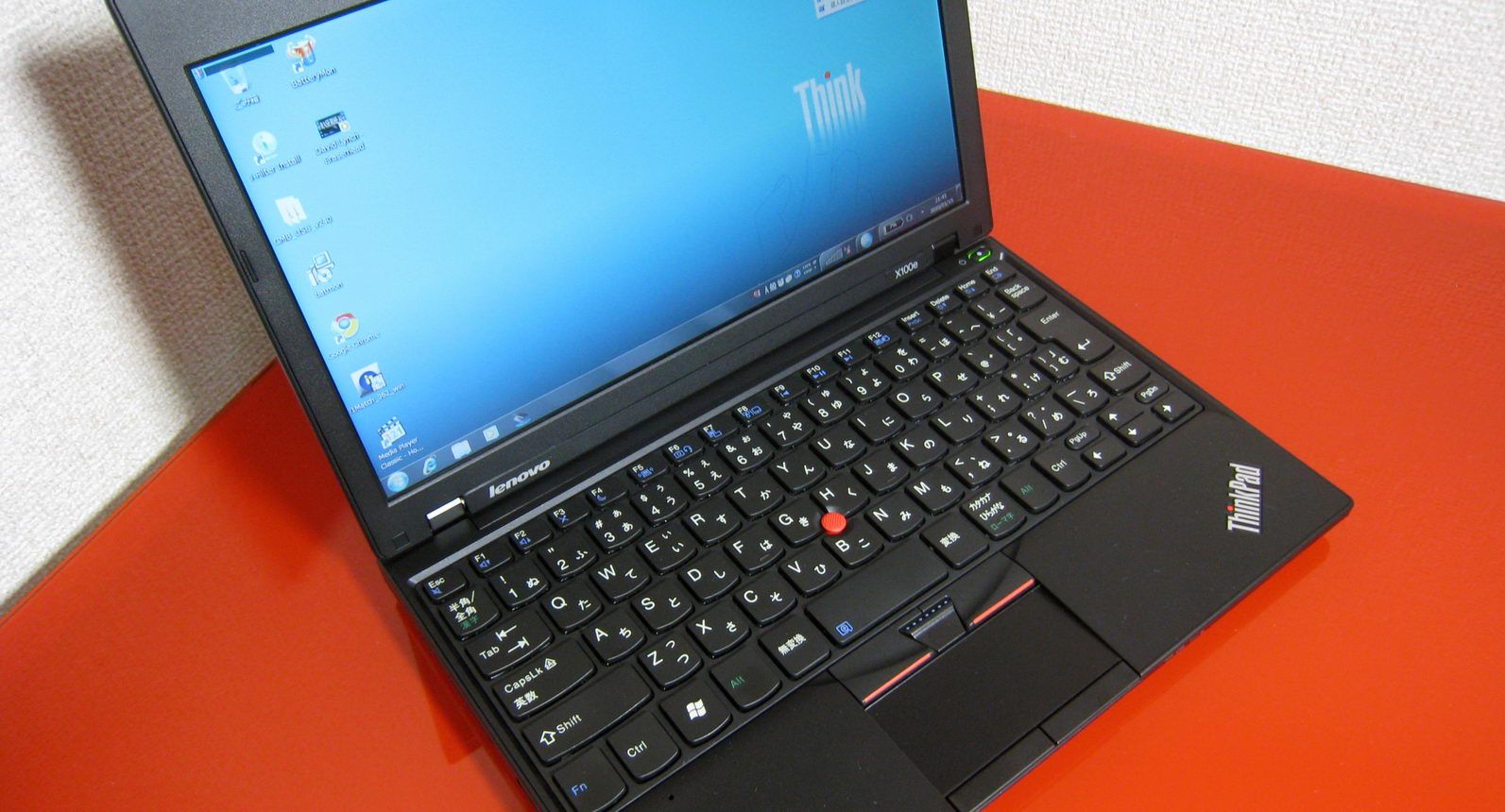 The 11.6-inch Lenovo ThinkPad X100e is the closest thing you'll get to a Thinkpad netbook. Netbooked has posted an unboxing and some initial first impressions. The keyboard seems to exhibit some flex if you press down hard enough and the trackpad and mouse buttons are soft and quiet to the touch. The 11.6-inch (1366 x 768) matte display is also a big plus.
The Thinkpad X100e being tested comes with a 1.6GHz single-core AMD Athlon Neo MV-40 processor. Dual-core models will be available at a later date. It also comes with 1GB RAM, 250GB HDD, ATI HD 3200 graphics, Wi-Fi (b/g/n) and Windows 7 Home Premium.
Further impressions are expected in the next few days, including some battery life results. Until then, check out the unboxing video after the break. The Lenovo Thinkpad X100E is available right now with prices starting at $449. Read more
January 3, 2010 at 4:48 pm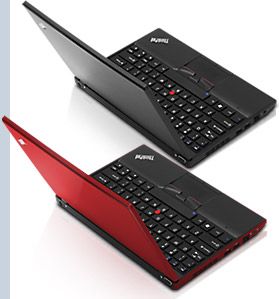 Lenovo has outed the 11.6-inch Thinkpad X100e ultra-thin on its own website, ahead of CES next week. There are few surprises given the detailed leaks that we've seen to date. The X100e is a landmark device for us, as it's the first netbook to sport a trackpoint! As a Thinkpad user myself I much prefer navigating with the trackpoint rather than the touchpad.
Thinkpad's are known for their great keyboards and the X100e looks like it won't disappoint in this regard. It will come with an ISO full-sized, spill-resistant chiclet keyboard. Personally I would have preferred their traditional keyboard over a chiclet one, but I'll give them the benefit of the doubt until I see one in person. As well as a trackpoint, the X100e is equipped with a multi-touch touchpad that lets you zoom, scroll and rotate using two-finger gestures. Read more
December 8, 2009 at 8:16 am
Okay, there's not much to go on here, but a recent FCC filing from Realtek Semiconductor has mentioned two unheard of devices when conducting wireless SAR (specific absorption rate) testing. The Thinkpad Mini 10 and Thinkpad Mini 11 are cited as 'host' devices along with the already outed Thinkpad X100e.
The Thinkpad X100e is an AMD-powered 11.6-inch ultra-thin. Could the Thinkpad Mini 10 and Mini 11 be Lenovo's Atom-based Thinkpad solution? I would imagine that the former would come with a 10.1" display and the latter with an 11.6" screen, but there's limited information here. They may not be netbooks at all but codenames for wirelesss adaptors as suggested by Wireless Goodness. Either way, if anything more tangible comes from this we'll keep you posted. Click through for a screengrab of the evidence. Read more
November 19, 2009 at 10:25 am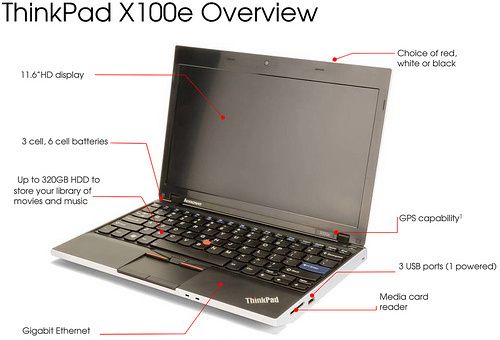 New details surrounding the rumoured Lenovo Thinkpad X100e have been leaked by German news site Chip.de. There is a whole host of new information including specifications and other marketing material. The leak suggests that the X100e will come with an 11.6-inch (1366 x 768) display and AMD Athlon Neo MV-40 processor.
This ultra-thin will support up to 4GB of RAM and comes with 160/250/320GB storage options. As you would expect for a ThinkPad, you'll get Trackpoint navigation along with a multi-touch touchpad. Other features include Wi-Fi (b/g/n), optional 3G, three USB ports, 4-in-1 card reader and a 0.3MP webcam.
It will come with both 3-cell and 6-cell batteries, with the latter quoted to last for just over 5 hours. Unusually for a Thinkpad, it will also come in white and red colours and have a chiclet keyboard. No release date has been given, although the previous rumour suggested that this will launch at CES in January. It is expected to launch with prices starting from $449. We'll keep you updated with further developments. Click through for some X100e slides. Read more