August 13, 2009 at 11:36 am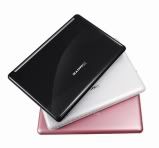 The last we heard of the LG X130 was when it was doing its rounds at the FCC. LG has now officially announced the LG X-Note Mini X130. One of its main selling points is a 9-cell battery that can run for 12 hours under normal use or for 7.5 hours under video playback.
The LG X130 has a 10.1-inch (1024 x 600) LED backlit display. It will be powered by a 1.6GHz N270 Atom CPU, 1GB RAM and a 160GB HDD. Other features include Wi-Fi (b/g), Bluetooth 2.0 and Windows XP. In fact the X130 looks very similar to the X120, the major difference being the 9-cell battery.
Like other LG netbooks, it also has a dedicated key to access the Splashtop-based Smart-On operating system, which starts in less than 7 seconds. The LG X130 will come in three different colours (black, white and pink. The netbook will be released shortly across 30 countries in Europe, Asia, Latin America, Middle East / Africa. It is priced at 789,000 Korean Won (£385, $640, €448). Check out some pictures after the jump. Read more
The FCC has inadvertently revealed a new netbook from LG. The new netbook is referred as the LG X13 in the documentation, although one of the pictures shows the model number as the LG X130. This would make sense, as it follows LG's previous X110 and X120 netbooks. Apart from some pictures (which we've attached after the break) there's little detail.
However, what we can tell from the pictures is that the X130 netbook has three USB ports, VGA, Ethernet, a Kensington lock, a pair of audio jacks. It also comes with a removable battery rated at 4400mAh. The bottom has just one access panel to upgrade the RAM. The brown patterned fibre lid reminds me very much of the brown Toshiba NB200/NB205 netbook.
To be honest, the netbook looks quite average and it will be interesting to see what is under the hood to differentiate it from the well-received X120. We'll come back with further information as it develops. In the mean time, check out some pictures after the jump. Read more