February 23, 2010 at 9:33 am
It looks like LG will have another Pine Trail netbook to sit alongside the LG X200 that sports a high-resolution display. The LG X140 has been spotted and looks like it will be the company's entry level netbook offering.
As such, the specs are nothing special and include a 1.66Ghz N450 Atom processor, 1GB RAM, 160GB HDD, Windows 7 Starter and a 6-cell battery. It will feature a 10.1-inch (1024 x 600) display as well as Bluetooth, Wi-Fi (b/g/n) and a 1.3MP webcam. A sim card slot also suggests that optional 3G will be on the cards. No other details are available right now, but you can check out some more photos of the X140 after the jump. Read more
February 4, 2010 at 8:29 pm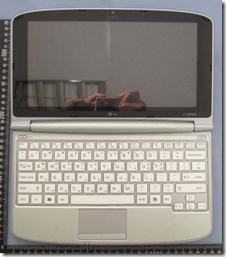 The LG X200 was first spotted at CES just a few weeks back and now it has appeared once again passing through the FCC. The N450 Atom Pine Trail netbook certainly looks different to other netbooks and comes with a 10.1-inch (1366 x 768) display and chiclet keyboard.
It's reasonably lightweight at 1.2kg (2.6lbs) and supports up to 2GB RAM, a 250GB/320GB HDD and Windows 7 Starter. Other features include a 1.3MP webcam, Bluetooth, Wi-Fi, SmartOn 2.0 instant-on OS and optional 3G. Battery options include a 4-cell 2000mAh battery or 6-cell 2600 mAh battery. There are no pricing details but it is expected to launch during Q1 2010.
Via Wireless Goodness.
January 10, 2010 at 12:07 pm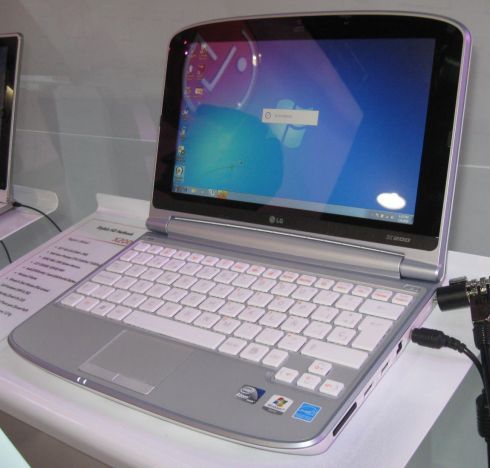 As well as the super-slim LG X300 11.6-inch ultrathin, LG will be launching the 10.1-inch X200 netbook. The LG X200 has a high resolution (1366 x 768) display and is powered by either a 1.66GHz N450 or 1.83GHz N470 Pineview Atom processor.
Other features include up to 2GB RAM, a 250/320GB HDD, Windows 7 Starter, Wi-Fi, SmartOn 2.0 instant-on OS and optional 3G. Battery options include a 4-cell 2000mAh battery or 6-cell 2600 mAh battery. There are no pricing details but it is expected to launch in February 2010. Click through for a video of the netbook in action courtesy of MobileHub. Read more