March 24, 2010 at 5:11 pm
The LG X300 is one of the thinnest 11.6-inch ultraportable's around. It measures just 17.5mm in thickness and weighs only 970g. Engadget has managed to get some hands-on time with the X300 and felt that it was more akin to holding an e-reader rather than a laptop.
Build quality seems solid, despite the plastic construction. The screen was bright although a bit too glossy. The keyboard has no flex, but there are concerns over the touchpad and the click mechanism, despite it being quite large overall.
It is expected to hit some regions by the end of the month (not including Europe or the US) although pricing still remains a mystery (we can guarantee it won't be cheap though!) Check out the hands-on video after the cut. Read more
The super-skinny LG X300 that boasts an 11.6-inch display will be launching in selected regions in March according to an official press release. Europe and US are out of the equation for now, the only regions mentioned are Asia, Middle East and South America for an undisclosed price.
The LG X300 won't come cheap, it measures just 17.5mm in thickness and weighs only 970g. It eschews a bezel and comes with a fancy reflective keyboard and borderless touchpad. It will be available in both shiny white and light brown colours. Read more
January 20, 2010 at 8:36 am
The super-slim LG X300 has seen its first promotional ad, trying to hit home just how skinny it really is. It uses the same envelope stunt used by Apple when showing how thin its Macbook Air was.
When the ultraportable is taken out, the Apple system is referred to as "unthinkable" and chooses the LG X300 instead that is thinner (0.7-inches) and lighter (2.1lbs). Check out the video after the break. Read more
January 7, 2010 at 9:20 pm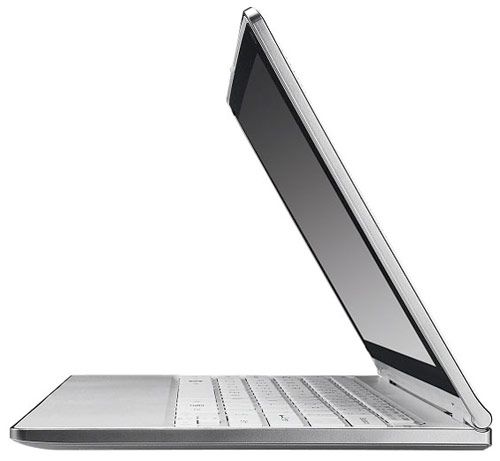 LG has unveiled a new super-skinny 11.6-inch ultraportable called the X300. It measures just 17.6mm and weighs just 970g. Whilst no pricing details have been revealed, the fanless X300 does not look cheap. It sports a tiny bezel with flush display.
The LG X300 is powered by a 2.0GHz Z550 Atom, 2GB RAM and a solid-state drive. It sports a chiclet keyboard and borderless touchpad that has hidden lighting and tactile feedback.
It comes with a 2-cell battery (including spare), which combined should last for 7 hours. Other features include a 1.3MP webcam, Bluetooth, embedded 3G and SRS TruSurround HD. The LG X100 will be hitting retail next month globally. Check out some larger pics after the jump. Read more